Devour it Catering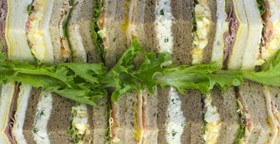 Devour it Catering
Sandwiches & Filled Rolls
Devour It Catering offers an outstanding range of sandwiches, rolls, ciabattas, Turkish, brioche and wraps with a seemingly endless variety of fillings. Made with the highest quality ingredients, they are delicious, versatile and convenient.
Devour it Catering wholesale sandwiches and rolls are made fresh daily by an experienced and passionate team of chefs. Only quality ingredients are used, and the focus is on producing fresh, tasty and conveniently packaged food suitable for on-selling.
As part of an ongoing commitment to excellence, Devour it Catering are now certified by HACCP Australia. You can be assured that all Devour it products and practises are in line with this Internationally recognised food safety program.
Daily delivery to your door means that you can spend less time worrying about food, and more time serving your customers.
Priced to please, Devour It Catering's wholesale sandwiches and rolls are conveniently packaged, beautifully presented and always fresh and tasty. They make it easy for you to offer sandwiches without having to keep your fridge and store cupboard full of ingredients, and they spare you the time of making sandwiches to order.
Devour It Catering supply sporting associations, schools, clubs, convenience stores, cafes, training seminars, hospitals, conferences, tours, gourmet supermarkets and delis throughout the Melbourne metropolitan area.
Sandwich styles and breads
Bread varieties include sliced white, multigrain, light rye and dark rye. Also available in the range are baguettes, ciabatta, English muffins, brioche rolls, pita wraps, tortilla wraps, Turkish wraps and round rolls. Gluten free wraps are also available.
Sandwich fillings
Choose from classic fillings or an enormous range of gourmet and premium fillings.
You'll find the usual favourites such as egg and lettuce, BLT, ham and salad or a combination of the following: ham, turkey, roasted vegetables, tuna, chicken, egg, beef, salami, salad, gourmet cheeses, pickles and housemade relishes.
Gourmet fillings
The following are examples of Devour It Catering's tempting range of gourmet sandwich fillings.
Cajun Chicken – Roasted chicken breast with Cajun mayo, spinach and grated carrot.
Chicken Schnitz – House crumbed chicken breast, mayo, swiss cheese and cos lettuce.
Turkey Cranberry – Shaved turkey, cranberry jelly, swiss cheese, mayo and cucumber.
Reuben – Housemade corned beef, mustard mayo, swiss cheese and sweet and sour pickles.
Beef – Housemade corned beef, red cabbage, roasted zucchini and horseradish mayo.
Ploughmans Ham – Double smoked ham, tasty cheese, caramelised onion, rocket and mayo.
Spreads
Devour It uses mayonnaise, pesto, mustards and tapenade instead of margarine or butter for extra flavour.
Retailers
Have your fresh sandwiches ready for your customers to grab and go. Choose from a large range of bread types and fillings and vary your offerings to keep customers coming back for more. Perfect for gourmet supermarkets, delicatessens, school tuckshops, university and sports club canteens, convenience stores and mobile food vans.
Foodservice
Spare yourself the time and the inventory of ingredients required to make sandwiches to order. Devour It Catering's range will please your customers and presents a cost-effective, high quality solution for foodservice business owners. Perfect for catering companies, hospitals, corporate organisations and events managers.
To place your first order for top quality wholesale sandwiches, contact Devour It Catering today.
---
More information about Devour it Catering
Meet the sandwich makers .....
Devour It Catering offers convenient, flavoursome and top quality catering for clients across Melbourne. We recently spoke with Owner/Manager Catherine Smith and learned – among other things – how having foodies on staff is one of the keys to satisfied customers. Click here