Frances Strawberries
More Images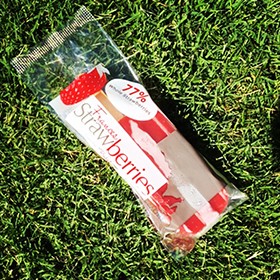 Frances Strawberries
Gourmet Wholesale Strawberry Sorbet and Icy Poles
Situated in Frances in South Australia, Frances Strawberries knows a thing or two about fresh, succulent strawberries. Handpicked on the company's family-owned hydroponic farm, the fruit is sweet, juicy and bursting with flavour. What could make it even better? Turning it into luscious frozen treats!
Strawberry Sorbet
The colour grabs your attention first! This rich red strawberry sorbet is the ultimate addition for your desserts. Serve with fresh cream and berries of any kind or get creative and turn it into a multi-layered sundae with vanilla ice cream. Or whip up lush strawberry cocktails, mocktails and smoothies. Available in a 950ml tub.
Strawberry Paletas
Imagine an icy pole bursting with an incredible 77% whole strawberries! That's what you get in these Strawberry Paletas; a fruity experience like no other, in a refreshing, portable treat, made with all-natural ingredients.
Retailers
Stock Frances Strawberries' Strawberry Sorbet and Strawberry Paletas in your supermarket, convenience store, petrol station or tourism outlet and show off the decadence of fine, farmed produce.
Foodservice
Talk to Frances Strawberries about foodservice quantities of their sorbet and paletas to serve in your café, restaurant, tea house, hotel, pub or ice cream parlour. There's nothing like the fresh flavour and all-natural fabulousness of hand-picked strawberries, whipped into a 100% natural product.
For more information or to place an order, get in touch with Frances Strawberries today.
---
More information about Frances Strawberries
Interview - Samantha Frost - Frances Strawberries
People often comment that strawberries "don't taste like the used to". Not so at Frances Strawberries where the fruit is in high demand. We spoke with owner Samantha Frost about what makes their strawberries so special and what they're doing with them to create even more interest. Click here