Frankie's Fine Brine
More Images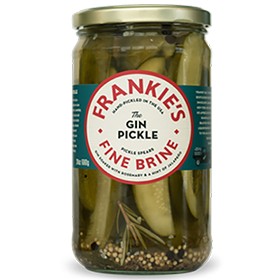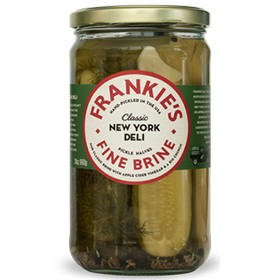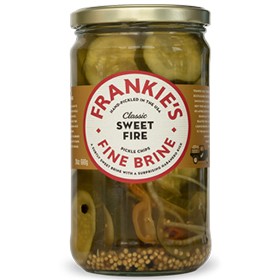 Frankie's Fine Brine
Liquor-Soaked Pickles and Classic Brines
Frankie's Fine Brine presents a range of pickles that are all natural and hand crafted. They come in three lips-licking flavours that are sure to win over the fussiest of pickle lovers. Hand-pickled in the US using the finest of brines, the pickles are the perfect accompaniment for your next cheeseboard. Or, try them on a juicy burger, in a sandwich or chopped and mixed through cream cheese and slathered on a bagel.
Frankie's Fine Brine Pickles
With three different varieties to choose from, you can get creative and add them to your favourite dishes and drinks. Serve alongside charcuterie, cheese and olives, create tasty canapes, chop and sprinkle through a salad or dip in batter and deep fry for a tantalising party starter.
The Gin Pickle – The king pin of pickles, it's bathed in gin brine with touches of juniper, rosemary and jalapeno spice. Pop a pickle spear into your next bloody Mary or add a dash of the brine to a dirty martini. Ingredients: Cucumbers, water, white distilled vinegar, apple cider vinegar, kosher salt, garlic, raw sugar, mustard seed, dill seed, black pepper, fresh dill.
Classic New York Deli – Handmade in the traditional way, this national treasure is as natural as it is tasty. Upgrade your ho-hum sandwiches to superstars or add some big pizzazz to a cheeseboard. Ingredients: Cucumbers, water, apple cider vinegar, raw sugar, white distilled vinegar, onion, jalapeno, mustard seed, kosher salt, habanero, black pepper, coriander seed, red chilli, turmeric.
Classic Sweet Fire – The spicy cousin of the bread and butter pickle, it's subtle on the sweet side but packs a surprising punch of mouth-watering habanero heat. Add it to your next burger for epic results. Ingredients: Cucumbers, water, white distilled vinegar, jalapeno, kosher salt, raw sugar, mustard seed, gin, juniper, black pepper, dill seed, fresh rosemary, fresh dill.
Retailers
Go beyond the usual and stock Frankie's Fine Brine pickles. The three varieties are unique in their category and versatile in their application, and your customers will soon find their favourite which they'll come back for time and again. Ideal for supermarkets, butchers, delicatessens and fine cheese mongers.
Foodservice
Don't miss an opportunity to liven up your bar or food menu with these classic pickles made in the traditional US style. Spear a Gin Pickle into your dirty martini or bloody Mary. Pimp your burger or Reuben sandwich with some Sweet Fire. Let the New York Deli take your charcuterie board to a whole new level. Never throw out the brine! Add it to salad dressings, cocktails, marinades and dipping sauces.
To find out more or to place an order, contact Frankie's Fine Brine today.
---
More information about Frankie's Fine Brine
Frankie's - Hand Pickled in the USA
Purveyors of liquor soaked pickles and classic brines. View the full product brochure. Click here