Goan Cuisine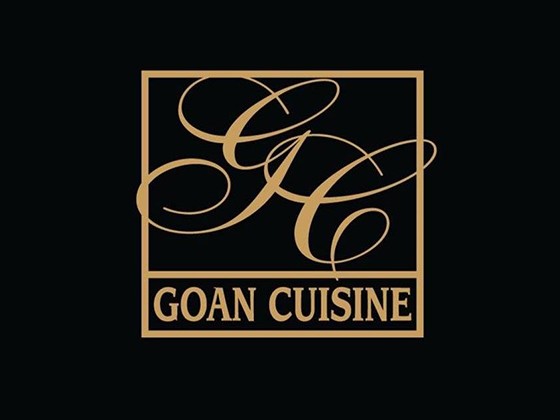 More Images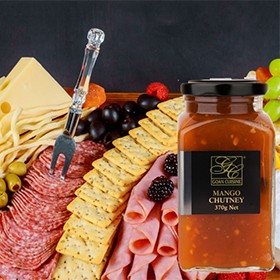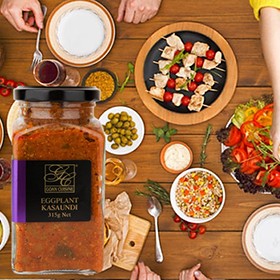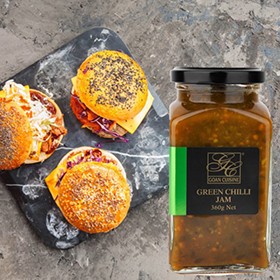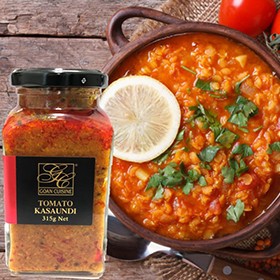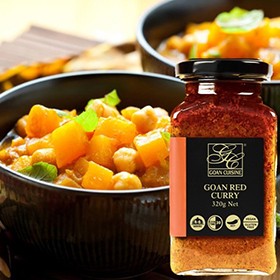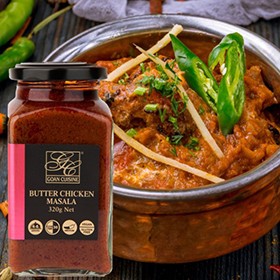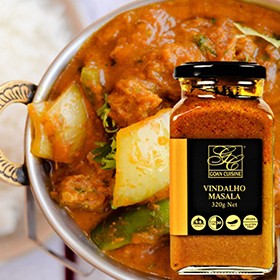 Goan Cuisine
Almost 500 years ago, the Portuguese sailed to the East in search of exotic spices, and Goa, on the west coast of India, became their main settlement. The fiery food of the region mellowed to accommodate gentler European palates. Continental cuisine was enriched with a bouquet of spices as only the virtuosity of Goan cooks could achieve. This distinct culinary tradition and age-old family recipes are now part of the rich new flavour of multicultural Australia.
Established in 1994 Goan Cuisine is Australian made & owned using only quality ingredients and honouring traditional recipes. The range has been heartily embraced by restaurants, caterers, connoisseurs and consumers throughout Australia as well as world wide and is enjoyed particularly for its departure from mainstream curry pastes and chutneys. Discover the true flavour of Goa and all the myriad dimensions and subtleties that go along with it.
Goan Cuisine Chutney
Experience the sweet, the sour and the savoury in a single jar. These wholesale chutneys will leap from the shelves if you provide taste tests so your customers can discover the sensational flavours for themselves.
Mango Chutney
A distinctive bouquet of sweet ripe mango warm on the finish with a gentle bite of ginger and chilli. For cheese plates and so much more.
Tamarind Chutney
This product displays a fine balance between the sweet and sour flavours of tamarind and apricot with a serious hit of chilli. Serve with curry and rice.
Mango & Lime Chutney
An ideal savoury accompaniment to curries, corned beef, roast lamb, meat loaf, kebabs, spicy chicken dishes and rice.
Goan Cuisine Relishes
Versatile and flavour-packed, these wholesale relishes work across all courses. Use with seafood, meat, vegetables, in curries, rice and on bread. Add to dips, salad dressings, butters, egg dishes and marinades.
Chilli Lime Sambal
The combination of chilli and lime with its depth of flavour makes an excellent glaze for beef and pork ribs, baked or grilled chicken and skewered chargrilled fish and prawns.
Green Chilli Jam
An accompaniment to entrees or mains, such as chicken, prawn, fish or scallop brochettes, fish cakes, crumbed soft-shell crab, tempura king prawns, green chilli mussels.
Tomato Kasaundi
Perfect as a filling in sandwiches, tacos and pizzas, and an ideal accompaniment to pasta, rice and other meals. Spices up dishes such as red lentils, egg curry, poached fish.
Eggplant Kasaundi
An appetising filling in sandwiches, a savoury dip and a versatile accompaniment to cold meats, roast, pasta, rice and other meals. Spice up soups and casseroles or add to dressings, chunky or blended.
Goan Cuisine Curries & Marinades
Addictive and delicious, Goan Cuisine's curry pastes convert consumers on first taste.
Goan Yellow Curry
Yellow curry base and marinade of aromatic fresh turmeric root, earthy cumin, sweet toasty coriander and warm red chilli. A delicious chicken curry for the whole family.
Goan Red Curry
The smooth sour-sweet of tamarind enhances a robust, layered blend of star anise, cloves, cinnamon and red chilli and presents a powerful, aromatic spice base.
Goan Green Curry
A perfect balance of earthy, faintly bitter cumin, sharp piperine of black pepper and the citrus undertones of fresh coriander. The distinctive heat from black pepper is well grounded by cumin to bring you our traditional Goan Green Curry.
Vindalho Masala
Aromatic curry base and marinade of green cardamom and chilli. Warm and sweetly pungent cardamom with its lemony undertones dominates this spice array with a tantalising bite of chilli.
Butter Chicken Masala
An Indian all-time favourite, fragrant spices infused in rich tomato, spiked with the dark warmth of our very own blend of garam masala to bring you this aromatic delight with that essential velvet finish. A delicious curry base and marinade.
Tandoori Marinade
An aromatic paste with a distinctive taste of chilli and a hint of clove. This is a flavoursome full-bodied marinade excellent for barbeque food such as chicken, lamb, beef, pork, seafood or vegetable skewers.
Goan Cuisine Pickles
Peer through the glass jar and see the richness of each pickle. Loaded with flavour and deep aromas to match, they are the ideal accompaniment to countless dishes.
Eggplant Capsicum Pickle
Ideal as a topping for pizzas and flatbread. A delicious filling in sandwiches and as an accompaniment to pasta, rice and wok dishes. As part of mezze platters. In warm chargrilled beef/lamb salads and as an accompaniment to vegetarian meals.
Lime Pickle
This product exhibits the zest and sourness of limes combined with the warmth of chilli and earthy notes of cumin and fenugreek. A perfect accompaniment to curries, skewers of grilled pork, chicken, fish and lamb.