Gourmet Fudge Company
More Images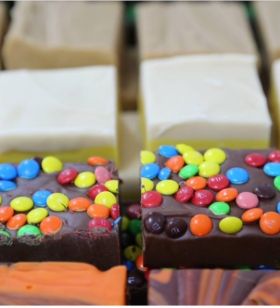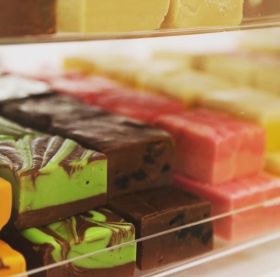 Gourmet Fudge Company
Wholesale Fudge Supplier
Our fudge is a great profit maker with a good shelf life, which means more money in your pocket and no wastage.
If you are needing a sweet product that doesn't need refrigeration and limits wastage, this is the product you need in your business. Fresh Fudge gives you the ability to sell it as an impulse product or a gifting option. Being Naturally Gluten Free it is a great for many customers looking for these sought after products. If your customers are looking for something they can take home from their holiday/trip they can rest easy that their fudge gift will not melt like chocolate can and hopefully end up with the gift recipient if they haven't eaten it first.
Our fudge is made fresh to order, so you will know that it is the freshest that you can get. Our fudge does not contain any hydrogenated oils like some other fudge brands do, which means it is more shelf stable and has a great consistent texture. Our chocolate base mixes contain Belgian Coverture Chocolate and Dutch Cocoa, giving it that luxurious real chocolate taste that nobody can resist. To make the best fudge you MUST have the BEST ingredients.
Gourmet Fudge Company is 100% Australian owned and operated. We have been making fudge for over 18 years.
With customers all over Australia, our brand name is recognized for being a delicious quality Fudge, that is clearly different from the rest.
Whether you want to sell the fudge from a cabinet or sell pre-boxed fudge, we can offer a solution for your business.
Gourmet Fudge Company
Gourmet Fudge Company makes the most delicious fudge on the Sunshine Coast. Listen to some great comments from the Ginger Factory, Yandina, Sunshine Coast, Queensland.
---