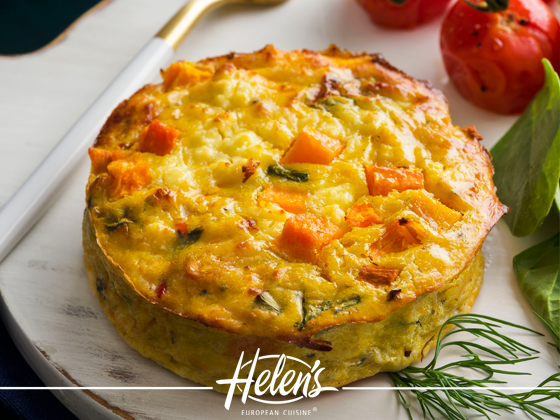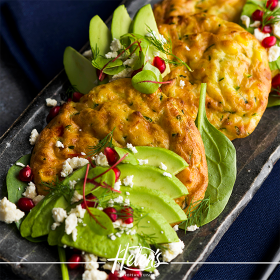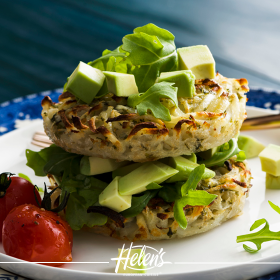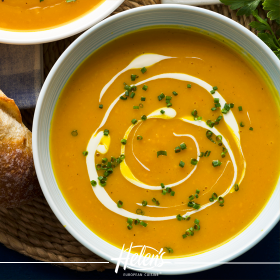 Helen's European Cuisine
Helen's European Cuisine
Gluten-free range
Our gluten-free range of savoury products are handmade with premium ingredients to exacting standards to offer your customers delicious food without compromise.
Helen's is committed to bringing people together to enjoy good times and good food, regardless of their dietary, allergy or lifestyle requirements.
Frittatas
Each frittata is handmade with love by the Helen's team, packed full of fresh locally sourced ingredients and enjoyed by coeliac and gluten-intolerant customers as well as those making.
Baby Spinach & Fetta Frittata (Vegetarian): Spinach, silverbeet and sautéed onion, with a creamy blend of cheeses, topped with crumbed fetta.
Sweet Potato, Pumpkin, Spinach & Fetta Frittata (Vegetarian): A wholesome blend of sweet potato and pumpkin chunks, oven-roasted with Spanish onion and herbs, combined with red peppers, baby spinach and crumbled fetta.
Fritters (Vegetarian)
Corn & Zucchini Fritters: A combination of corn, zucchini, capsicum, onion, corn, egg & tasty cheese.
Rostis (Vegan)
Rustic Potato Rosti: A traditional Swiss style rosti, made with grated potato and chopped onion.
Soups
Sweet Potato & Pumpkin Soup (Vegan, Seasonal: March – September) : Smooth and velvety sweet potato and pumpkin soup.
Corn Chowder Soup (Vegetarian, Seasonal: March – September): A thick and creamy soup made with potato, cheese, corn, onions.
Muffins
Chocolate & Raspberry (Vegan): A decadent blend of chocolate & raspberries baked into a delicious chocolate muffin.
Please note: Helen's gluten-free products are made with premium 100 per cent gluten-free ingredients but are manufactured in the same commercial kitchen as products containing gluten. While every care is taken, traces of gluten may be present.
---
More information about Helen's European Cuisine
Interview - Jimmy Zeniou - Helen's European Cuisine
Not every business has a state-of-the-art kitchen that's equipped to produce gourmet foods in the quantities required to sustain it. That's where Helen's European Cuisine comes in. Offering a huge range of gourmet savoury meals, finger foods and sweets, the company has what it takes to satisfy your most discerning customers. We spoke with Helen's Managing Director, Jimmy Zeniou about the delectable range of foods and also about how they're helping clients to create their own signature ranges.
View Article