Lang's Gourmet
More Images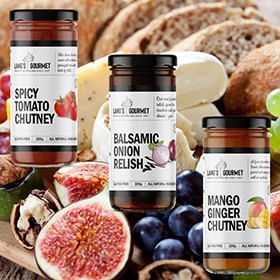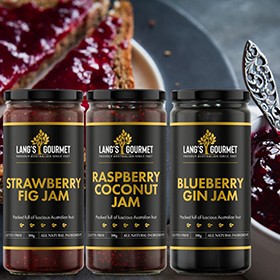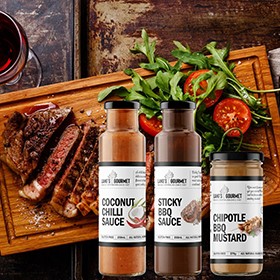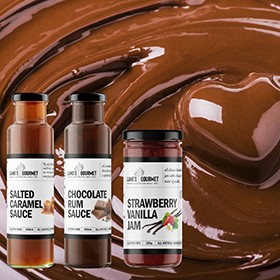 Lang's Gourmet
When it comes to gourmet gifting, quality foods presented in attractive packaging are the order of the day. Lang's Gourmet amply delivers on both fronts and is especially favoured by gift buyers looking for ideas that have a particularly Australian – or even Queensland – focus.
Every product in the Lang's Gourmet range is made using as many Australian ingredients as possible (up to 98%) locally sourced. Lang's support their local farmers and growers and only use the finest quality produce. Every item is made by hand with love and all are gluten free, preservative free and with no artificial colours.
Lang's Gourmet Gift Packs
On offer are four 3-jar packs of popular flavours.
Chutney Trio Pack – Featuring Spicy Tomato Chutney, Mango Ginger Chutney & Balsamic Onion Relish.
Luxurious Jam Pack – Featuring Raspberry & Coconut Jam, Blueberry & Gin Jam & Strawberry & Fig Jam.
Endless Summer BBQ Pack – Featuring Coconut Chilli Sauce, Sticky BBQ Sauce and Chipotle BBQ Mustard.
Sweet Treat Pack – Featuring Salted Caramel Sauce, velvety Rich Chocolate Rum Sauce and brand new Strawberry & Vanilla Jam.
Lang's Gourmet Savoury Sauces & Mustards
Smokey Steak Rum Sauce
Zingy BBQ-style sauce with a splash of rum for something a little extra.
Smokey Steak Sauce
Subtly spiced, zingy BBQ sauce for a multitude of uses.
Honey BBQ Sauce
Slather it over steaks, chicken, kebabs, prawns and especially ribs!
Honey BBQ Rum Sauce
A kick of local rum and honey makes this one irresistible at barbecues.
Macadamia Ginger Chilli Satay
Macadamia nuts and exotic spices are enhanced even further with warming chilli flakes.
Hot Chilli Sauce
Prepare for the kick of the hot chilli. Ideal for any kinds of meat or try it as a dip for spring rolls or samosas.
Sticky BBQ Sauce
The perfect combo of sweet and sticky, it makes a very special glaze for spareribs.
Chipotle BBQ Mustard
Smoky chipotle chillies fire up this delicious mustard. Try it in potato salad.
Queensland Special Mustard
Queensland pineapple, ginger and molasses come together in a mustard that's full of sunshine Enjoy with meatballs or fish.
Lang's Gourmet Dressings
Explore different ways of dressing vegetables, pasta, rice and meat dishes by infusing them with the fresh, lively flavours of Lang's Gourmet dressings. Add as much or as little as you like, and you'll soon find yourself wanting to use them on everything!
Mango Chilli Dressing
Fresh and lively, this dressing has a wonderful balance of sweet and heat.
Creamy Hollandaise Dressing
Create the best Eggs Benedict ever at home or try this creamy number on ham, chicken or asparagus.
Blue Cheese Dressing
Incorporate this cheesy favourite into salads and rice dishes or serve with chicken schnitzels.
Mango, Lime & Chilli Dressing
The best accompaniment for chicken wings and also a very versatile salad dressing.
Avocado Herb Dressing
It's a spectacular dip for corn chips or you can pour a little over nachos. Try it on a sandwich with roast beef or poached chicken.
Macadamia Mustard Dressing
Loaded with macadamia pieces, this mustard dressing is creamy and mouth-watering. Serve with grilled fish or use it as a marinade.
Lang's Gourmet Dessert Sauces
Not your average dessert sauces, Stott's have taken premium local ingredients and turned them into lush, indulgent, liquid fantasy.
Salted Caramel Sauce – A sublime salted caramel sauce that you can pour over whatever you're craving. It's also perfect for pie and cake fillings.
Chocolate Rum Sauce – Velvety chocolate sauce is taken to next-level indulgence with a splash of Bundaberg Rum.
Lang's Gourmet Jams
When it's this good, one jar of jam is never enough. Lang's Gourmet have created luscious jams in unusual flavours that will become instant favourites. Try them in the usual ways but also experiment with glazing roast meats or adding to casseroles, stir fries and sauces.
Blueberry Gin Jam – The sweetness of the berries is offset by the sharpness of the gin.
Orange Cinnamon Jam – A zesty orange marmalade featuring a touch of cinnamon. Enjoy with scones, waffles or bagels or use it to glaze a roast.
Pineapple Passionfruit Jam – Tropical temptations made from prime Queensland produce.
Raspberry Coconut Jam – Sweet, juicy raspberries come together with irresistible coconut. Spread on toast or enjoy with your muesli and yoghurt.
Strawberry Fig Jam – Classic strawberry jam with earthy Queensland figs.
Mango Lime Jam –Queensland mangoes and limes make a fruitful pairing in this moreish jam.
Pineapple Rum Jam – A sweet yet tart jam made to a 30-year-old recipe. Try it as a topper for your next cheesecake.
Orange Rum Marmalade – Orange and rum in marmalade form; spread it thickly on raisin toast for a satisfying breakfast.
Classic Rosella Jam – Queensland rosellas transformed into a crimson, intense-flavoured jam.
Strawberry Vanilla Jam – Strawberries meet vanilla in this favourite jam. High Tea just got even better.
Lang's Gourmet Mustards, Relishes & Chutneys
The easy way to lift any dish, from regular sausages on sliced white bread through to your most expensive cuts of beef. Keep a jar of your favourite on hand at all times because you will keep discovering new ways to enjoy it.
Balsamic Onion Relish – Softened onions are enriched with balsamic vinegar. Savour it with your next homemade pate or terrine.
Roast Capsicum Relish – Enjoy the smoky flavour of roasted capsicums with your next cheese platter.
Rosella Chilli Chutney – Rosellas are given a kick with chilli to make a chutney you can enjoy with roast meats, on sandwiches or alongside a slice of quiche.
Mango Ginger Chutney – Golden Queensland mangoes and ginger pair beautifully in this lovely chutney which is one of Lang's Gourmet's best sellers.
Mango Ginger Rum Chutney – Mangoes, ginger and rum are glorious companions on this tempting chutney.
Spicy Tomato Chutney – A clever blend of spices brings tomato chutney to new heights of flavour.
Chipotle BBQ Mustard – The best hot dog mustard ever! Or, use the tangy, sweet condiment in a potato salad.
Queensland Special Mustard – Pineapple, ginger and molasses are blended to create a moreish mustard that'll quickly become a favourite.
Lang's Gourmet Organic Teas
Never ordinary, always exciting, Lang's Gourmet's tea range features some surprising additions.
Organic Hibiscus Tea - Hibiscus tea is a herbal tea made as an infusion from the crimson and deep magenta-coloured calyces (sepals) of the roselle (Hibiscus sabdariffa) flower. It can be enjoyed hot or cold and features a tart, cranberry-like flavour. Can be sweetened with sugar if desired.
Organic Lemongrass & Ginger Tea – Packed full of zest, spice and a 'bitey-ness' that only leaves you wanting more, this harmonious blend of freshness and warmth makes it the perfect cup to drink at any time and in whatever climate.
Organic Peppermint Tea - Contains only pure peppermint leaves so you get the kick without the caffeine. It's ideal for people who want a nice, refreshing buzz but want to do it naturally. With its light, minty, refreshing taste, it doesn't just taste great but also aids digestion, clears out the senses and gives you the pick-me-up you may need.
Lang's Gourmet also offers the following infused tea varieties:
Australian Ginger Tea; Australian Honey Tea; Australian Macadamia Tea; Australian Mango Green Tea; Australian Mango Tea; Australian Pineapple, Lemon & Ginger Tea.
Lang's Gourmet Spice Blends
These exceptional spice blends packed in stay-fresh, resealable pouches can be used in crumb coatings, salad flavourings and to make spiced nuts. Stir them through bread mixes, dips and marinades to add extra flavour.
Tropical Spice – With coconut and chilli.
Outback Smokey BBQ – With onion and pepper.
Gun Powder – With activated charcoal and nigella seeds.
Aussie Jerk – With smoked paprika.
Smokey Rib – With garlic cayenne.
Espresso Rum – With chilli.
Big Red – With chilli and more chilli.
Zingy Reef – With mint and chilli.
Retailers and gift businesses
Show off your pride in Australian-made produce by incorporating the Lang's Gourmet range in your business. Your gift hampers will take on a whole new Aussie flavour with their wholesale sauces, relishes, chutneys, mustards, jams and teas. Create spectacular gift hampers, encourage individual purchases for small gifts and pair products with homewares and other complementary foods.
To find out more or to place an order, contact Lang's Gourmet today using the contact form.