Lang's Gourmet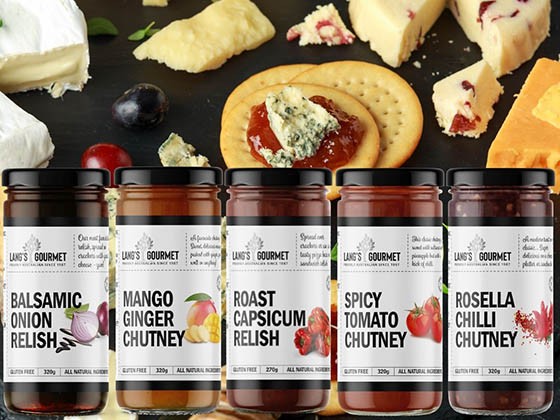 More Images
Lang's Gourmet
Wholesale Jams, Mustards, Relishes and Chutneys
100% Australian owned Lang's Gourmet produce a range of luscious wholesale jams, mustards, relishes and chutneys using fine local ingredients including Queensland ginger, rum, pineapples and mangoes. Everything is gluten free which makes mealtimes and entertaining so much easier.
No artificial colours, flavours or preservatives
100% natural ingredients
Hand made in a HACCP food safety approved commercial kitchen
Beautifully packaged with contemporary appeal, every Lang's Gourmet product is a showpiece in itself. Create attractive displays which will tempt customers to purchase as foodie gifts as well as for themselves. The Lang's Gourmet range has something for everyone and definitely deserves a place in every Aussie's pantry.
Venture beyond the normal everyday strawberry jams or tomato relishes. Explore Lang's Gourmet's innovative products which pack the taste of sunshine into every jar. Their range makes the most of the very best Queensland has to offer and every spoonful delivers a new flavour dimension to any dish.
Lang's Gourmet Jams
When it's this good, one jar of jam is never enough. Lang's Gourmet have created luscious jams in unusual flavours that will become instant favourites. Try them in the usual ways but also experiment with glazing roast meats or adding to casseroles, stir fries and sauces.
Blueberry Gin Jam – Sweet blueberries and sharp gin are perfectly balanced. Use in desserts or on toast for breakfast.
Orange Cinnamon Jam – A lovely zesty orange marmalade rounded out with warming cinnamon. Spoon onto bagels and scones or use it in a glaze for cooked meats.
Pineapple Passionfruit Jam – Tart, sweet and luscious, it's a tropical paradise in a jar.
Raspberry Coconut Jam – Intense ruby raspberries paired with the subtle flavour of coconut. Try it with croissants or add a couple of spoonsful to your granola bowl.
Strawberry Fig Jam – A classic strawberry jam with the unexpected twist of figs. Jam drop cookies were never this good!
Mango Lime Jam – Juicy Queensland mangoes and tangy limes come together in an irresistible jam that's perfect for chilled out brekkies.
Pineapple Rum Jam – Made to the original, 30-year-old recipe, it's tart and sweet and works beautifully as a cheesecake topper.
Orange Rum Marmalade – The zing of orange and the hum of rum makes this an indulgence you can enjoy every day. Warm through and use it to baste barbecued meats.
Classic Rosella Jam – A true Queensland icon, the rosella brings its spectacular crimson colour and intense flavour to a jam that will quickly become a favourite.
Strawberry Vanilla Jam – Vanilla adds a smooth touch to the vibrance of the strawberries. Use it in cakes or on toast or crumpets.
Lang's Gourmet Mustards, Relishes & Chutneys
The easy way to lift any dish, from regular sausages on sliced white bread through to your most expensive cuts of beef. Keep a jar of your favourite on hand at all times because you will keep discovering new ways to enjoy it.
Balsamic Onion Relish – Rich, silky onions flavoured with balsamic vinegar. Enjoy with pates, terrines and cold meats or use as a base for savoury tarts.
Roast Capsicum Relish – A lovely sweet relish that will bring a hit of flavour to any meal. It's especially delicious with sliced camembert cheese but also try adding a spoonful to a casserole.
Rosella Chilli Chutney – Rosellas with a bit of a fiery kick. Blend with a little olive oil to make a tasty salad dressing or use as a baste for roast duck, beef or lamb.
Mango Ginger Chutney – Succulent mangoes and local ginger, both from Queensland, pair beautifully in this golden chutney. It's a best seller for a reason!
Mango Ginger Rum Chutney – Mangoes, ginger and rum, what else could you want? Try it on a cold meat sandwich or enjoy with cheese and crackers.
Spicy Tomato Chutney – Just the right amount of spice elevates this tomato chutney to new heights. Lovely on a cheese sandwich or stirred through hot pasta with vegies.
Chipotle BBQ Mustard – Tangy and sweet with the spicy hit of smoky chipotle chillies. Use generously with hot dogs, sausages or in potato salad.
Queensland Special Mustard – Fabulous local ingredients such as pineapple, ginger and molasses make this a hit with Queenslanders. It goes wonderfully with meatballs or fish.
Retailers
Your customers will enjoy being able to choose from this lovely range of Australian-made jams, relishes, mustards and chutneys. There is a flavour to suit all tastes and the quality of the ingredients is evident in every mouthful. Ideal for supermarkets, greengrocers, delicatessens, convenience stores, food halls and made in Australia retailers.
Foodservice
Enhance your dishes with locally produced flair thanks to Lang's Gourmet. Every recipe is tried and tested so you can count on consistency as well as outstanding flavours. Serve with artisanal cheeses and breads, elevate High Teas and Devonshire Teas to new greatness, boost your barbecued meats and stir through slow-cooked recipes for something really special but which can't be defined.
To place an order or to discuss your specific requirements, contact Lang's Gourmet today.