Latasha's Kitchen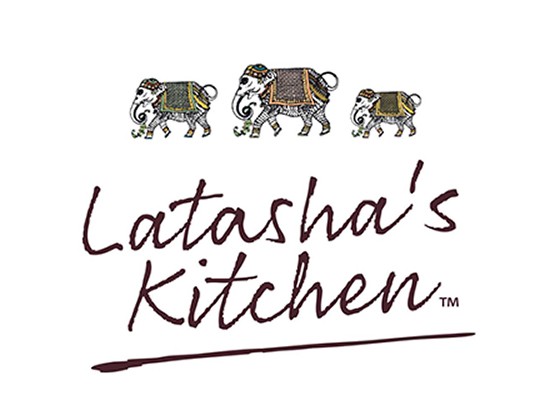 More Images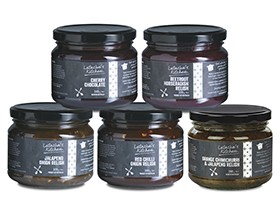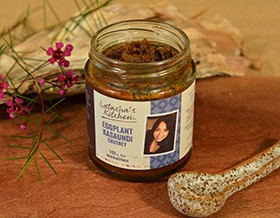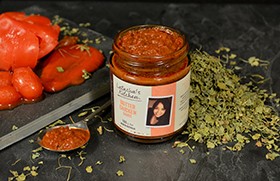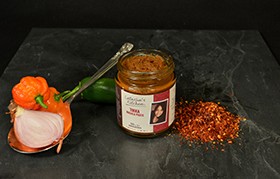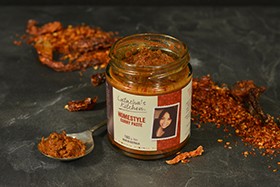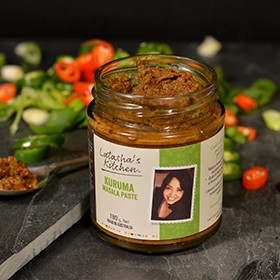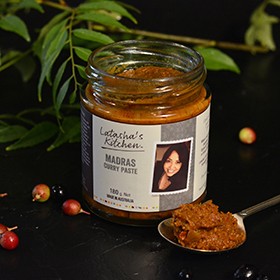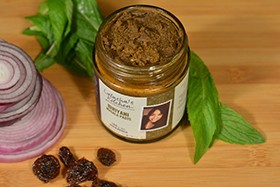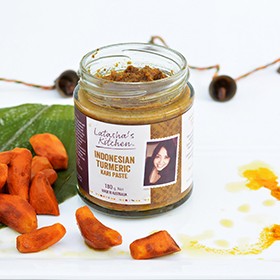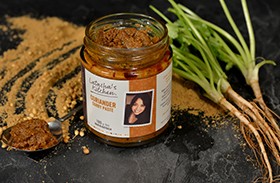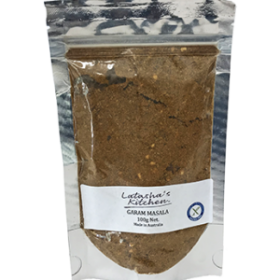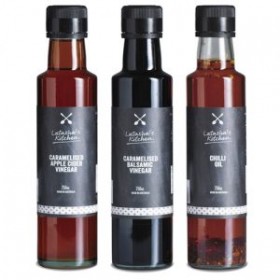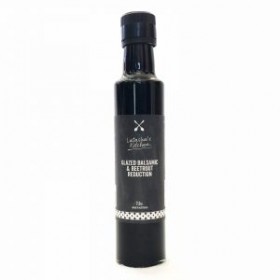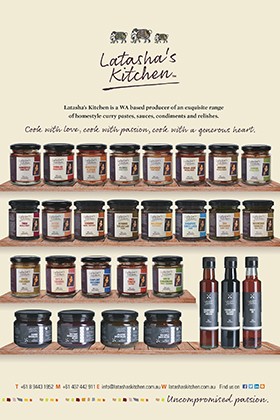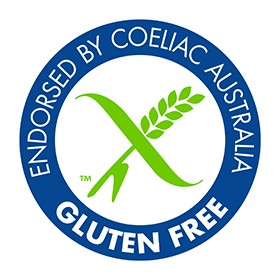 Latasha's Kitchen
Gluten Free Indian, Southeast Asian and Australasian Curry Pastes, Condiments and Sauces
When it comes to catering to those who are coeliac or gluten intolerant, cooking can be a chore. Thankfully, the award-winning Latasha's Kitchen range of Southeast Asian and Indian condiments and sauces is entirely gluten free! In fact, founder and owner Latasha Menon is enormously proud of the fact that her products address multiple dietary considerations. It's why she provides information about potential allergens on all her product descriptions.
The Latasha's Kitchen range is proud to boast the following credentials:
Gluten free and wheat-free (laboratory tested and endorsed by Coeliac Australia)
No fillers or bulking agents
No artificial colours, flavours or other additives
No preservatives
No MSG
Low in sodium
Concentrated flavour all the way
Latasha's Kitchen is dedicated to the philosophy of crafting to the highest quality and standards, an Australian-made brand of Indian, Southeast Asian and Australasian curry pastes and condiments, while honouring and respecting traditional methods.
As far as Latasha is concerned, flavour is enormously important but it shouldn't come at a cost. Every Latasha's Kitchen product is jam-packed with intense flavours which means a little goes a long way. There is no unnecessary water, no bulking agents and certainly nothing artificial to enhance the flavours; it all comes from the rich bounty of all-natural ingredients.
Now you can cook wonderful gluten free meals with the peace of mind that what you're adding is safe and healthy. Latasha's curry pastes, sauces, relishes, chutneys, oils and vinegars are all handmade with care to give your recipes a new lease on life, and to inspire you to create even more dishes.
Choose Latasha's Kitchen for honest-to-goodness products that you can serve with pride.
Australian-made
Every batch of product that leaves Latasha's Kitchen is overseen by the lady herself. Latasha is a hands-on producer who revels in the knowledge that she knows exactly what goes into every jar. She proudly uses local ingredients wherever possible and chooses top quality imported herbs and spices where necessary.
All dietary information is available on the website
You'll never be left wondering when you're considering purchasing from Latasha's Kitchen. The website features comprehensive information about each product including dietary considerations, full ingredients listings, serving suggestions, nutritional information, allergy notes and links to recipes.
The range
Indian Concentrated Curry Pastes & Sauces
It's never been easier to create delectable, aromatic Indian-style curries and other dishes in your own home. One spoonful of a Latasha's Kitchen curry paste or sauce and you have the makings of an irresistible meal the whole family will love.
Madras Curry Paste – Add a touch of yoghurt or coconut to this South Indian paste to add creaminess.
Vindaloo Masala Paste – The quintessential vindaloo starting point that will turn out an exquisite curry every time.
Kuruma Masala Paste – Create spectacular curries, roasts or slow cooked meals. It's spicy, nutty and delightfully creamy.
Homestyle Curry Paste – This one is quite hot and spicy and you can use it with chicken, lamb, beef, pork or goat. Don't neglect to try it in vegetarian omelettes or tempeh/tofu curries.
Homestyle Seafood Curry Paste – Deep tamarind flavour and a vibrant orange colour make this a popular paste for all seafood dishes, particularly those from Fiji, Mauritius, Singapore, Malaysia and South India.
Rogan Josh Paste – The well-known North Indian paste is ideal for chicken, beef and lamb and imparts a deep red colour. Try making kangaroo rogan josh for something different. Also excellent with baked root vegetable dishes featuring carrots, parsnips, turnips and pumpkin.
Coriander Curry Paste –Whole, roasted ground coriander comes through in this lovely paste which is equally good in meat or vegetarian curries and also makes a great dahl tarka.
Biriyani Masala Paste – Turn humble rice into a sumptuous meal with these zesty spices. It's great in tagines too or you can add it to your roast marinades.
Tandoori Sauce/Marinade – Smother a butterflied whole chicken or a whole lamb shoulder before baking. Fans love this one on whole fish or barbecued king prawns.
Tikka Masala Paste – One of the all-time Indian restaurant greats, tikka masala is something you can whip up at home and have exactly the way you like it. It takes tomatoes, juicy lemons and fragrant coriander, and flavours them with a superb collection of herbs and spices. Absolutely wonderful with a range of proteins including chicken, turkey, fish, lamb and prawns.
Butter Chicken Concentrated Sauce – Even kids love butter chicken thanks to its slight sweetness. This one is a bit tangy and gently spiced and is the perfect choice for those who need to go easy on the heat.
Southeast Asian Concentrated Curry Pastes
Treat yourself to real Southeast Asian flavours in your own home. Simply open a jar of Latasha's concentrated curry pastes and combine with your favourite protein and some fresh vegies.
Malaysian Satay Paste – A bit nutty, a little spicy, this paste is heady with roasted peanuts and specially selected spices, as well as lemongrass, ginger, garlic and chilli.
Indonesian Turmeric Kari Paste – Creamy, nutty and vibrantly yellow, this is a paste you can use in so many different recipes. Play and experiment and you'll soon see how versatile it is!
Singapore Curry Laksa Paste – Everybody loves laksa and even better when you can customise it according to your tastes. This laksa paste gives you the foundation for a superb bowl of goodness. Choose your protein then and add water, coconut cream and your favourite vegetables.
Rendang Terlagi Lagi Paste – This one's a favourite among those who love a bit of spice in their food. It's warming and hearty and actually, quite addictive!
Thai Massaman Curry Paste – Slightly sweet and quite nutty, this paste is flavoured with cinnamon, nutmeg and cardamom. Choose this one when you're cooking lamb or beef.
Thai Red Curry Paste – Thai flavours at their finest! Dried red chillies, shrimp paste, coriander roots, cumin, garlic and other herbs and spices meld together to form a rich, pungent, full-bodied curry you'll want to have every week. You can even use it as a marinade for meats, vegetables or seafood.
Thai Green Curry Paste – You'll love the freshness of this one with its green chillies, aromatic coriander, basil, white pepper, wild ginger and lemongrass. It's great with chicken, prawns, pork and tofu.
Concentrated Chutneys
Take a spoonful of chutney and put it with your favourite sandwiches, cheeses and cold meats. Or, spoon a little through a marinade.
Date & Tamarind Chutney – Sweet, tangy and spicy in equal measure, you'll love it with samosas and curry puffs, and it's also so great with cheeses. Brush a little over roasted meats or serve a little with barbecued steak.
Green Coriander Sauce – Fresh, lively and zesty, zesty flavour, it's delightful as a marinade for grilled meats or chicken skewers. Add some to your salad dressing or make a dip with yoghurt.
Eggplant Kasaundi Chutney – Lovely, sweet eggplant comes together with aromatic spices to create a chutney that goes with a vast array of foods. Sandwiches, sausages, omelettes and rice dishes all benefit from its addition.
Green Chimichurri Sauce/Marinade – The tantalising flavours really come to the fore when added to something hot. You'll instantly experience the spicy, garlicky, herby aromas when you put it on top of your steak. Or, make a herb butter by mixing with softened butter then chilling in a log form and slicing into small pats.
Zingy Tomato Chutney – Chilli, tomatoes and tamarind work wonderfully together as a slightly sweet, spicy and tangy condiment that will become a favourite at your dinner table when you're having a Sunday roast, a barbecue or a winter casserole.
Spice Mixes
Latasha's dry spice mixes can be used in so many different ways. Make your own spice rubs, add to marinades, curries and rice dishes or sprinkle a little through the slow cooker next time you're doing a stew.
Turmeric Spice Magic – The customary yellow colour and aromatic blend of spices are lovely with all kinds of protein. Once you start using this one, you'll want to put it on lots of different meats, vegies and even eggs. Try it as a marinade, blended with a little extra virgin olive oil.
Garam Masala – For any Indian recipe you cook from scratch, you can start with Latasha's Garam Masala. It contains 20 quality herbs and spices and is quite hot and spicy.
Oil & Vinegar Dressings
Wake up your salads with a little drizzle of Latasha's infused oils and vinegars.
Glazed Balsamic & Beetroot Reduction – Deeply flavoured and sticky-sweet, it's ideal to serve with goats' cheese or to use as a finishing sauce for baked salmon, roasted meats or hot vegetables.
Caramelised Apple Cider Vinegar – Add new depth of flavour to your dressings and marinades by mixing with extra virgin olive oil. Makes a lovely vinaigrette!
Caramelised Balsamic Vinegar – Sweet and tart, this one is an ideal finishing sauce for your roasts, or you can add it to your gravy or other sauces for a new twist. Try it with sliced strawberries or stone fruits..
Chilli Oil – Sunflower and sesame oils infused with chilli flakes, garlic and pepper for medium heat.
Relishes
Latasha's relishes are always handy to have in the pantry to add a little extra 'something' to all kinds of dishes.
Orange Chimichurri & Jalapeno Relish – It's the classic Argentinean herb sauce but with a new, citrusy personality. The bold citrus flavours work extremely well with the jalapenos, onions and spices.
Jalapeno Onion Relish – Transform your burgers, wraps and sandwiches with this sweet and refreshing relish.
Beetroot & Horseradish Relish – You'll love the ruby red colour and then you'll adore the incredible flavours. Use this relish with meats and vegetables or blend it with some cream cheese for a lovely savoury dip.
Red Chilli Onion Relish – This incredible relish is sticky, sweet and spicy and is the perfect accompaniment for roast beef or duck.
Simmer Sauces
Dinner is ready in just 20 minutes with Latasha's convenient Simmer Sauces. Count on authentic flavours and simple cooking techniques and you have a full-flavoured meal the whole family will enjoy.
Tikka Masala Simmer Sauce – Tomato, yoghurt, mint, coriander, onion and lemon juice are blended together and warmed with aromatic spices.
Indonesian Turmeric Simmer Sauce – An incredibly versatile curry sauce that you'll find endless uses for.
Malaysian Satay Simmer Sauce – This mouth-watering sauce is loaded with peanuts for a really authentic satay. Chicken skewers have never been more delicious!
Thai Green Simmer Sauce – Creating a dish with authentic Thai flavours is easy with Latasha's. it has all the lemongrass, chilli and creamy coconut you need for a yummy bowl of food.
Thai Massaman Simmer Sauce – Classic Thai Massaman with a spicy, tangy body and slight sweetness.
Buttery Spicy Satay Simmer Sauce – Hailing from Penang in Malaysia, this is a silky, nutty and buttery sauce that is best suited to chicken, but you can experiment with your favourite meats and other proteins.
Curried Greens Simmer Sauce - With a selection of fresh herbs, leafy greens, and root vegetables masterfully combined with fragrant spices and crushed tomatoes.
Vindaloo Masala Simmer Sauce - Caramelised onions, paprika and tomatoes combined with our bestselling vindaloo paste, this sauce is guaranteed to liven up both your kitchen and taste buds.
FODMAP-friendly Simmer Sauces
Low FODMAP meals are easy when you have a jar of Latasha's in the pantry!
Low FODMAP Rogan Josh Simmer Sauce – Hot and spicy curry sauce made from fresh tomatoes, mixed vegetables, chillies, ginger and spices.
Low FODMAP Butter Chicken Simmer Sauce – Milder spice yet still rich and fragrant, this one is made with fresh Roma tomatoes, mixed vegetables, ginger, coconut cream and spices.
Dessert Sauce
Latasha even makes a dessert sauce! One taste and you'll be hooked.
Cherry Chocolate Dessert Sauce – A luxurious blend of tart, whole cherries and dark cocoa that you'll want to eat straight off the spoon! Try to resist and spoon it over pavlova or pancakes or use as a topping for cheesecake or cupcakes.
Retailers
Being entirely gluten free, the Latasha's Kitchen range is perfectly suited to health food stores and gluten free specialty outlets. Your customers will love the fact that they can pick up a jar of Latasha's and know it's completely safe for their gluten intolerant or coeliac family members or dinner guests.
Foodservice
Having Latasha's Kitchen products on hand makes it easy to cater for gluten intolerant and coeliac customers. Add effortless flavour and enjoy peace of mind knowing that any allergen information is right there on the jar.
To find out more or to place an order, contact Latasha's Kitchen today.
Hommus Platter with Red Chilli Onion Relish
Video recipe using Latasha's Kitchen Red Chilli Onion Relish and Latasha's Kitchen Chilli Oil.
---
Coconut Turmeric Mushroom Stir Fry
Video recipe Coconut Turmeric Mushroom Stir Fry using Latasha's Kitchen Indonesian Turmeric Kari Paste.
---
Chicken Vindaloo in Yoghurt Sauce
Video - Chicken Vindaloo in Yoghurt Sauce using Latasha's Kitchen Vindaloo Paste.
---
Leg of Lamb with Orange Chimichurri & Jalapeno Relish
Video recipe - Leg of Lamb with Orange Chimichurri & Jalapeno Relish using Latasha's Kitchen Orange Chimichurri & Jalapeño Relish.
---
ButTan Chicken
Video Recipe ButTan Chicken using Latasha's Kitchen Tandoori Paste and Latasha's Kitchen Butter Chicken Sauce with Latasha's Kitchen Garam Masala to garnish!
---