Lepack Breakfast Packs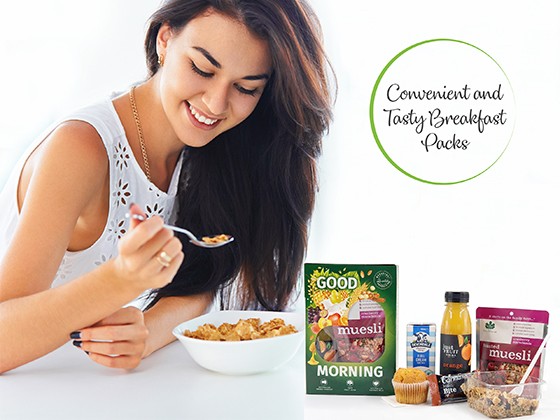 More Images
Lepack Breakfast Packs
Lepack Breakfast Packs provide the ultimate in convenience for guests in resorts, clubs, hotels, accommodation venues and even for tour groups and professional event planners. Purchasing wholesale breakfast packs means you don't have to pay staff – who may or may not be experienced in food preparation – to cater breakfasts for guests.
The range
Our product range has incorporated quality foods to utilise in our breakfast cereal range, combined with 5-star rating and organic juices.
The company proudly offers the largest variety of breakfast options available to suit your needs.
With their current range of Kellogg's cereal, the Breakfast Packs now include award winning Brookfarm Muesli and Granolas with a new range of 100% juice drinks.
Breakfast packs include gluten free options to accommodate gluten intolerances and coeliacs.
Choose from 8 award-winning Brookfarm Granolas, Mueslis and Porridges.
Choose from 10 popular cereals: Corn Flakes, Just Right, Nutri Grain, Sultana Bran, Sustain, Special K, Coco Pops, All Bran Muesli, Weetbix (Low Sugar), Carman's Deluxe Muesli GF and Variety Box.
Or choose an Up and Go as another option to include in your breakfast packs.
Deluxe Breakfast Pack
Choice of Brookfarm Muesli / Granola, milk, juice, muffin, tub of fruit, Carman's Bite bowl, spoon, napkin.
Complete Breakfast Pack
Choice of Kellogg's cereal, milk, juice, tub of fruit or muffin, Carman's Bite, bowl, spoon, napkin.
Gluten Free Breakfast Pack
Choice of Brookfarm and Carman's Muesli/Granola, milk, juice, tub of fruit, Carman's roasted nut bar, bowl, spoon, napkin.
On the Go Breakfast Pack
Choice of Kellogg's cereal, milk, juice, Carman's Bite, bowl, spoon, napkin.
Mini Breakfast Pack
Choice of Kellogg's cereal, milk, Carman's Bite, bowl, spoon, napkin.
Breakfasts for Accommodation Guests
Guests will appreciate the option of a breakfast that they can enjoy whenever they wake up in the morning and that they can even take with them if they plan to head out early. Grab 'n' go meals are always popular and when they contain well known and loved products, they provide a little bit of home comfort but with the added excitement of being away from home.
Breakfasts for Conference Delegates
Catering for breakfast for small or large groups of people has never been easier. Lepack Breakfast Packs are the ideal solution for any size meeting because they appeal to most people and they are easy to distribute and unpack. Plus, being loaded with goodies, they're sure to meet with approval from delegates. They'll appreciate the fabulous choices of Brookfarm Muesli, Granola and Porrij along with juices from Sunraysia, Just Juice and Juice & Co.
Cost effective breakfast
Lepack Breakfast Packs eliminate waste, washing up and costs involved with delivering and removing breakfast trays. Bundled as a complete meal, the 'Complete Breakfast' includes cereal, milk, juice, tub of fruit, muffins, bowl, Carman's Bite and spoon/napkin. They provide absolute simplicity as they can be handed to guests upon check-in.
Because Lepack Breakfast Packs use long life milk, they have an extended shelf life so stock turnover will not be an urgent priority.
Choice for you and your customers
With a choice of Deluxe, Complete Plus, Complete and On The Go Breakfast Packs or Mini Breakfast Packs, everyone is happy. To get you off to the best start possible, Lepack Breakfast Packs are available in a Variety Pack so you can gauge the response from your customers. Variety packs contain an assortment of cereals.
Prices for these delicious wholesale breakfast packs start as low as $4.10+gst per pack and from $4.35+gst for snack packs. Freight is additional. Of course, the mark-up that you apply is up to you so Lepack Breakfast Packs can be a value-add for your customers or an added revenue stream.
Lepack are suppliers of outstanding and innovative products that will exceed your expectations. The company aims to provide on-time solutions within your business's budget. All packs are made in their HACCP approved premises.
To discuss your requirements or to place your first order, contact Lepack today.
LePack has just launched the update of their new website which now includes all Accommodation supplies, let us help you www.lepack.com.au
---
More information about Lepack Breakfast Packs
Interview - LePack
Sometimes the simplest ideas are the ones that seem to have been left behind. And then, along comes a smart entrepreneur who identifies the niche and turns it into a powerhouse of innovation and clever diversity. The Lepack team are continually growing their range of pre-packed breakfast and snack Packs to meet demand and it seems there's always another bright new idea over the horizon. Click here