Lepack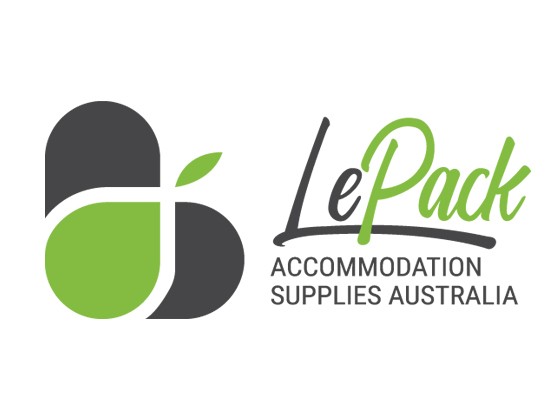 More Images
Lepack
Wholesale Guest Amenities for Accommodation Properties
For quality guest amenities, look to Lepack, Australia's leading supplier of individual breakfast and snack packs and non-food items for accommodation and hospitality businesses. Lepack's vast range of wholesale guest amenities includes everything you could need for your hotel, motel, B&B, Airbnb, caravan park, holiday village, dormitory, hostel, boat or train.
You can source all your bathroom toiletries, laundry and kitchen sachets, bulk quantity of refillable product and more from the one supplier, and Lepack ship across Australia. The selections cover various budgetary considerations so you can choose budget products through to high end executive products.
The range
Vive Re-Charge range
Designed in Australia, the Re-Charge collection is unapologetically bold and unmistakably unique. Its unique product offering is at the forefront to change how guests experience in-room amenities. The collection features body lotion, boxed soap, conditioner, shampoo, mouthwash, shower gel and 'facial fuel'. Packaged in attractive black tubes, bottles and boxes, it is a brand you'll be proud to offer in your elegant hotel.
Outback Essence
100% Australian designed and inspired fragrances and scented oils, beautifully packaged in black and coloured wrappers for visual impact. Choose from bath and shower gel, bath soap, body lotion, conditioner, shampoo, sanitary bags, dental kit, hair comb, sewing kit, shaving kit, shower cap, vanity set.
Zen Label
An attractive range including body cleanser, body lotion, comb, conditioner, shampoo, sanitary bag, shaving set, shower cap, boxed soap, toothbrush set and vanity set.
Classic Range
Select from a wide variety of guest amenities with different personalities by brand.
DLUX – Terry cotton slippers, hygienic toilet seals, toast bags, glass covers, cutlery bags, shower gel, bath soap, pleat-wrap soaps, body lotion, unwrapped soaps and shower caps.
Enriched contemporary collection – Bath and body wash, cleansing shampoo, body soap, dental kit, sanitary bags, shower caps, shaving kits and vanity kits.
Ideology premium spa range made from Australian native ingredients – Bath salts, shampoo, conditioner, body lotion, dental kit, shaving kit, shower cap, shoe shine, sanitary bags, soap sachets, vanity kit.
Pure Beach revitalising aromas range – Body lotion, body wash, conditioner, shampoo, pleat-wrapped soaps, sanitary bags, shower caps, shaving kit, vanity set.
Savoir-Faire indulgent range – Body lotion, conditioner, shampoo, hand and body lotion, shower gel, soap.
Executive Range
Crystal – Crisp blue and white packaging with the usual products plus bath crystals, toothbrush kits, Schick shaving kits and sewing kits.
Eartherapy – A natural colour palette makes Eartherapy popular with guests looking for relaxation. Range includes a boxed grooming kit, bath foam and bath gel.
Evolution – Lime green and fresh white packaging, this range is bright and appealing and includes pleat-wrapped soaps, sewing kit, shower caps and shower gel.
Kudos Coastal – Sleek, elegant packaging with neutral colours, Kudos Coastal features a dental kit, hydrating conditioner, mouthwash, shower caps and a vanity kit.
Kudos Spa – Designed for the stylish, contemporary in-room experience, made with the finest ingredients. The range includes boxed soap, bath and shower gel, dental kit, hand and body lotion, pleat-wrapped soaps, sanitary bag, shoe sponge, shower cap and a smooth slate tray.
SeaSpa – Beautiful calming colours and quality products. Range includes shower gel, pleat-wrapped bar soap and vanity set.
Puriti Accessories
Clear zip lock bags, glass covers, amenity bags with calico trim and white round coasters with wax coatings.
Laundry & Kitchen Sachets
Convenient, small-portion packs of products for kitchen, laundry and bathroom. The range includes dishwashing liquid, dishwashing powder, laundry liquid, laundry powder and makeup remover wipes.
Amenity Trays
Display guest amenities with understated style with Lepack's selection of amenity trays. Black, white, wooden, curved, rectangular and boxy, there's a style to suit your décor and the particular amenities you offer.
Dispensers and Refills
Buy in bulk and save. Lepack's range of dispensers and refills are cost-effective, convenient and practical. Products such as shampoo and liquid soap are available in 5L and 20L packs. Also available are sanitary bag dispensers.
Accommodation, tourism and foodservice operators
Lepack has the range, variety and budget spectrum you need when looking to purchase wholesale guest amenities for your hotel, B&B, motel, dormitory, caravan park, train, boat or other accommodation property.
For more information or to place an order, contact Lepack today.