Love Byron Bay
More Images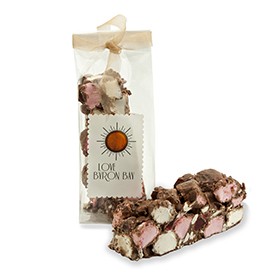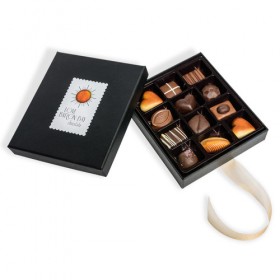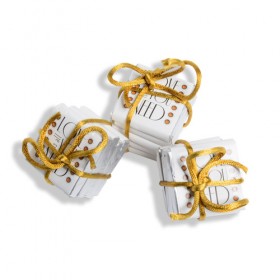 Love Byron Bay
Gourmet chocolates, confectionary and rocky road
Love Byron Bay, specialists in international, Australian and local chocolate wholesale their own range of Love Byron Bay gourmet chocolates, confectionary and rocky road for retailers and foodservice businesses.
They take premium Belgian couverture chocolate and create wonderfully indulgent chocolate products, many with essential Byron Bay flavours including macadamias and coffee. Every product is suitable for gifting and caters for a range of different tastes, price points and themes. Love Byron Bay also makes exquisite rocky road in four must-have flavours.
The business operates out of the Love Byron Bay crêperie and chocolate boutique, a concept chocolate shop frequented by locals, tourists and gift shoppers looking for something unique. The company is dedicated to sharing a quality chocolate experience and owner Alison aims to bring the love and celebration associated with cocoa into your life, from her one stop chocolate boutique.
The range
Chocolate Bars
Milk Couverture 37% - This 100g bar is smooth and delicious, made from Belgian couverture milk chocolate.
Dark Couverture 63% - A 100g bar of irresistible Belgian couverture dark chocolate.
Chocolate Gift Boxes
Praline Box of 45 - An assortment box showcasing 45 milk and dark chocolates presented with black ribbon and a clear see through lid.
Praline Box of 30 – Assortment box of 30 milk and dark truffles and pralines with black ribbon and a clear see through lid.
Praline Box of 12 - A gorgeous box of 12 delicious pralines and truffles, handsomely presented for gift giving.
Praline Box of 4 - Four divine pralines and truffles for that special little gift for someone sweet.
Praline Box of 2 - The sweetest thought for little kindnesses. A twin box of delicious Love Byron Bay pralines.
Loose Chocolates
Almonds Milk & Dark Chocolate - Delicious almonds panned in couverture chocolate.
Macadamias Milk & Dark Chocolate - Scrumptious local macadamias panned in couverture chocolate.
Caramel Fudge Milk & Dark Chocolate– Caramel fudge smothered in rich couverture chocolate.
Honeycomb Milk & Dark Chocolate
Muscatel Raisins Dark Chocolate
Turkish Delite Dark Chocolate– Sublime Turkish Delite with rose water covered in couverture dark chocolate.
Liquorice Milk & Dark Chocolate – Deep, tantalising liquorice covered in couverture chocolate.
Organic Coffee Beans Dark Chocolate – Organic coffee beans covered in couverture dark chocolate.
Ginger Dark Chocolate – Lush ginger panned in couverture dark chocolate.
Dolphin White Chocolate – Sweet and lovely solid white chocolate dolphin.
Dolphin Milk Chocolate – Gorgeous, delicious solid milk chocolate dolphin.
Sea Shells –Seashells filled with hazelnut praline.
Cream Caramel – Milk chocolate with cream caramel soft centre.
Strawberry Heart – Soft strawberry cream in a heart shaped milk chocolate shell
Caramel Heart – Soft butterscotch caramel in a heart shaped dark chocolate shell.
Love Is All You Need Milk Chocolate Squares
"Love Is All You Need" wrapped milk chocolate squares are available in bulk quantities, unbundled, 300 to a box. These are perfect as pillow chocolates for turndown, to serve with coffee, offer in a bowl at reception and to place in the bill folder in restaurants.
Love Byron Bay Rocky Road
Everybody loves rocky road and when it's made with such love and care, it's even more irresistible! Available in 4 best-selling flavours:
Milk Chocolate
Dark Chocolate
Salted Caramel
Peanut Butter
Retailers
Take on a proud Byron Bay brand and showcase these chocolates in your supermarket, tourism outlet, florist, newsagency or delicatessen. Also ideal for gift retailers and gift hamper businesses.
Foodservice
Serve Love Byron Bay's wholesale chocolates in your café, restaurant, bed and breakfast, hotel, motel or tourism business. They are also ideal for caterers, corporate treats, picnics, chocolate buffets and mini bars.
To discuss your requirements or to place your first order, contact Love Byron Bay today.
---
More information about Love Byron Bay
Interview - Alison Campbell - Love Byron Bay
The exquisite region of Byron Bay is often the star of the show when it comes to food products that hail from there. As for chocolates, there's so much to love about the Love Byron Bay brand! We spoke with Director, Alison Campbell, and found that a whole lot of local flavour goes into every bite. Click here