Maxwell's Treats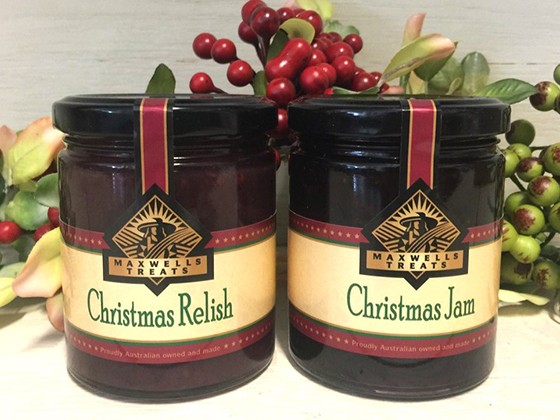 More Images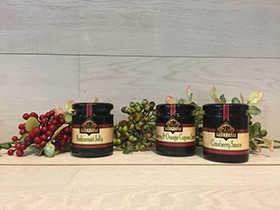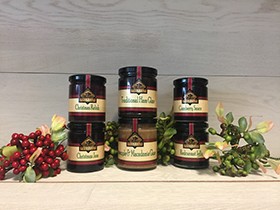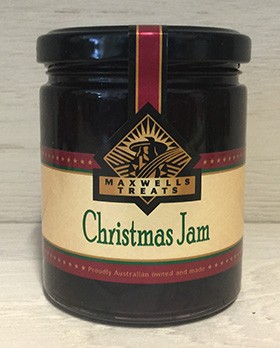 Maxwell's Treats
Jams, Relishes, Glazes, Mustards & more....
Maxwell's Treats offers decadent condiments for your Christmas table. Adorn your meal with the best traditional Christmas spreads or indulge in a unique treat. Jams, relishes, glazes, mustards and more are made from recipes handed down over 50 years of loving family cooking. Choose from Cranberry Sauce, Redcurrant Jelly, Christmas Jam, Christmas Relish, Whisky Wholegrain Mustard, Brandy Butter, Ham Glaze and more.
Not only are Christmas condiments a great purchase for your own table but they make a great gift too. Maxwell's Treats is an award-winning Australian made product and quality is assured with every mouthful.
Maxwell's Treats produces hundreds of products. Ask for their extensive product list. Whether you own a gift store, food emporium, cafe or butcher shop, there is a product suited to your customer. Maxwell's Treats operates from The Treat Factory, in a modern approved HACCP facility.
Mixed cartons are available and contract manufacturing enquiries are welcome.
The Christmas range
Cranberry Sauce
It's just not Christmas without cranberry sauce and the delicate sweet tang of Maxwell's Treats Cranberry Sauce is made to go with your turkey, ham or pork at Christmas time. Decadently red, it adds a glorious ruby touch to your every festive table.
White Brandy Sauce
A rich, decadent sauce for your traditional Christmas pudding. Brandy Sauce is fabulous any time of year for desserts, or serve with pancakes and ice cream.
Cranberry & Orange Cognac Sauce
The sweetness of cranberries and the depth of orange cognac make Cranberry and Orange Cognac Sauce a sure-fire hit at the Christmas table. It will quickly become a favourite to enjoy year-round with pork, chicken and lamb.
Traditional Ham Glaze
Rev up your Christmas ham this year with Maxwell's Treats Traditional Ham Glaze. Made with all-natural ingredients, no artificial flavours or colours, it's truly a cut above the rest.
Pineapple & Macadamia Ham Glaze
For a truly gourmet Christmas ham, Maxwell's Treats Pineapple & Macadamia Glaze is the perfect choice. Incredibly delicious, it will give your ham a new level of decadence. This glaze, made with only natural ingredients and no artificial flavours or colours, has been on the Maxwell family's Christmas ham every year for generations.
Christmas Jam
Christmas Jam is decadent blend of strawberries, cranberries and orange plus a sublime hint of festive spice. Chunky Christmas Jam is rich and lively and can be served either on toast or with fresh homemade scones. It also works perfectly with cold meats, cheeses or on a sandwich. This is a condiment your family will fall in love with and every holiday season, they'll be looking forward to it being put on the table.
Redcurrant Jelly
Redcurrant Jelly is a tangy condiment traditionally served with roast venison or lamb. It can be served with cold meats, crusty bread and cheeses and pairs particularly well with goat's cheese. At Christmas, it's always a hit with its luscious red colour and sweet fruity tang. Enjoy with pork, ham or turkey.
Christmas Relish
Christmas Relish is a punchy festive savoury relish made from a clever blend of pineapples, cranberries and holiday spice. Try Maxwell's Treats Christmas Relish with all your hot and cold meats, salads and cheeses or with leftovers on sandwiches and rolls. It makes a very tasty addition to the Christmas table.
Whisky Wholegrain Mustard
Wholegrain seeds of mustard are blended through a smooth mustard paste and a splash of whisky is added for good measure. Try Maxwell's Treats gourmet Christmas condiment, Whisky Wholegrain Mustard with your hot and cold Christmas meats. It's a must-have for your Christmas Day table and makes a spectacular addition to leftover meats on crusty bread rolls.
Gin & Lemon Mustard
A strong mustard with a deep lemon tang and a good dash of gin will add to your festivities. It's divine with Christmas meats, whether served hot or cold. Gin and Lemon Mustard is low in salt and so it's popular with those following a low sodium diet.
Brandy Butter
You simply can't do without this one at Christmas time. Maxwell's Treats Brandy Butter has a generous splash of premium Brandy, whipped through fresh butter and sugar. Traditionally used on Christmas Plum Pudding, you'll be tempted to use it throughout the year on all your favourite desserts. Try it next time you have crepes and add caramelised bananas.
Retailers
Create lively displays of festive merchandise with Maxwell's Treats range of wholesale Christmas foods. Pair them with companion products like meats, breads, cheeses and homewares. Build gift stories by gift-wrapping groupings of products or showcasing your latest hamper ideas. Ideal for gift hamper businesses, delicatessens, gourmet retailers, supermarkets, butcher shops and greengrocers.
Foodservice
Never miss an opportunity to add great depth of flavour with minimal additional effort. With Maxwell's Treats range of wholesale Christmas condiments, sauces and butters, you can add traditional flavours from the tip of a spoon and voila, Christmas in every bite! Ideal for cafes, restaurants, canteens, health care catering, corporate catering, sandwich shops and more.
To discuss your requirements or to place an order, contact Maxwell's Treats today using the form below.