Molinari Coffee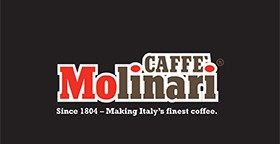 Molinari Coffee
Italy's finest coffee
Five Star
Enjoy Italy's finest coffee with our premium blend. Five Star is a superb blend of Arabica and Robusta beans sourced from renowned plantations the world over. Each Five Star blend delivers a rich and aromatic coffee – the pinnacle of over 100 years of experience.
Qualita Oro
For those who are used to the best, Qualita Oro (Italian for 'gold') is a quality blend of the best Molinari coffees, giving Qualita Oro unmistakable body, creaminess and aroma.
Espresso
Derived almost entirely from Central American plantations, Molinari's Espresso blend is one for coffee connoisseurs. Rich, dark and full flavoured, with a lingering aroma.
Rosso
The result of careful blending of Arabica and Robusta beans, Molinari's Rosso blend offers both full bodied flavour and dark, rich crema.
Essenza Range
The Essenza range brings three of Molinari's favourite blends to you, perfectly ground and ready for use. Freshly roasted and ground, each batch is then packed in a protective atmosphere to preserve the delicate aromas and flavours, while the convenient 250g flow bags allow natural degassing to occur without loss of quality or freshness.
Bio Organic Fairtrade Blend
Sourced from small plantations throughout Central and South America, Molinari's Bio blend was one of the first in the world to be certified both for its organic and fair trade origins. Enjoy Bio for full flavour with a mild, sweet finish.
Decaffeinated
Enjoy the coffee you love without the caffeine. Molinari's Decaffeinated blend uses the most advanced decaffeination process to remove the caffeine without removing the flavour and aroma. For more decaffeinated coffee, see the Five Star range.
100% Arabica
Arabica beans have long been praised for their sweet flavour and aromatic fragrance. Molinari's 100% Arabica blend brings together the world's most exceptional Arabica beans, roasting them to perfection to deliver a delicate, smooth finish.
Caffe Gourmet Range
Travel the world with Molinari's Caffe Gourmet range. From Guatemala to the highlands of Costa Rica, each Caffe Gourmet blend is sourced from a single country of origin. Explore them in turn to discover the subtle differences each origin offers, from the fruit and chocolate notes of Kenyan Arabica to the clean, full intensity of Javanese Robusta.