Gourmet Seasonings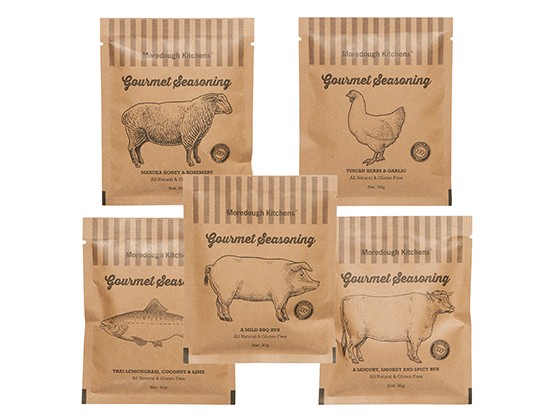 More Images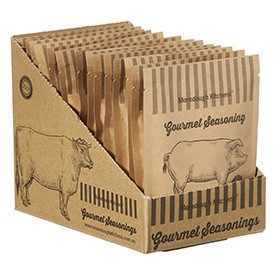 Gourmet Seasonings
from Moredough Kitchens
Starting with natural ingredients, Moredough Kitchens make restaurant quality pantry staples for foodservice and retail, the old-fashioned way. Their range of Gourmet Seasonings represent an opportunity to amp up flavour without having to have a pantry full of individual ingredients.
Veteran caterer Mandy Gray founded Moredough Kitchens in 2005. With a long history in the food industry including formal education and diverse experience, Mandy established her business to create products that turn out professional results.
GOURMET SEASONINGS
Moredough Kitchens' wholesale Gourmet Seasonings range will liven up the menu, both at home and in professional kitchens.
All Gourmet Seasonings:
Contain no artificial flavourings or additives
Contain no added MSG
Are low in salt
Are gluten free
Are 99% fat free
Are proudly Australian made
Beef Gourmet Seasoning
Add that coveted 'umami' flavour to your roasts, beef schnitzels, ribs and burgers with this savoury, smoky spice blend.
Chicken Gourmet Seasoning
The Tuscan herbs and garlic provide an Italian accent to your roast chicken, chicken casseroles, chicken risotto and poached chicken for salads and sandwiches.
Fish Gourmet Seasoning
Thai lemongrass, coconut and lime will bring out the exotic in any fish dish, from poached, fried or baked whole fish to crumbed fish fillets, fish curries, prawn laksa and calamari.
Lamb Gourmet Seasoning
Turn up your lamb dishes with Manuka honey and rosemary. Create spectacular lamb roasts, elevate your lamb shanks, add to a lamb curry or stir through a lamb casserole.
Pork Gourmet Seasoning
Milk BBQ flavours will go beautifully in your pulled pork, pork ribs and roast pork, or make your best ever roast pork with crackling.
flavour base for slow cooked casseroles on cool wintery nights.
Retailers
Stock Moredough Kitchens' Gourmet Seasonings in your supermarket, delicatessen, fine foods outlet or health food store. Position on the counter in your butcher shop for extra impulse purchases. Your customers will love being able to intensify the flavours of their meat dishes with just a spoonful or a shake of their preferred seasoning.
Foodservice
Moredough Kitchens' Gourmet Seasonings can help you change up the flavour profile of your usual dishes or inspire you to develop new ones.
For more information or to place an initial order for these outstanding Gourmet Seasonings, contact Moredough Kitchens today.