NATIF Australian Native Superfoods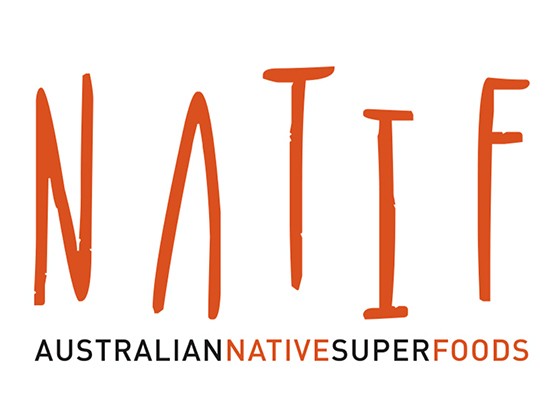 More Images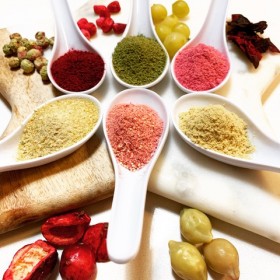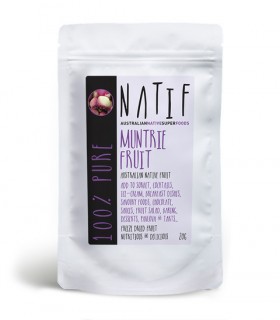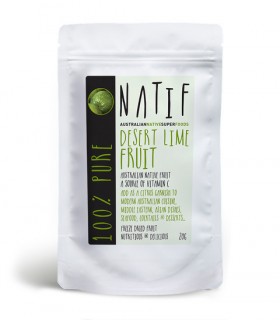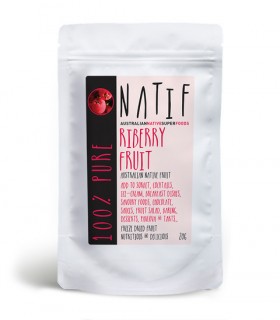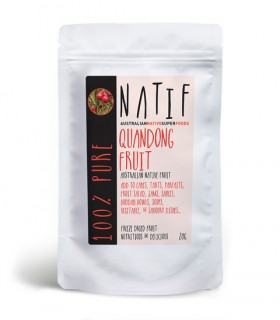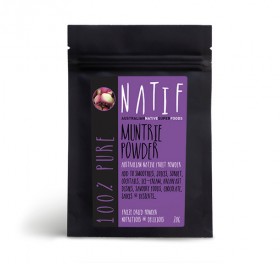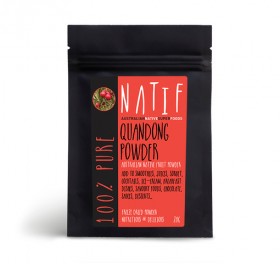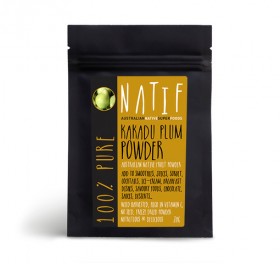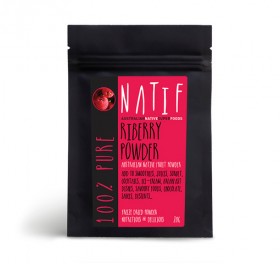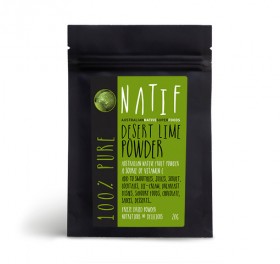 NATIF Australian Native Superfoods
Providing wholesale native ingredients to retailers, food service, the food, beverage and other industries since 2015.
Ancient, nutrient-dense superfoods from Australia's pristine landscape. Proven to contain superior antioxidants, phytonutrients, vitamins, minerals, protein, fibre and healthy oils.
NATIF means Native Australian Traditional Indigenous Foods:
Native Fruit Powders and Fruits
Native Herbs and Spices
Native Seeds
Native Beverages
All products are:
100% Pure and Natural Australian Native Ingredients
100% Australian Made and Owned by a qualified Nutritionist
No additives, no added sugar and Non-GMO
Vegan and Family Friendly
Presented in handy resealable pouches
All products are available in 20g, 100g, 500g, 1kg and bulk quantities.
NATIF premium products are sourced seasonally, ethically and sustainably from native foods farmers and harvesters all around Australia. They are dried and conveniently packaged in HACCP facilities supporting local Australian businesses.
Community values
NATIF seeks to raise awareness and connection to our environment. We have a passion to educate and promote the growth of the Native Foods Industry. We do this by providing information, speaking at events and at schools and by collaborating with people within the food and beverage industry. We have been working direct with Indigenous communities to help them grow native food volume and establishing accounts in which they can grow into the future.
NATIF values the importance of evidence-based and traditional information about native foods, where they come from, how they are processed, the method and ethics of collection and the rights of the Indigenous people who collect the fruit.
Eating our own country's native foods makes pure good sense
Enjoy as part of a healthy balanced diet by adding to foods for a boost of nutrition which will naturally benefit your everyday health and wellbeing. The brand is owned by Julie Merlet, a Nutritionist and Wellness Consultant who enjoys using Native Australian Ingredients to add flavour, boost nutrition and infuse dishes with the flavours of the outback.
Visit the NATIF website for full details on the health benefits of each product.
NATIF Superfood Powders and Fruits
Add a little bush tucker brilliance to your food and beverage creations. NATIF makes it so easy with their line of Superfood Powders and Fruits that are ready to go, with ease. The concentrated flavours mean you only need to use a little to get a great result.
Native freeze dried fruit - 2 years shelf life. Their low sugar content means you can add them to both sweet and savoury dishes. Add the native fruits to: Desserts, sorbets, cakes, home-made chocolate chards, jellies and jams, pavlova, raw food health balls and cakes. Add them as a beverage garnish to cocktails and fruit juices.
Davidson Plum Fruit
Davidson Plums are a rainforest fruit that's grown in northern NSW and Queensland. Add a tangy tart garnish to beverages, raw food cakes, sorbets and ice creams, chocolates, jellies and jams. Equally good in sweet or savoury dishes thanks to the Davidson Plum's low sugar content. High in vitamin C and antioxidants.
Davidson Plum Powder
Add the powder to smoothies, breaky bowls, juices, protein balls, chia seed puddings, add to jams, jellies, raw food cakes, sauces, pavlova, homemade chocolates, ice creams and sorbets.
Davidson Plum and Rivermint Tea
A cleansing, refreshing tea that has loads of vitamin C and antioxidants, A soothing tea for sore throats and may help relieve congestion from coughs and colds thanks to the natural aromas and flavours of mint and peppermint.
Desert Lime Powder
The wild desert lime fruit grows naturally in semi-arid regions of Australia. Add the powder to smoothies, protein balls, sprinkle over salads and seafood, into raw food cakes, add to make sauces and chutneys, meat rubs and marinades.
Desert Lime Whole Fruit
The rich lime citrus flavour of the desert lime is ideal for adding a tangy zing to chutneys, seafood, marinades, meat rubs, chocolate fudge, healthy desserts and salads.
Kakadu Plum Powder
Kakadu plums grow wild in the subtropical areas of the NT, WA and Queensland. Kakadu plums have been important as food and medicine to Indigenous people for millennia. A pleasant aroma like stewed apples, pears and citrus. Enjoy their superior health benefits in smoothies, health balls, breaky bowls. Sprinkle over salads, desserts, add to water bottles for a boost of high vitamin C, sauces, cakes, sorbets.
Kakadu Plum Whole Fruit No Seed
Coming soon.
Muntrie Whole Fruit
Also known as Emu Apple, Muntries are native to Australia's southern regions. NATIF offers these freeze-dried whole Muntries for your bush tucker adventures. They make a tasty sweet addition to desserts and breakfast bowls and added to a fruit and nut mix.
Muntrie Powder
Add to any dessert, cake icing and sweet sauces. The aroma is akin to spicy apples and juniper berries. Great source of vitamin C. Use in smoothies, sprinkle over cereal and roll over health balls.
Quandong Fruit
Quandongs (or wild peaches) are found in the semi-arid zones of southern Australia. These colourful bright red fruit can be rehydrated to soften and added to jams, sauces, stews, soups, salads, pies, fruit mixes and cakes.
Quandong Powder
Use NATIF Quandong Powder to add colour and zing to desserts, smoothies, juices, breakfast bowls and health balls.
Riberry Fruit
Riberries fruit from a subtropical rainforest tree from the east coast of NSW and southern Queensland. Their crimson tart berries have a sweet, spiced tea aroma with musk and bush honey. Add fruit to pavlova, raw desserts, berry pies and baking.
Riberry Powder
Use Riberry Powder in smoothies, fruit syrups, icing for cakes, add to breakfast bowls.
NATIF Herbs + Spices
A sprinkle here, a scatter there, NATIF's Herbs + Spices are just the trick to add instant flavour in a healthy, all-natural, easy-to-use way. Get creative! Try them as flavour enhancers, as coating powders and as food and beverage garnishes.
Aniseed Myrtle
Aniseed Myrtle is a rainforest tree that grows in some areas of north-eastern NSW. The leaves are crushed to release an aniseed (or liquorice) aroma. Use in marinades and rubs for meat and vegetarian dishes, seafood, raw food dishes, salads, soups, pasta, stews and salad dressings or just as you would any other herb or spice. Add to jams, pizza, syrups, teas, pickles, sweets, butters, cakes, sauces and ice creams/icy poles. Makes great tea too.
Bush Tomato
Bush Tomatoes (or Desert Raisins) are dried berries that grow in the desert areas of the NT, Central and South Australia. The small desert plant fruits are mostly wild harvested with some plantations. An amazing savoury and sweet, smoky, caramelised aroma, a tart taste which finishes with the sweetness of a currant. Pair with fingerlimes to achieve a sweet and sour effect. Sprinkle Bush Tomato onto salads or game meat dishes, use in marinades, on bacon and eggs, with cheese or in dukkha.
Lemon Myrtle Ground
Lemon Myrtle grows in the wet coastal areas of northern NSW and southern Queensland. It contains high amounts of citral which accounts for the lovely citrus notes, similar to lemongrass. Add to: jams, pizza, fish and chips, salt and pepper mix for calamari rings and chicken, syrups, teas, pickles, sweets, butters, cakes, sauces and ice creams/icy poles, marinades and rubs, seafood, raw food dishes, salads, vegetarian and vegan dishes, soups, pasta, stews, roast vegetables and salad dressings.
Cinnamon Myrtle
Cinnamon Myrtle is found in sub-tropical areas of NSW and Queensland. The leaves have a spicy, cinnamon flavour and aroma. The leaves have elemicin (an essential oil) which is also found in nutmeg. It can be added to curries, Moroccan dishes, stews, slow-cooked dishes, chutneys, jams, sauces, rice and pasta and used in baking.
Mountain Pepper
Tasmanian Mountain Pepperleaf grows in the wet forests of southeast Australia and Tasmania. The green leaves are used like pepper and the purple berries are used like a strong, hot chilli in cooking. Smells of the Australian bushland, paperbark and herbs. Heat develops on the palate like pepper. Use as you would any other pepper.
Pepper Berries
Pepperberries grow in the wet forests of southeast Australia and Tasmania. Think chilli with some berry flavour but beware as it develops strong heat on the palate. Use as you would chilli.
Peppermint Gum
The Peppermint Gum grows in the woodlands and forests of south-eastern Australia. The essential oils in the leaves smell like peppermint and eucalyptus gum. Use to flavour desserts, fruit dishes and tarts, add to whipped creams, raw deserts, ice cream, baking, jams, parfaits, sauces, teas and other drinks like juices and smoothies.
Rivermint
River Mint (or Native Mint) grows in all states of Australia except WA, close to rivers and water. Smells and tastes like spearmint. Add to desserts, baking and sauces.
Saltbush
Saltbush is found in large areas of dry inland Australia. Contains mineral salts in the leaves and can be added to foods instead of salt. Add onto any foods at the last minute for a natural salty flavour. Add to dukkhas, marinades, sauces, salads, breads, pasta, barbecued foods and roasted vegetables.
Sea Parsley
Sea Parsley grows naturally along the pristine coastlines of southern Australia. Add to soups and slow cooking or as you would any other parsley. Great in Asian soups too!
Strawberry Gum
The Strawberry Gum is a eucalyptus tree growing in the Northern Tablelands of NSW. Aroma of strawberry and eucalyptus. Use to flavour desserts, tarts, add to whipped creams, sorbet, baking, sauces, jams, parfaits, sauces, tea and other beverages.
Wattleseed
Wattleseed is highly nutritious and versatile. It has been a staple food for Indigenous people for millennia and is a rich source of protein, fibre and low GI carbohydrate. Has a hazelnut, chocolate/coffee aroma and can be used as a coffee substitute in coffee machines or plungers. Wattle lattes taste great but keep the nutritious seeds as they can be reused in cooking on the same day. Can also be added to cakes, slices, homemade chocolate, desserts, breads, ice cream and can be used to thicken sauces and casseroles.
Retailers
NATIF supplies premium quality bush tucker ingredients for your customers to use at home. Why not offer taste tests? The NATIF range is ideal for retail stores, health food stores, green grocery stores, fine food stores, country food trail outlets, hamper companies, tourist outlets, handmade retailers and gift stores. Your customers will love the opportunity to pick up these exotic delicacies in a format that they can keep on hand for when inspiration strikes. Beautifully packaged and ready to use, NATIF's Herbs and Spices have a shelf life of 18 months and the Fruits and Fruit Powders have 2 years.
Foodservice
NATIF has been providing native foods to cafes and restaurants around Australia for over five years now. Turn to NATIF for your reliable supply of premium quality bush tucker ingredients which can inspire your next menu creation or add the flavour of the outback to many of the dishes you are already serving. Also ideal for juice bars, health centres and cafes, wineries, restaurants, airports and school canteens. NATIF brings extraordinary outback flavours to your commercial kitchen with ease and reliable consistency. Order just the amounts you need with our flexible quantities policy.
---
More information about NATIF Australian Native Superfoods
Interview - Julie Merlet - NATIF Australian Native Superfoods
If you could go out into the bush and gather some of the world's most ancient, most nutritionally dense and undeniably tasty foods, would you? Great news! You don't have to because Julie Merlet, Director of NATIF Australian Native Superfoods has it all covered. She works with Indigenous communities who wild-harvest and Australian native food growers who pick these precious gifts and turns them into easy-to-use products that bring the outback to city tables. Click here