Nicholson Fine Foods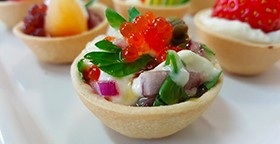 Nicholson Fine Foods
Garnishing Pearls
From multi-award-winning Nicholson Fine Foods come two very exciting products that will elevate your finger foods to new heights of elegance. Garnishing Pearls are pretty to look at and provide 'wow factor' as well as mouth-watering flavours. Made with all-natural ingredients, they have a soft gel texture and a nice melting ability.
Garnishing Pearls are vegan, gluten free, made from real food ingredients, have uniform size and shape and boast a shelf life of 12 months, refrigerated. The company also produces a fine extra virgin olive oil infused with natural truffle aroma and two oils with Garnishing Pearls.
Garnishing Pearls are a cost effective and creative accompaniment to all kinds of finger foods, entrees, main courses, desserts and drinks. Easy to use, they add effortless elegance and sophistication to even the simplest of canapes. Each individual pearl melts in the mouth, releasing a delicate explosion of flavour. Available in 125g packs, sufficient for 65-250 serves, depending on application.
Balsamic – Dramatic black with rich balsamic flavour, perfect for game meats, oysters and salads.
Golden Vanilla – Fabulous vanilla and caramel flavours perfect for garnishing desserts, sweet meats and drinks like champagne cocktails and whisky sours.
Simmered Soy – Deep brown pearls with a complex, caramel, soy and umami flavour profile, ideal for any Asian dishes, seafood, oysters, sushi and sashimi presentations.
Blood Plum - Fine Foods in Regional Australia Silver Medal winner. The lovely, fruity flavour goes well with cheeses and meats.
Limoncello – Made with Italian Limoncello, they are excellent for desserts, seafood and mixed drink cocktails.
Matcha Green Tea – A favourite Japanese flavour, matcha green tea pairs well with sushi and sashimi plates, cheeses, desserts and canapes.
Porcini Mushroom – Little bronze-coloured pearls of intense mushroom flavour, these can be used to garnish steaks, pasta, risotto and dressings.
Red Capsicum – The vivid capsicum red of these pearls will enliven any dish; ideal with oysters, smoked salmon, pasta, risotto, canapes, even in a gin and tonic.
Red Chilli – Made with red cayenne chillies, these Garnishing Pearls are ideal serve atop a great steak, pasta, risotto or salad. The flavour is clear and warm, and mixed with olive oil and vodka makes a beautiful dressing for oysters and other shellfish.
Summer Mango – Made with ripe Queensland mangoes, they add a tropical touch to pavlovas, crème brulee and tarts.
Umami Clam – Jet black Garnishing Pearls with the fresh, clean flavour of the sea. A stunning addition to your finger foods, seafood pasta dishes and seafood salads.
Serving suggestions
Choose your preferred flavour and use in any of the following ways:
Serve with fresh oysters
Top ocean-fresh seafood with Balsamic Garnishing Pearls
Garnish canapés
Add to a salad for vibrant colour
Make a fun dressing by mixing with olive oil
Jazz up a cheese platter
Garnish risotto or pasta dishes
Top a grilled fish fillet with pearls
Blend through thin mayonnaise for a visually appealing salad sauce
Garnishing Pearls also present a wonderful way to dress up a flute of sparkling wine. Drop a few into a cocktail for extra pizzazz.
Garnishing Pearls in Truffle Oil
Perhaps even more decadent is Nicholson Fine Foods' Garnishing Pearls suspended in premium organic olive oil sourced from the Grampian Ranges in western Victoria, and infused with natural truffle aroma. Use as a dressing for salads and steamed vegetables, drizzle over hot meats and garnish risotto, pasta and seafood dishes with ease and culinary flair. Finger foods are made extra special with a slick of Garnishing Pearls in Truffle Oil. Use as a dipping oil or dress a plate before adding the star attractions.
Truffle Oil – Exquisite local extra virgin olive oil infused with truffle aroma.
Balsamic Garnishing Pearls in Truffle Oil – Ideal to accompany finger foods featuring meats, cheeses and seafoods.
Red Capsicum Garnishing Pearls in Truffle Oil – Make use of the stunning red colour to decorate platters and amuse bouche serves.
Retailers
Your customers who enjoy entertaining will love Nicholson Fine Foods' Garnishing Pearls products for their dinner parties, cocktail parties and afternoon teas, or even just for a romantic dinner for two. Ideal for delicatessens, fine food retailers and food halls.
Foodservice
Use Nicholson Fine Foods' Garnishing Pearls as inspiration to create exciting new canapes, to decorate cheese and charcuterie platters and to add colour and flavour where it may be unexpected.
To discover more or to place an order, contact Nicholson Fine Foods today using the enquiry form.
Video - Cajun Salmon
Enjoy this video from Nicholson Fine Foods showing how to make Cajun Salmon with Red Pepper Finishing Vinegar & Balsamic Garnishing Pearls .
---
Video - Cajun Chicken
Enjoy this video from Nicholson Fine Foods showing how to make Cajun Chicken with Mango Finishing Vinegar & Red Chilli Garnishing Pearls.
---