Nicholson Fine Foods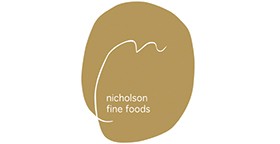 Nicholson Fine Foods
Gift Basket Essentials from Nicholson Fine Foods
Nicholson Fine Foods specialises in researching, designing, formulating and producing niche market premium quality speciality foods for retailers, food manufacturers and foodservice businesses. They have created a wish list of gorgeous products that can be anyone's reality. Gift hamper companies will adore the uniqueness the products bring, and gift recipients will be grateful to be so highly thought of by their givers.
The company has won multiple awards for their foods and you can ride their coat-tails to success by introducing your customers to these fabulous products.
Garnishing Pearls
Nicholson Garnishing Pearls allow chefs and home chefs to create dazzling, dramatic dishes with the bonus of added flavour. Vegan, gluten free and all natural, they are suitable for savoury and sweet dishes, canapés, drinks and cheeseboards. Packed into 125g units.
Red Chilli
Serve with oysters, steak or grilled fish or dress up a salad.
Blood Plum
Garnish a cheese platter or add to a flute of sparkling wine for extra glamour.
Summer Mango
Create dazzling desserts, perch atop a risotto dish or garnish canapés.
Red Capsicum
Serve with avocado wedges or drop a few pearls into a gin and tonic.
Sauces and Essences
This range of exquisite sauces and essences has to be tasted to be believed! Available in beautifully packaged bottles surrounded by elegant cardboard sleeve. 250ml.
Essence of Hibiscus Flowers
Each bottle contains twelve flowers, all floating in an exotic fruit flavoured syrup that will complement savoury and sweet dishes. Enjoy the combination of raspberry, plum, watermelon and rhubarb flavours. Serve with champagne or white spirits such as vodka or gin splashed with tonic water. Use the flowers as a beautiful garnish.
Essence of Cacao – Chocolate Balsamic
Rich and complex flavours are laminated with aspects of caramel, orange and plum with deep rich cacao / chocolate flavours with a dark acidic vinegar finish. Ideal to serve with lamb, beef, turkey, kangaroo and cured meats. Works well with grilled haloumi, strawberries and figs.
Northern Rivers Classic BBQ Essence
Best described as East meets West on a smoky day in Northern New South Wales. Vibrant fruit and spice blends make this a truly memorable flavour. Use it as a pour-over, dipper, marinade, deglaze essence or baste.
Jelly for Cheese
Designed and made in Australia by Nicholson Fine Foods, these beautiful soft jellies have been created to accompany your favourite cheeses and add a new level of flavour and texture matching to many other foods.
Blood Plum Jelly
For blue cheeses, goats' cheese and washed rind cheeses.
Red Pepper Jelly
For goats' cheese, sharp cheddar, ricotta and bocconcini.
Savoury Mango
For camembert and brie, goats' cheese, washed rind cheeses and cheddar.
Savoury Beetroot
For blue cheeses, goats' cheese and washed rind cheeses.
Chocolate Mousse
The ultimate simple-to-make dessert for chocolate lovers! Simply add water and whipped cream, ricotta or yoghurt. Each 150g pack makes 6 - 8 serves. Also available for foodservice in 800g, 3kg and 5kg bags.
Winner of 4 National Dairy Champion Trophies.
This product can be used to make yoghurt creams, crème patisserie, semi fredo, mousse, truffle creams, and ricotta cheese cake fillings.
Belgian Chocolate Mousse Classic Chocolate
Gorgeous silken milk chocolate flavours and aromas with added texture thanks to finely shaved pieces of coverture chocolate
Belgian Chocolate Mousse White Chocolate
Use yoghurt instead of cream and the result will be similar to mascarpone cheese in texture. Fill profiteroles, pastries and cakes or enjoy as a dessert garnished with whipped cream.
Belgian Chocolate Mousse Swiss Dark
For dedicated dark chocolate lovers; rich and complex flavours with flecks of dark coverture chocolate pieces. Fill a pastry basket or chocolate cup and add a splash of liqueur such as Kahlua or Grand Marnier.
Belgian Chocolate Mousse White Christmas
To the white chocolate base have been added semi-dried cranberries, Australian currants, cinnamon, nutmeg and orange oil. Feast on the traditional flavours of Christmas pudding in a white chocolate dessert. Serve as a semi-freddo pudding decorated with summer berries for a unique slant on Aussie Christmas pudding.
Finishing Vinegars
Made in the style of Italian vino-cotto (reduced wine vinegars), but the Nicholson award-winning Finishing Vinegars are not subject to the same oxidisation. They provide the perfect balance of sweet and sour and stronger, more vibrant fruit drivers. Designed to be used just prior to service, they are to be drizzled over foods at the last minute.
The Finishing Vinegars are available in 825ml PET (kitchen-friendly plastic) bottles for foodservice and 265ml retail packs are in eye-catching glass bottles. Use for dressings, deglazing and pouring over dishes.
Spiced Red Pepper Finishing Vinegar
Made with red Cayenne chillies and red capsicums. Has a beautiful floral, warm flavour and aromas.
Italian Style Sweet Black Cherry Finishing Vinegar
Comprises lovely complex cherry fruit flavours. Wonderful with fresh goats' cheese, berries, yoghurt and ice cream.
Euro Style Spiced Beetroot Finishing Vinegar
Displays spiced earthiness with elegant beetroot flavours.
Italian Style Blood Plum Finishing Vinegar
Beautiful complex flavours, perfect for sweet and savoury applications.
Spiced Raspberry Finishing Vinegar
The warmth of pepper and cloves makes this a spectacular addition to cooked meats or summer fruits.
Summer Mango Finishing Vinegar
Lovely soft mouth feel and coating texture. Ideal with sweet meats like chicken, ham, lamb, turkey, ham and seafood.
Hibiscus Flower Finishing Vinegar
An exotic floral Finishing Vinegar made with locally grown hibiscus. Lovely with a watermelon and fetta salad or spicy roasted meats such as duck, lamb, pork or turkey.
Roasted Red Capsicum Finishing Vinegar
With its great fruit flavours and the added complexity of ginger, pepper and bay leaves, this dual gold medal winner can be combined with mayonnaise for a seafood dipping sauce or added to casseroles and dips to boost flavour and enhance colour.
Luxury Belgian Drinking Chocolate
Like no other hot chocolate! These luscious products are presented in a gorgeous 500g gift tin. (Also available in 1kg stand-up gold bag.)
Luxury Belgian Couverture Hot Chocolate (Original) – A beautiful blend of the finest cocoa powder and Belgian couverture chocolate, enhanced with vanilla.
Luxury Belgian Couverture Hot Chocolate (White) – A beautiful blend of the finest Belgian couverture chocolate, Australian milk powder and delectable vanilla.
Spice Mixes/Sprinkles
Game changers for your favourite dishes, these Spice Mixes and Sprinkles help you add depth of flavour with virtually no extra effort.
Blackened Cajun Spice Mix
Use it as a spice rub or marinating seasoning sprinkle when barbecuing or roasting. Add to softened butter to create flavoured butter discs.
Italian Porcini Seasoning Sprinkle
Mushroom lovers will adore this seasoning sprinkle for its big porcini flavour and spice and herb background. It elevates any savoury food flavour profile.
Spiced Beetroot Seasoning Sprinkle
Use in place of salt and pepper to add gentle, earthy beetroot flavours and a lovely spice and herb background. Add to dips, atop bruschetta or to sauces, salads and vegies.
BioBurger
For the socially conscious or coeliac foodie, BioBurger is a gift hamper dream come true. Gluten free, soy free and vegan, it is an all-natural dry burger blend of stone ground dried peas, beans, lentils, grains, vegetables, spices and herbs.
Simply add boiling water and your own desired fresh ingredients. It cooks in just two minutes, tastes delicious and is very healthy. Ideal for those who seek a healthy, complex, vegetarian diet that is high in protein and dietary fibre. It can be used for burgers, pie fillings, falafel balls, sausages, soups and casseroles.
Retailers and Gift Hamper companies
Have your customers salivating over these divine products from Nicholson Fine Foods. When purchasing for their loved ones as gifts, they will be likely to pop an extra product in their shopping basket to keep! Gift hamper businesses adore Nicholson's products for their quality ingredients, innovative ideas and aesthetic appeal.
Foodservice
Put Nicholson Fine Foods' gorgeous products to work in your kitchen and enjoy the results. Produced with top quality ingredients and validated with multiple medals and awards, they deserve a special place in your store cupboard. Not only are they delicious, beautifully made and award-winning but they will inspire menu creations and spectacular dishes.
To place your first order of these exciting foods, contact Nicholson Fine Foods today.
---
More information about Nicholson Fine Foods
The Awards Keep Coming for Nicholson Fine Foods' Chocolate Mousse
They've done it again. Nicholson Fine Foods is a regular award winner and it was no different when they entered their divine Belgian Chocolate Mousse premix into the Royal Queensland Food and Wine Show recently. The product won a Champion trophy which makes it three years in a row! Click here
Spiced Beetroot Finishing Vinegar Impresses Sydney Judges at Fine Food Awards
If the first thing you imagine when you think of beetroot is sinking your teeth into a juicy beachside burger, think again. Sydney gourmet food producer Nicholson Fine Foods just picked up some new medals and ribbons at the 2015 Royal Fine Food Awards for their Euro Style Spiced Beetroot Finishing Vinegar. Click here
Nicholson Fine Foods Awarded 5 Medals for their Belgian Chocolate Mousse
Nicholson Fine Foods were thrilled to be awarded not one, not two but five medals at the 2015 Royal Queensland Dairy Awards for their easy-to-prepare Belgian Chocolate Mousse products. Click here
Video - Cajun Salmon
Enjoy this video from Nicholson Fine Foods showing how to make Cajun Salmon with Red Pepper Finishing Vinegar & Balsamic Garnishing Pearls .
---
Video - Cajun Chicken
Enjoy this video from Nicholson Fine Foods showing how to make Cajun Chicken with Mango Finishing Vinegar & Red Chilli Garnishing Pearls.
---
Mango Finishing Vinegar
Mango Finishing Vinegar
---