Old Bones Chilli Co
More Images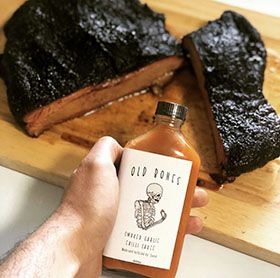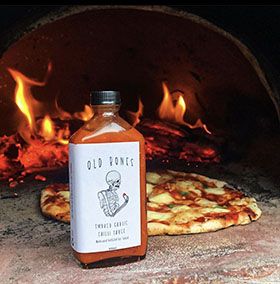 Service Area Australia Wide
Old Bones Chilli Co
Wholesale Australian-Made Chilli Sauces
"Don't settle for mediocre"
Old Bones Chilli Co is a family owned and operated producer of wholesale chilli sauces and condiments based in Sydney where all products are handmade and bottled.
Every recipe is crafted by Head Chef and Chilli Wizard, Joshua Ngaire who boasts more than 14 years of fine dining experience. His obsession with hot sauces led to experimentation. When his first product, Smoked Garlic Chilli Sauce sold out in just a few weeks, he recruited the family to get all hands on deck and Old Bones Chilli Co was born. The range has been expanded to include smoked red chimmichurri, chilli salts and chilli beef jerky.
Today, sustainability is a major focus at the company. All chillies are sourced from Australian sustainable producers and the company uses environmentally friendly packaging. Pictures and information are available on the Old Bones website, along with some inspiring recipes.
Sauce features:
Made in Australia using mostly Australian ingredients
Bottled & labelled by hand
Vegan
Gluten free
Nationwide delivery
Bulk quantities available for foodservice
Old Bones is proudly a Veteran owned business and employs Disability Services Australia as their labelling contractor.
Wholesale Chilli Sauces
Old Bones believes a good chilli sauce should enhance a meal, not overwhelm it so they take extra care to ensure their sauces are perfectly balanced, and not just hot. In this way, the sauces are more accessible to a wider range of palates.
Smoked Garlic Chilli Sauce Original – Made using Australian grown habanero and long red chillies, this delectable sauce is given a further flavour dimension with Old Bones' house-crafted smoking method. It exhibits a meaty garlic punch and is perfectly balanced. Full flavoured with a mild, palatable burn, it's the perfect drop for your seafood pasta and guacamole. It'll definitely become the 'secret ingredient' you use in your dishes. Vegan, gluten free. INGREDIENTS: Chilli (habanero and long red), white vinegar, garlic, sugar, salt, xanthan gum.
Smoked Garlic Chilli Sauce Extra Hot – For those who enjoy extra bite, this is the sauce for you. Perfectly balanced and with a meaty garlic punch, it'll be your favourite to spice up breakfast, lunch and dinner plus snacks. Vegan, gluten free. INGREDIENTS: Chilli (habanero and long red), white vinegar, garlic, sugar, salt, xanthan gum.
Jalapeno & Garlic Pepper Sauce – Inspired by traditional Louisiana-style hot sauce, Old Bones' Jalapeno & Garlic Pepper Sauce is made from Australian grown produce. It's fresh, sharp and loaded with savoury flavour. Splash it on your nachos, add a bit of bite to your salad, brighten a gumbo or drizzle over pizza. Vegan, gluten free. INGREDIENTS: Jalapeño, distilled vinegar, water, garlic, salt, sugar, spices, xanthan gum.
Buffalo Sauce – Australian grown cayenne and habanero chillies go into making this the perfect sauce for your chicken wings or cauliflower bites. It's bright, smooth and buttery (although doesn't contain butter). Vegan, gluten free. INGREDIENTS: Chilli (cayenne and habanero), white vinegar, vegetable oil, onion, garlic, sugar, salt, spices, xanthan gum.
Retailers
Introduce your chilli-loving customers to an Aussie-made hot chilli sauce range that will change the way they think about chilli sauces, plus smoked salts and beef jerky. Offer taste tests and talk about the local provenance of the ingredients and sustainability virtues. Ideal for supermarkets, greengrocers, fine food stores, delicatessens, butchers, food halls and barbecue retailers.
Foodservice
Fire up your recipes with true depth of flavour and not just heat. Old Bones' wholesale chilli sauces are available in bulk quantities for your recipes and of course, you can purchase retail bottles for use at the table or condiment stations. It's the perfect drop for barbecue restaurants, pizzerias, charcoal chicken outlets, burger joints, pubs and American/Mexican restaurants.
To find out more or to place an order, reach out to Old Bones Chilli Co today.