Random Harvest Gourmet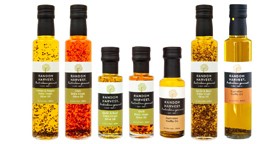 More Images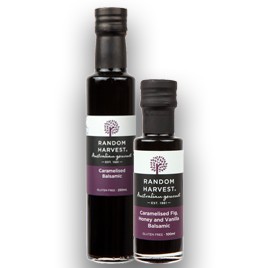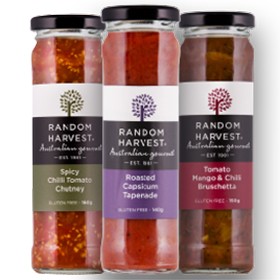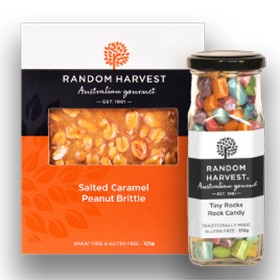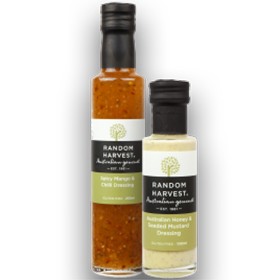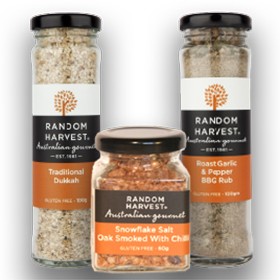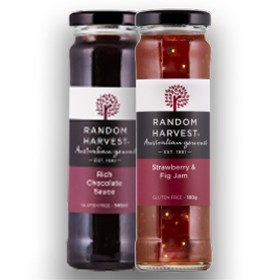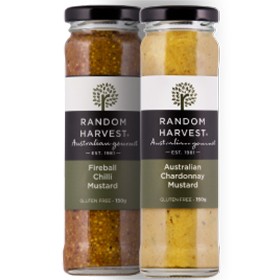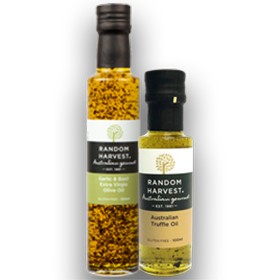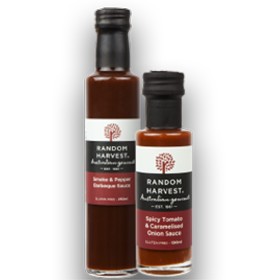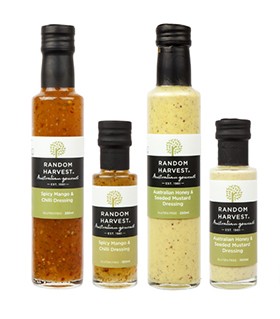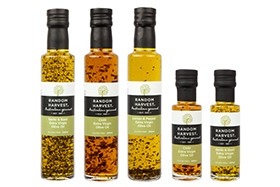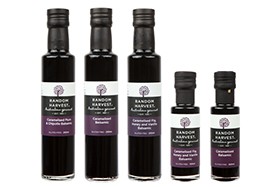 Random Harvest Gourmet
Wholesale Gourmet Condiment Supplier
Condiments make it easy to add extra flavour, personality and pizzazz to any dish. Quality is of supreme importance, which is why Random Harvest Gourmet use only the best ingredients across their entire range of wholesale mustards, chutneys, dressings, sweet and savoury sauces, jams, dukkahs, rubs and salts. There's also a brand new array of luxurious foods infused with Australian-grown truffles. Everything is gluten free, 100% natural, proudly made in Australia and lovingly presented in visually appealing packaging.
Random Harvest Gourmet have been creating and producing premium quality wholesale condiments for retailers, foodservice and gifting businesses since 1981. Their reputation for excellence and business integrity makes them a favourite supplier and the quality and consistency of their products has endeared them to consumers.
Choose Random Harvest Gourmet to help add fabulous depth of flavour with minimal extra input.
The range
NEW!! Random Harvest Australian Truffle Condiments
This new range showcases the finest Australian truffles and brings the ultimate truffle indulgence to your table.
Australian Truffle Oil 100ml & 250ml – Exquisite extra virgin olive oil flecked with dried Australian-grown truffle and abundant in truffle aroma. Add a splash to hot vegetables, dress a plate of pasta or even drizzle over pizza straight from the oven.
Australian Truffle Caramelised Balsamic 100ml – The luxury of truffle essence infuses premium balsamic vinegar for a dressing you'll want to use on everything. Use it on meats, in salads and as a dipping sauce for breads.
Australian Truffle Salt 100g – Elevate even the humblest of dishes to great new heights with this sublime truffle salt, created to easily enhance any food.
Australian Truffle Mustard 100g – Truffles, truffle aroma and turmeric are perfectly balanced with spices to create this incomparable mustard. Add earthy depth to meats, salads, roasted vegetables and sandwiches.
Australian Truffle Oil & Salt Gift Pack – The perfect pairing of truffle-infused staples for any gourmet's pantry.
Random Harvest Mustards
Blended with the goodness of mustard seeds and enhanced with rich flavours, these mustards are the ideal accompaniment for sandwiches, barbecued meats, roast chicken and hot roast vegetables. Made with premium ingredients, they provide a sophisticated edge to many dishes that benefit from that little extra touch of piquancy.
Roasted Capsicum Mustard
Peppercorn Shiraz Mustard
Kalamata Olive Mustard
Garlic Sundried Tomato Mustard
Fireball Chilli Mustard
Chardonnay Mustard
Pale Ale Mustard
Aged Whiskey Mustard
Random Harvest Chutneys
Upon a base of succulent, sun-ripened tomatoes, these rich chutneys are available in three varieties to suit individual tastes. Create a dish from basic, wholesome ingredients then add the chutney to the recipe or alongside and experience a whole new level of flavour. Serve with cheeses, on sandwiches, with crusty picnic breads or stir through braised meats before serving.
Tomato Basil Oregano Chutney
Spicy Chilli Tomato Chutney
Random Harvest Oils & Dressings
Random Harvest Gourmet's infused oils and dressings liven up your favourite dishes with fresh flavours. Use on hot seafood, dress pasta before serving, toss through a salad, use as a dipping sauce or drizzle over bread before warming in the oven.
Garlic Basil Olive Oil
Chilli Extra Virgin Olive Oil
Lemon & Pepper Extra Virgin Olive Oil
Australian Truffle Oil
Lemon Garlic Dill Dressing
Chardonnay & Lemon Dressing
Caramelised Balsamic
Caramelised Fig, Honey & Vanilla Balsamic
Caramelised Plum & Chipotle Balsamic
Spicy Mango & Chilli Dressing
Australian Honey & Seeded Mustard Dressing
Random Harvest Sauces
Splash a little extra flavour over your barbecued meats, hot dogs, ribs or omelettes. The sweet, piquant flavours go perfectly with many of your favourite dishes.
Spicy Tomato & Caramelised Onion Sauce
Smoke & Pepper Barbecue Sauce
Random Harvest Tapenades
Full-flavoured tapenades add robust flavour even in small amounts. Made with premium ingredients, they turn even humble bread into a sophisticated gourmet accompaniment to meals. Create delicious canapes, spread on a pizza base before adding toppings, enjoy with crudités as a dip, add to a marinade or add a spoonful to the top of a hot pasta dish just before serving.
Roasted Capsicum Tapenade
Rich Green Olive Tapenade
Kalamata with Roasted Garlic Tapenade
Random Harvest Bruschetta
Luscious gourmet toppings for your bruschetta are available in three flavours. They are a full-bodied mix of sun-kissed vegetables and other ingredients for individual personality. Serve with or atop crusty bread or serve alongside grilled chicken, meat or fish.
Tomato, Capsicum & Garlic Bruschetta
Tomato, Mango & Chilli Bruschetta
Tomato, Olive & Caper Bruschetta
Random Harvest Jams
Not your average flavours, Random Harvest Gourmet's jams are loaded with succulent fruits in interesting combinations. Versatile enough to be included in your sweet and savoury recipes, they are equally as good on toast as they are when used as a glaze for roast meats or when served with gourmet cheeses.
Strawberry & Fig Jam
Raspberry & Rhubarb Jam
Blueberry & Blood Plum Jam
Apricot, Peach & Vanilla Jam
Random Harvest Dessert Sauces
Indulgent and full-flavoured, Random Gourmet Harvest's dessert sauces elevate sweets to new heights of professional presentation and flavour. Available in both classic and contemporary varieties, they inspire creativity and set mouths watering.
Rich Chocolate Sauce
Raspberry Sauce
Irish Cream Liqueur Chocolate Sauce
Classical Brandy Liqueur Sauce
Chocolate Honeycomb Sauce
Traditional Brandy Custard Sauce
Salted Caramel Sauce
Random Harvest Dukkah
Dukkah adds texture and flavour to salads, roasted vegetables and bread and pizza toppings. Or it can simply be enjoyed with bread and good quality oil and vinegar as a final dipping ingredient.
Traditional Dukkah
Spicy Chilli Dukkah
Random Harvest BBQ Rubs
So easy to use, BBQ Rubs add powerful flavour without having to keep loads of ingredients on hand. The barbecue-loving gift recipient will be eager to use these straight away!
Roast Garlic & Pepper BBQ Rub
Smoked Paprika & Chilli BBQ Rub
Random Harvest Murray Darling Salts
Tweak savoury dishes with a hum of smokiness thanks to Random Harvest Gourmet's smoked salts range. Spritz roasted nuts with olive oil than sprinkle with smoked salt. Use in spice rubs for roasting or barbecuing meats or mix with chopped herbs and garlic and serve with jacket potatoes and sour cream. Season fresh salads, sprinkle over pizza bases glossed with Random Harvest Gourmet's infused oil and there will be no need for other toppings.
Oak Smoked Snow Flake Salt with Chilli
Oak Smoked Snow Flake Salt
Oak Smoked Salt & Pepper
Retailers
Your customers will adore Random Harvest Gourmet's range of outstanding flavour enhancers, all natural, gluten free and made with premium ingredients. Add a new edge to favourite dishes or create something new and exciting thanks to fresh inspiration. All products are perfectly suited to gift hampers and gift merchandising. Position with complementary products such as cookware, linens or breads, meats or vegetables. Ideal for greengrocers, Australian-made retailers, gourmet ingredients stores, butchers, bakeries and more.
Foodservice
Minimal effort, maximum flavour. A spoonful of this or a drizzle of that and any dish will come to life. Random Harvest Gourmet's range is a must-have for the larder, to enhance presentation and add interesting new flavours. For use in restaurants, cafes, bed and breakfasts, pubs, caterers, gourmet sandwich outlets, etc.
To discuss your requirements or to place an order, contact Random Harvest Gourmet today.
---
More information about Random Harvest Gourmet
Australian Black Truffle Range - Random Harvest Gourmet
Australian Black Truffle Range - Random Harvest Gourmet Click here
Random Harvest Goes International
Aussie family-run gourmet food brand Random Harvest smashes on to the international market, launching in Harrods. Click here
Random Harvest Gourmet Product Catalogue
Browse the current catalogue. Click here