Random Harvest Gourmet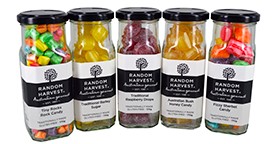 More Images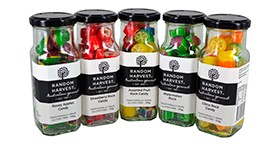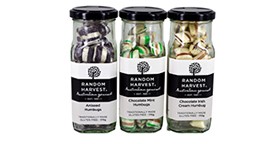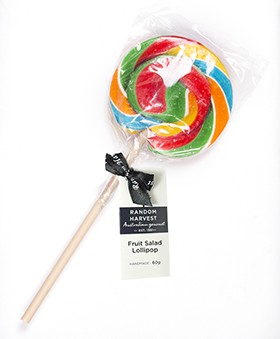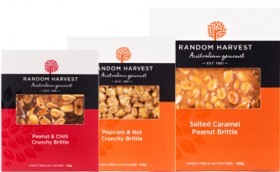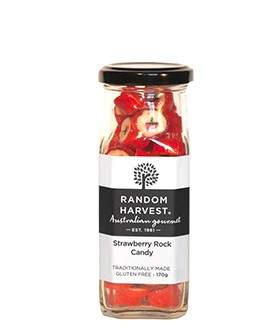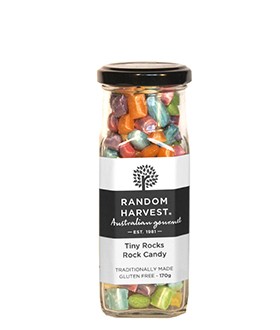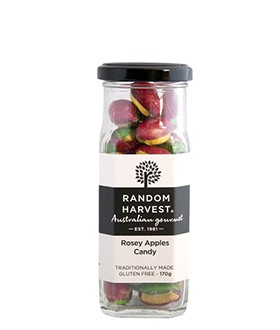 Random Harvest Gourmet
Wholesale Gifting Confectionery Supplier
Gourmet Brittle and Handmade Rock Candy
Since 1981, Random Harvest Gourmet have been producing premium quality wholesale confectionery products, loved by consumers nationwide. This all-Australian company takes the best, 100% natural ingredients and transforms them into colourful, mouth-watering handmade confectionery. Their Gourmet Brittle is coveted by nut lovers who have a sweet tooth and their kaleidoscope of rock candy flavours are must-have treats that make spectacular gifts.
Random Harvest Gourmet enjoy a high market profile thanks to their excellent reputation among retailers. Their products are presented in award-winning packaging.
Ideal gifting confectionery for:
Supermarkets and convenience stores
Greengrocers
Delicatessens
Gifting outlets
Gift hamper businesses
Corporate gifting
Newsagents
Pharmacies
Petrol stations
Novelty stores
Cinema concession stands
Gourmet Brittle
Gourmet brittle has fans all over the country. The three varieties offered by Random House Gourmet are firm favourites with consumers who like to keep a steady supply on hand. These mouth-watering Australian handmade gourmet brittles are presented in eye-catching 125g packs with transparent windows to display the delicious goodies inside. Simply snap off a portion and devour! Wheat free and gluten free. Choose from:
Salted Caramel Peanut Brittle
Popcorn Peanut Brittle
Peanut & Chilli Brittle
Handmade Rock Candy
As confectionery goes, rock candy is one of the most irresistible types. Its inimitable crunch factor, vivid colours and tantalising flavours make it the go-to sweet treat for consumers of all ages. Keep your displays vibrant and stacked high with Random Harvest Gourmet's delectable rock candy. Position it as a take-along gift for barbecues and parties, as cake decorations (crush or smash), as a snacking treat or as a lovely gift. Absolutely bursting with mouth-watering flavours, each variety has its own fans. Choose from:
Rosey Apples
Traditional Raspberry Drops
Traditional Barley Sugar
Australian Bush Honey Candy
Chocolate Irish Cream Humbugs
Chocolate Mint Humbugs
Strawberry Rock
Citrus Rock
Aniseed Humbugs
Assorted Fruit Rock
Café Espresso Coffee Rock Candy
Merry Christmas Rock Candy
Passionfruit Rock Candy
Choc Cherry Rock Candy
Rocky Road Rock Candy
"I Love You" Candy
Fizzy Sherbet Candy
Watermelon Rock
Tiny Rocks
For full details of all products, see the Random Harvest Gourmet website.
Retailers
Random Harvest Gourmet's wholesale confectionery lines are suitable for supermarkets, convenience stores, newsagents, chemists, petrol stations, kiosks, specialist confectionery retailers, delicatessens and novelty stores.
Gift businesses
Create wonderful, sugary gift hampers with Random Harvest Gourmet's wholesale confectionery products. Or, simply accompany a bunch of flowers or a teddy bear with one of their already gift-packaged items for an instant, gorgeous gift.
To enquire further or to place an order, contact Random Harvest Gourmet today.
---
More information about Random Harvest Gourmet
Australian Black Truffle Range - Random Harvest Gourmet
Australian Black Truffle Range - Random Harvest Gourmet Click here
Random Harvest Goes International
Aussie family-run gourmet food brand Random Harvest smashes on to the international market, launching in Harrods. Click here
Random Harvest Gourmet Product Catalogue
Browse the current catalogue. Click here