Random Harvest Gourmet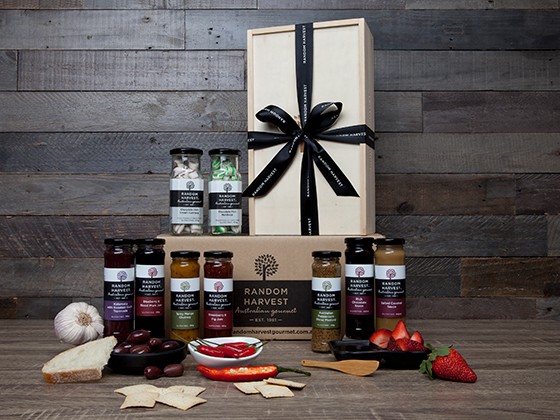 More Images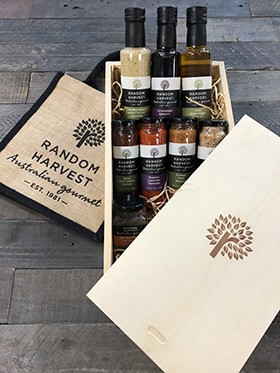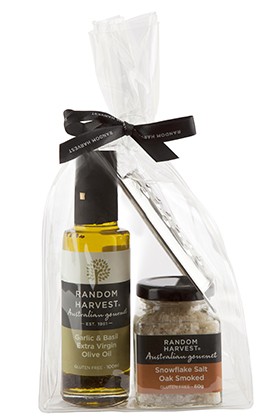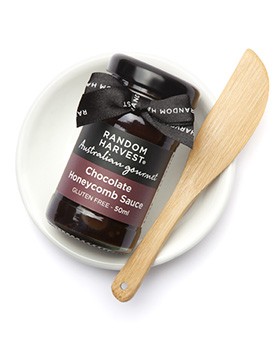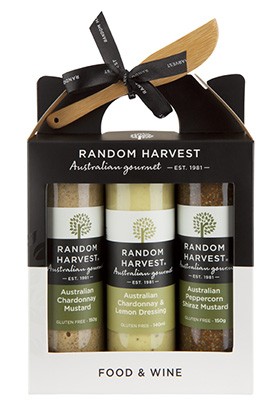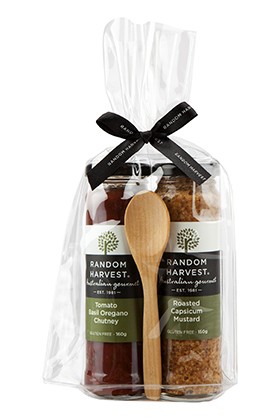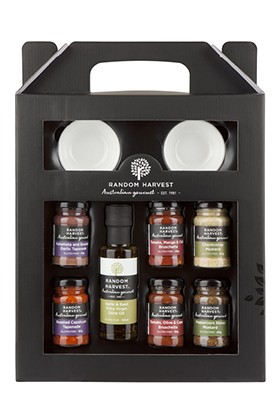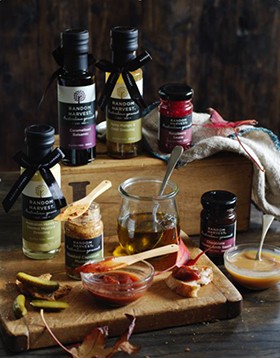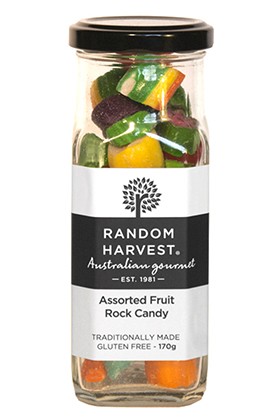 Random Harvest Gourmet
Australian Gourmet Gifting
With 37 years of experience behind them, Random Harvest Gourmet are one of Australia's leading gourmet food gifting brands. Their premium quality, Australian-made wholesale gift food lines are popular among consumers who appreciate knowing that the gift they're giving is of a high standard.
What's more, Random Harvest Gourmet products are all gluten free so gifting is made more convenient.
The Random Harvest Gourmet brand is synonymous with business integrity and quality control systems. Quality ingredients and superior, award winning packaging design has anchored their products in the ever-changing food and gift market sector.
Random Harvest Gourmet's gift lines are ideal for:
Gift hamper businesses
Gift stores
Florists
Corporate gifting
Pharmacies
Newsagents
Gluten free retailers
Homewares outlets
Greengrocers
Kitchenware retailers
Department stores
BBQ product retailers
Cheese shops
Gift Packaged Lines
Random Harvest Gourmet's ready-to-go gift packs are ready for you to position on shelves in your store. Beautifully presented, they need no additional wrapping however they can be added to baskets or hampers with other complementary items if desired.
NEW!! Random Harvest Australian Truffle Condiments
For the ultimate foodie gift, Australian-grown truffles can't be beaten. Random Harvest Gourmet has crafted a range of truffle-infused products that add a whole new layer of luxury to your hampers and gift offerings.
Australian Truffle Oil 100ml & 250ml – Extra virgin olive oil adorned with flecks of dried Australian-grown truffle and abundant in truffle aroma. Every gourmet's pantry should have a bottle of this in their home pantry.
Australian Truffle Caramelised Balsamic 100ml – Premium balsamic vinegar infused with divine truffle essence.
Australian Truffle Salt 100g – Even humble salt gets the truffle treatment in this jar of luxury.
Australian Truffle Mustard 100g – Mustard lovers will be delighted with this truffle-infused mustard which will inspire new dishes every time they open the jar.
Australian Truffle Oil & Salt Gift Pack – Any gourmet food aficionado will be thrilled to receive this truffle-infused pairing.
Olive Oil Gift Packs
A beautiful gift for a home gourmet, each pack features a flavour-infused extra virgin olive oil and is presented in a gift bag tied with a black bow.
Oil & Salt Duo with stainless steel grater
Chilli Oil & Salt Duo with stainless steel grater
Infused Oils Duo with wooden spoon
Mini-Me with Wooden Spreader
A delightful sampler pack containing three mini 60g jars, perfectly presented with a wooden spreader. It makes a great gift for anyone who enjoys fine food. Suitable for thank you gifts, Secret Santa and inclusion in larger hampers. Choose from ten brilliant combo packs including:
Mini-Me BBQ
Mini-Me Chilli
Mini-Me Chutney
Mini-Me Food & Wine
Mini-Me Jams
Mini-Me Dessert Sauces
Mini-Me Chocolate Lovers
Mini-Me Entertaining
Mini-Me Bruschetta
Mini-Me Salts
Mini Dish with Wooden Spreader
Quality Australian chutney, salted caramel sauce, bruschetta topping or chocolate honeycomb sauce in a ceramic serving dish. All packs come with a spreader. What a great idea for that special bridal gift, bonbonniere, Kris Kringle or teacher's present.
Gourmet Bread Board Pack
Choose from the BBQ Pack featuring chutneys, mustard and an oven mitt and bread board or the Entertaining Pack which includes a tapenade, dressing, bruschetta, oven mitt and bread board.
Gourmet Cheese Board Pack
Australian-made mustards, chutneys, bruschettas, tapenades and dressings are available in three thoughtful varieties (BBQ, Picnic or Entertaining) and include a premium wooden cheese board and wooden spoon for effortless entertaining.
Duo with Wooden Spoon
Two jars of Random Harvest plus a quality wooden spoon, presented in a transparent gift pack bag tied with a bow. Choose from Tomato Basil Oregano Chutney and Roasted Capsicum Mustard, Raspberry Sauce and Rich Chocolate Sauce, Peppercorn Shiraz Mustard and Chardonnay Mustard, Spicy Chilli Tomato Chutney and Fireball Chilli Mustard, Caramelised Balsamic and Caramelised Fig, Honey & Vanilla Balsamic, and Roasted Capsicum Tapenade and Kalamata & Roasted Garlic Tapenade.
Mini Dish with Wooden Spreader
A sweet little package of white serving dish, mini spreader and Random Harvest Gourmet food product. Choose from: Bruschetta, Chutney, Salted Caramel and Chocolate Honeycomb.
Tall Twin Carry Case
Two beautiful Random Harvest products, presented in a handy carry gift box; the perfect ingredients for a great Australian-made gourmet gift. Choose from:
Caramelised Balsamics (two balsamic vinegars)
Dress to Impress (two dressings)
Meat Lovers (two BBQ sauces)
Infused Olive Oils (two EVOOs)
Triple Carry Case
Three superb Random Harvest products in a convenient and attractive gift carry box; With 7 varieties to choose from, there's something to suit all tastes. Each pack has three luscious jars in various flavours, and a wooden spreader. Choose from:
Summer BBQ
Chilli BBQ
Bruschetta
Food & Wine
Wicked Sweet Tooth
Chocolate Lovers
Jams, Jams, Jams
Chutney Trio
Classic Tapenades
Beer and Whiskey
Infused Olive Oils
Caramelised Balsamics
Dukkah Entertaining
All About Meat
Dress To Impress
Salted Caramel Brittle
Australian handmade gourmet brittles, lovingly presented in eye-catching packs with transparent windows to see what's inside. Choose from Salted Caramel Brittle, Popcorn Nut Crunchy Brittle or Peanut Chilli Crunchy Brittle.
Handmade Rock Candy Jars
Gorgeous jars of colourful, eye-popping rock candy, bursting with mouth-watering flavours. Choose from: Rosey Apples, Traditional Raspberry Drops, Traditional Barley Sugar, Australian Bush Honey Candy, Chocolate Irish Cream Humbugs, Chocolate Mint Humbugs, Strawberry Rock, Citrus Rock, Aniseed Humbugs, Assorted Fruit Rock, Café Espresso Coffee Rock Candy, Merry Christmas Rock Candy, Passionfruit Rock Candy, Choc Cherry Rock Candy, Rocky Road Rock Candy, "I Love You" Candy, Fizzy Sherbet Candy, Watermelon Rock, Tiny Rocks.
Condiment Gift Lines
The ideal gift for the passionate foodie is a lovely condiment that will enable them to add new life to their dishes in ways they may not even have thought of! Take a look at Random Harvest Gourmet's website for a complete run-down on all the different condiments on offer.
Retailers
When your customers come in looking for gift ideas, take them straight to the Random Harvest Gourmet range. There is something for every passionate foodie, including sweet and savoury, spicy and even items for wine lovers. With the gift wrapping already done, all that's left is for you to hand it over to your customers with a smile.
Corporate Gifting
Random Harvest Gourmet makes it easy to bundle up stunning edible gifts for food and wine lovers. All products travel well and are attractively presented for visual appeal. Add to gift hampers or supply individual products for table settings at weddings or other special occasions, with a gift tag attached.
To discuss your requirements or to place an order, contact Random Harvest Gourmet today.
---
More information about Random Harvest Gourmet
Australian Black Truffle Range - Random Harvest Gourmet
Australian Black Truffle Range - Random Harvest Gourmet Click here
Random Harvest Goes International
Aussie family-run gourmet food brand Random Harvest smashes on to the international market, launching in Harrods. Click here
Random Harvest Gourmet Product Catalogue
Browse the current catalogue. Click here