Shire Labels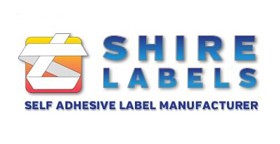 Shire Labels
Shire Labels
1 to 1,000,000 labels or tags
Shire Labels is a manufacturer of high quality self-adhesive labels and tags.
With over 40 years of experience they have the knowledge to bring your ideas onto a label or tag to maximise your product potential or make your product stand out in a crowd. The company offers full artwork, prepress printing and converting facilities in-house.
What you can expect from Shire Labels
Only the highest quality labels. They use only the best label materials, including inks and coatings. Choose from digital or flexographic printing for crisp text and graphics.
Personalised attention. A dedicated customer service representative is available to help you through every step of the label buying process.
Fast and flexible service. Need something unique? Let Shire Labels know! No order is too big or too small, and they also welcome rush orders.
Promotional Labels
Promote a product line special offer highlight with a colourful label that will make it stand out.
Custom Food Labels
Labels for all types of food products and packaging.
Labels for Frozen Foods
Specialised labels to withstand the rigours of frozen food products.
Meat & Vegetable Labels
Either digital or conventional printed labels to highlight your products.
Bakery Labels
Tell your customers what they may be missing.
Barcode Labels
The correct bar coding system is important. Shire Labels can supply all of your barcode labelling needs.
Nutrition Information Labels
Due to regulations, all food products require nutritional information. This can be incorporated into your packaging labels.
Spice & Condiment Labels
Specialised materials to be able to highlight your product.
Coffee & Tea Labels
Make your product stand out from the others using different materials and printing methods.
Custom Wine Labels
You put the effort into making the wine; Shire Labels will put the effort into making the perfect label for your bottles.
Custom Window Stickers
Promotional items for all types of applications.
Blank Labels
A4 sheets die cut to suit your requirements. Plain, direct thermal labels.
Security Labels
Security labels, tamper evident or any other type you require.
Other Labels
Computer Labels; Direct Thermal Labels; Numbered Asset Labels; Tamper Evident Labels; Hazard Labels; Vehicle Decals & Labels; Window Decals.
Request samples
See the quality of Shire Labels' custom label printing for yourself. Simply request some print label samples and they will send you a variety to examine, including several materials that were developed specifically. One of the benefits of digital label printing is that now even small boutique producers can print labels that look professional in small quantities without paying exorbitant prices. And you don't have to compromise on quality. Custom labels printed are printed in high resolution and in vibrant colours.
For more information or to begin an order for your business, contact Shire Labels today using the form below.
---
More information about Shire Labels
Interview - Peter Petran - Shire Labels
Sometimes, a product can be chosen or overlooked based simply on the style of label affixed to it. Labels are also critical to the management of food health and safety protocols, help identify goods in non-transparent packaging and can make life easier across an entire business. We spoke with Peter Petran, Managing Director of Shire Labels and found a company that's extremely easy to deal with for all label and tag needs. Click here