Sugo Tu - Pizza Dough, Bases, Sauce, Pasta
More Images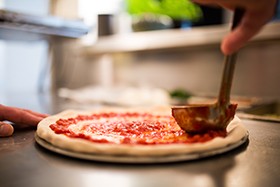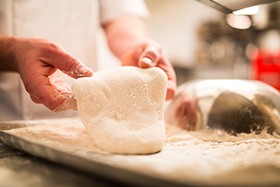 Sugo Tu - Pizza Dough, Bases, Sauce, Pasta
The secret to pizza perfection
We've solved the eternal balancing act of quality vs speed. It's now possible to serve rustic, authentic, great-tasting pizzas… every time, fast.
It all started with the revival of a 200-year-old family recipe. Over 500 prototypes later, we've perfected the perfect pizza base recipe for the modern food service world. The secret? Well, we craft our dough over 24 hours using our unique two-stage fermentation process, precise temperature control, and our proprietary flour blend. This delivers unmatched quality, consistency, and taste.
Our dough is so easy to stretch that literally anyone can do it — head chef, kitchen hand, even the waiter. In fact, we're so proud of our pizza perfection that we guarantee it. Simply consistent, great-tasting pizzas every time or your money back, no questions asked.
All natural ingredients
No artificial flavours, colours or additives
Dairy free
Egg free
Suitable for vegans and vegetarians
Pizzas have a light thin base with a soft fluffy crust
HACCP certified & SQF certification
Foodservice range
Using Sugo products means you can offer your customers delicious, authentic Italian fare and create efficiency and consistency in your kitchen. Take advantage of their expertise and simply top with classic or gourmet delights. Watch your customers come back for more!
Easy-Stretch Dough Discs
A light, soft, fluffy base, giving an authentic rustic pizza finish and the best customer experience. The highly robust dough is so easy to hand stretch, it's almost impossible to get wrong. A low cost per unit, and only marginally more time and skill needed compared to parbaked bases means more profits too. It's almost "tu" good to be true, right?
Can also make calzones, fried breads, grissini, stuffed dough ball … the options are endless!
Available in various sizes:
170g (makes 9-10" size). 60/carton
200g (makes 10-12" size). 50/carton
225g (makes 10-12" size). 50/carton
250g (makes 12-14" size). 40/carton
300g (makes 13-15" size). 36/carton
Baking Instructions: The dough is designed to cook hot and fast. Can be baked across a wide range of ovens, and in a little as 90 seconds in a woodfired oven! Check out the video below to see how easy it is!
Par-Baked Pizza Bases
Hand-stretched and stone-baked using Sugo Tu's rustic dough recipe and available pre-sauced or plain/olive oil.
Available in 9" and 11". No need to thaw – ready to top and bake Baking instructions: At least 250OC for 5-10 minutes depending on toppings. Shelf Life: Frozen 12 months.
Perfect Pizza & Pasta Sauce
When your name ('Sugo') means 'sauce', you'd better be good at the sauce! We've spent years perfecting our recipe. We use ripe Italian Italian tomatoes with fresh garlic and basil. Our sauces will make your pizza and pasta menu that much more mouth-watering.
Pizza sauce – 8 x 2kg pouch
Napoli sauce – 5 x 3kg pouch
Bolognaise sauce – 5 x 3kg pouch
Shelf Life: Frozen 12 months. Once thawed, sauce will stay fresh for 5 days in the fridge.
Retail range - Pizza Dough 4 Pack & 360g Pizza Sauce
Create freshly baked pizza at home! Sugo Tu's take home pizza dough will inspire your customers to create their own restaurant quality, authentic Italian pizza in just 4 easy steps. THAW – STRETCH – TOP – BAKE.
Dough pack contents: 4 x 200g individually sealed dough discs. The dough can be thawed at room temperature or in a sink of hot water to accelerate the process.
Shelf life: Frozen 12 months. Once thawed 3 days in fridge.
Pizza Sauce contents: Each pouch contains 360g of sauce, enough for 4 large pizzas. Resealable.
Shelf life: Frozen – 12 months from production date.
Shelf life once opened – 5 days refrigerated.
If you are interested in stocking this product please contact Sugo Tu.
---
More information about Sugo Tu - Pizza Dough, Bases, Sauce, Pasta
Sugo Tu Pizza Foodservice Brochure
View the Sugo Tu Foodservice Brochure. Click here
Video - Sugo Tu Food Service Instructions
How to use Sugo Tu's easy stretch pizza dough.
---
Video - Sugo Tu - The secret to pizza perfection
Sugo tu Pizza Home Cook Instructional Video
---
Video - Sugo tu Pizza Customer Testimonials
Watch this testimonial and you will be ordering from Sugo Tu Pizza soon!
---