The Broth Sisters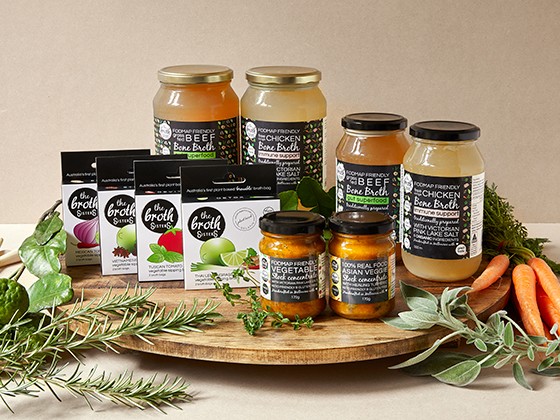 More Images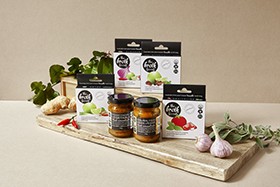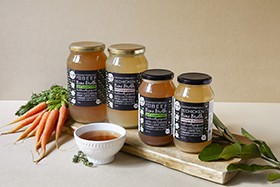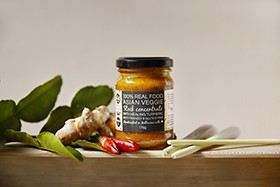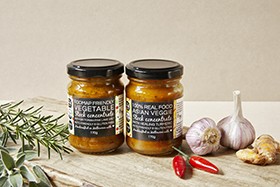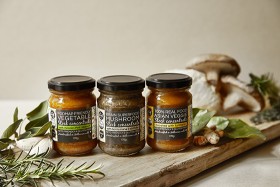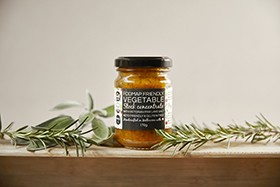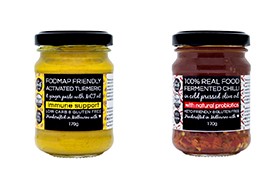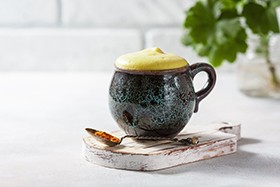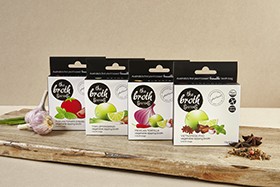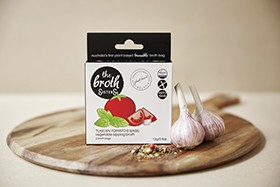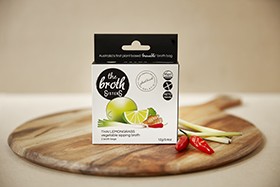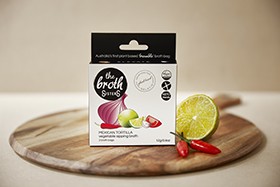 The Broth Sisters
Bone Broth, Veggie Stock Concentrates, Functional Pastes and
Brewable Broth Bags
Good health and nutrition
The Broth Sisters are Linda and Jane who grew up on a farm in northern NSW and lived a 'farm to table' lifestyle. Their father grew fruits, veggies and nuts and kept chooks for meat and eggs. They even drank milk from their own cow and goat and ate meat from animals that grazed on lush local pastures.
Today, they bring 'farm to table' alive in their nourishing bone broths, vegetable stock concentrates and vegetable sipping broths. Focusing on the highest quality ingredients including free range, ethically sourced meats and organically grown vegetables and herbs, the sisters' products are handcrafted with love and care.
Goodness made simple
Even those who have minimal time or skills for cooking can consume a good dose of nutrition with ease. Additionally, the products can be used in recipes to add flavour, depth and goodness.
Handcrafted in small batches
Highest welfare meats
Organic produce
FODMAP-friendly options
Vegan options
Gluten free
Bone Broths
Bone broths are the ultimate drinkable tonic, jam-packed with nutrition and delicious flavour. Simply heat and sip or add it to sauces, gravies, casseroles, curries and soups. The Broth Sisters handcraft their bone broths with organic, ethically sourced ingredients to traditional recipes. Slow simmered for many hours to maximise extraction of nutrients, each variant is highly gelatinous, preservative free, gluten free, Paleo and Keto-friendly and low in sodium. Packaged in glass jars.
Chicken Bone Broth – Free range chicken, organic vegetables, homegrown herbs, organic apple cider vinegar, black peppercorns and Mount Zero Victorian Pink Lake salt go into this sublime broth which is FODMAP-friendly and recommended for immune support. Slow simmered for 24 hours.
Beef Bone Broth – Premium quality beef bones from grass-fed, free range animals are sourced through Provenir who supply Australia's highest welfare meat. The broth is flavoured with organic carrot and celery, seasonal homegrown herbs, organic apple cider vinegar, black peppercorns and Mount Zero Pink Lake salt. FODMAP-friendly and recommended for great gut health. Slow simmered for 48 hours.
Vegetable Stock Concentrates
Choose all-natural stock concentrates made with fine ingredients to turn up the volume on flavour in your recipes. Keto-friendly, vegan, 100% natural and gluten free, the concentrates are made using fresh, pesticide-free ingredients. Simply add 1 teaspoon to 250ml of hot water for a flavoursome stock or add a few teaspoons to stir-fries, soups, stews, risottos, casseroles and other recipes.
Asian Veggie Stock Concentrate – Savour the uplifting aromas and flavours of Asian herbs and spices. A spoonful adds an incredible savoury zing and a fiery kick thanks to garden fresh veggies, ginger, turmeric, galangal, garlic, chili, kaffir lime leaves and organic coconut oil.
Vegetable Stock Concentrate – Clean and green, this premium, all-natural concentrate is handcrafted with the highest quality ingredients to replace additive-laden cubes, powders and liquid stocks. Flavoured with nine different fresh herbs and vegetables including celery, carrot, bay leaf, sage and more. Low FODMAP.
Mushroom Stock Concentrate - Portobello mushrooms are combined with superfood mushrooms shiitake and lion's mane and flavoured with garlic, balsamic vinegar and thyme. Add a teaspoon to stuffing mixes, marinades, sauces, gravies and sauces or stir through soups, risottos and casseroles. Add intense mushroom flavour without the nasties.
Functional Pastes
Turmeric & Ginger Paste - An easy, mess-free alternative to preparing meals with fresh turmeric root, this paste provides all of the flavour with none of the hassle. Use it in golden milk, marinades, broth, juices, rice dishes, curries and stir-fries. It contains only fresh turmeric, fresh ginger, MCT oil, black pepper and a dash of water.
Fermented Chilli Paste - A hot chilli paste for spicy food devotees who choose 100% clean ingredients. Packed in cold-pressed olive oil, the paste features red chilli, a little garlic and Mt Zero Pink Lake salt. Add it to pizzas, stews, chilli and sauces, stir into smashed avo and use as a sandwich spread or stir through hot pasta.
Umami Paste – Umami is the Japanese word for savoury deliciousness, also referred to as 'the fifth taste'. 100% plant-based, it's rich in healthy fats and essential fatty acids. Add to noodles, soups, stews, stir-fries and gravies or use as a condiment, spread or marinade.
Brewable Broth Bags
The Broth Sisters' Vegetable Sipping Broths are an innovative way to chill out and take a moment, while getting a dose of good nutrition. They're a savoury twist on the humble tea bag and can be consumed on the go. Each variant celebrates the flavours of the world and contains the digestive superpower, agar agar. Simply boil water, brew for 3-5 minutes and get sipping! You can also create a quick meal out of the sipping broths by adding vegetables, legumes, a squeeze of citrus, chopped herbs, coconut milk or whatever else takes your fancy.
Mexican Tortilla – Enjoy a kick of Latino spice and a dash of healthy turmeric.
Thai Lemongrass – A zingy, citrusy blend of lemongrass, liver cleansing lime, green tea and spices.
Tuscan Tomato & Basil – Rich, tomatoey and alive with basil and spices.
Vietnamese Pho – Lively flavours of veggies infused with lime, star anise, garlic and more.
Retailers
Consumers adore The Broth Sisters range for its quality, passion and heart. Offer taste tests and recipe ideas. Stock the full range in your supermarket, delicatessen, gluten free outlet, greengrocer or butcher shop.
Gifting businesses
Stock The Broth Sisters' concentrates, pastes or brewable broth bags for inclusion in gift hampers, gift boxes and to go with 'Get Well' floral arrangements. Perfect for florists, hamper businesses and online gift outlets.
Foodservice
Utilise The Broth Sisters' products in your restaurant or café, juice bar, bone broth outlet, soup outlet or market stall. Add flavour with ease, knowing that all the hard work and time-consuming preparation has been done for you, leaving intense flavour and hearty nutrition.
For more information or to place an initial order, contact The Broth Sisters today.
---
More information about The Broth Sisters
The Broth Sisters Product Catalogue
Browse the product catalogue for The Broth Sisters - real food for the health and taste conscious. Click here
Interview - Linda Vantaggiato - The Broth Sisters
Bone broth enjoyed a modern resurgence when the Paleo diet became popular. Now, it's become more mainstream as consumers recognise the nutritional benefits along with the great taste. We spoke with Linda Vantaggiato of The Broth Sisters and learned a whole lot more about its virtues. Click here