The Gourmet Merchant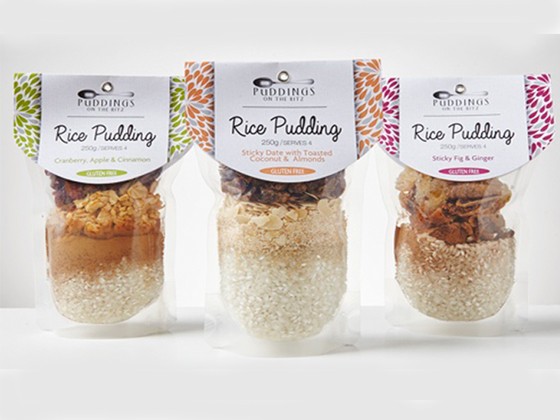 More Images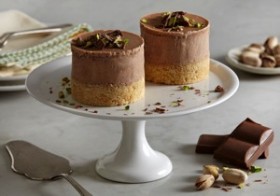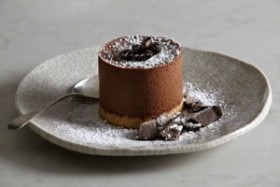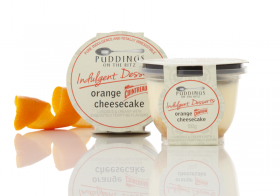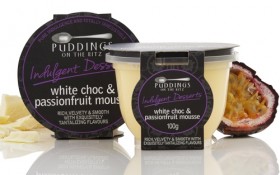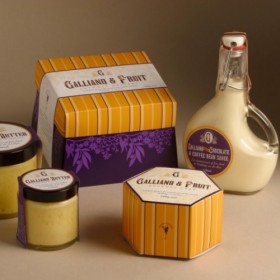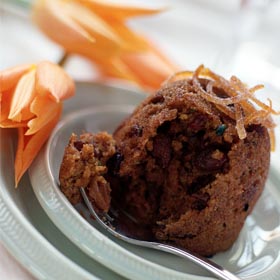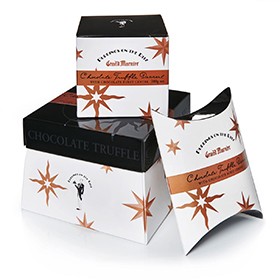 The Gourmet Merchant
Desserts and Puddings
The Gourmet Merchant and Puddings on the Ritz are designers, makers and wholesaler distributors of some of Australia's finest specialty and gourmet foods. Their range of spectacular desserts and puddings offers something for every taste which is why they are the preferred supplier for foodservice outlets right through to high end. Serving their products are cruise lines, airlines, five star hotels, private clubs and leading restaurants.
Additionally, The Gourmet Merchant offers some speciality dessert mixes that foodies can create in their home kitchens, including a range of gluten free rice pudding mixes.
Chilled Desserts
There really is no need to spend hours in the kitchen when entertaining. Puddings on the Ritz make fabulous desserts, mousses and cold set cheesecakes that are sure to be a hit with guests.
Dark Chocolate & Espresso Mousse
Lime & Coconut Cheesecake
Raspberry & Coconut Cheesecake
Orange & Cointreau Cheesecake
White Chocolate, Coffee & Pecan Cheesecake
Chocolate & Pistachio Cheesecake
White Chocolate & Passionfruit Mousse
White Chocolate, Honey & Vanilla Cheesecake
Dessert Puddings
Beautiful to look at and absolutely divine to taste. Spare yourself the hard work and turn out these lovely desserts in no time at all.
Choose from: Banana & Vine Fruit; Date & Walnut; Pear & Ginger; Golden Orange & Sultana; Orange & Marmalade; Double Chocolate Truffle (No Fruit); Chocolate & Macadamia Nut; Chocolate & Hazelnut; Chocolate & Raspberry; Sticky Toffee, Banana & Chestnut; Sticky Date, Banana & Pecan; Sticky Date; White Chocolate & Coffee; Cranberry, Apple & Cinnamon; Banoffie (Banana Toffee) Pudding.
Classic Dessert Puddings
Delicious desserts presented in attractive 200g hamper packs and 100g pillow packs.
Choose from: Double Chocolate Truffle (With Fruit); Fig, Walnut & Liqueur Muscat; Classic Christmas Pudding; Summer Berry Pudding (in bowl); Autumn Harvest Pudding (in bowl).
Cheesecakes
Choose from: Lime & Coconut Cheesecake; Orange Cointreau Cheesecake; Mango Cheesecake; White Chocolate & Cherry Cheesecake; Bailey's Irish Cheesecake; Black Forest Cheesecake; Caramel Nougat Cheesecake; White Chocolate, Coffee & Walnut Cheesecake; White Chocolate, Coffee & Pecan Cheesecake; White Chocolate, Honey & Vanilla Cheesecake; Peach & Raspberry Cheesecake; Dark Chocolate & Honey Centred Cheesecake.
Pannacottas
Choose from: Vanilla Bean Pannacotta; Honey & Lavender Pannacotta; Coffee Cappuccino Pannacotta; Green Tea Pannacotta.
Mousses
Choose from: Dark Chocolate Cappuccino Mousse; Dark Chocolate Cointreau Mousse; Dark Chocolate & Raspberry Mousse; Passionfruit & Raspberry Mousse.
Galliano Dessert Range
Capturing the intriguing, aromatic essence of Galliano, Italy's liquid gold liqueur is this fine dessert range. The Galliano is blended with the finest, silky dark cocoa, mixed in a cornucopia of fruits of the vine and the result is a magnificent fusion of sensuous flavours.
Galliano and Fruit Chocolate Pudding 500g
Galliano and Fruit Cake 200 g
Galliano White Chocolate & Coffee Bean Sauce 220ml
Galliano Dark Chocolate & Hazelnut Sauce 220 ml
Gluten Free Rice Pudding Mixes
These fabulous mixes are incredibly simple for the home cook to create. It's a matter of adding the contents of the pouch to a litre of milk, stirring and either microwaving or cooking on the stove top for 25 minutes. The result is a wonderfully delicious dessert for between four and six people. Available in the following tempting flavours:
Sticky Fig and Ginger
Sticky Date, Toasted Coconut and Toasted Almond
Cranberry Apple and Cinnamon
These have been in retail outlets for several months now and are literally flying off the shelves.
Gluten Free Chocolate Rice Pudding Mixes
The 'baby brothers' of the Rice Pudding Mixes, these ones begin with chocolate and take decadence to the next level. Choose from:
Chocolate and Orange
Chocolate and Salted Caramel
Chocolate, Toasted Coconut and Cranberry
Brownie Mixes
The Gourmet Merchant has been hard at work, creating scrumptious Brownie Mixes. Every bit as easy to make, they simply require the addition of butter and eggs. Mix, bake and enjoy!
Triple Chocolate Brownie Mix
Chocolate Brownie Mix with Cranberries
Chocolate Brownie Mix with Toasted Coconut
Christmas Puddings
The Gourmet Merchant also supply fabulous Christmas Puddings, both boxed and presented in cloth, in a range of sizes for home entertaining and foodservice and catering.
With so much variety in desserts on offer from The Gourmet Merchant, it makes sense to deal with the one supplier. Their Puddings on the Ritz range of quality foodservice, hospitality and catering desserts is currently supplied to airlines, cruise ships, five star hotels, private clubs and leading restaurants.
To discuss your requirements or to place your first order, contact The Gourmet Merchant today.