The Other Chef, Makers & Providores
More Images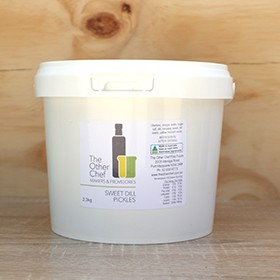 The Other Chef, Makers & Providores
Gourmet Jams, Relishes and Condiments
Any dish prepared with love should also be prepared with exquisite, quality ingredients that have also been produced with care and attention. The Other Chef Makers & Providores is a proud brand presided over by Eric Robinson (a chef with over 30 years of experience) and his wife Monica who manages the accounts, sales and marketing. Together they have built their business from a small artisanal producer using fabulous local ingredients to the current incarnation which is a larger concern, but with the same eye for quality and passion for perfection.
Based in Port Macquarie, The Other Chef Makers & Providores enjoys access to sublime fresh produce including local strawberries, oranges and lemons, among others. Today, Eric and Monica apply the same care to every individual product, which went into the very first award-winning small batch of jam in the early days.
The company remains a family owned and run business and continues to win medals with exciting regularity. Their range of wholesale jams, chutneys, sauces and relishes are coveted by customers looking for flavours that hark back to the good old days.
The Other Chef range
Handmade using local ingredients wherever possible, these award winning condiments contain no artificial colours, flavours or preservatives. Just good, honest, succulent flavours!
The Other Chef Jams
Strawberry Jam 280g
Blueberry Jam 280g
Marmalade 280g
Fig Jam 280g
The Other Chef Relishes
Onion Jam 250g
Chilli Jam 250g
Tomato Kasundi 250g
Spiced Mango Chutney 250g
Beetroot Relish 250g
Tomato Relish 250g
Smoked Red Pepper Harissa 250g
The Other Chef Sauces & Syrups
Habanero Hot Sauce 150mL
Jalapeno Hot Sauce 150mL
Smoky Tomato Sauce 300mL
BBQ Sauce 300mL
Caramelised Balsamic 150mL
Toffee Apple Syrup 150mL
The Other Chef Pickles & Preserves
Fire Roasted Peppers 375g
Sweet Dill Pickles 375g
Bread & Butter Pickles 375g
Preserved Lemons 350g
Quince Paste 100g
Pickled Onion 375g
American Style Mustard 250g
The Other Chef Honey
Yellowbox Honey 350g
Ironbark Honey 350g
Truffle Infused Honey 350g
The Other Chef Olive Oil
Lemon Infused EVOO 250mL
Orange Infused EVOO 250mL
Truffle Oil 250mL
Retailers
Our award winning range is backed up by attractive wholesale pricing, quick order turn-around and personal service from a small family owned business. We can ship wholesale orders Australia-wide. Simply contact us and request our wholesale pricelist.
Foodservice
All products are available in larger catering units for the restaurant / café trade. Please contact us for further information and Food Service pricing.
White Label Service
Our White Label service is the quickest & easiest way to get your brand or message on a gourmet product, or a whole range! Perfect for a retail range, PR exercise/promotional gift or even wedding favours for your big day!
Any products from our range can be labelled under your own brand - simply choose the products that will suit your brand or occasion.
Contract Manufacturing
Our Contract Manufacturing Service is perfect for businesses looking to develop and/or manufacture a premium, bespoke product - either using your own recipe or one that we develop for you. Click here to find out more
---
More information about The Other Chef, Makers & Providores
The Other Chef - An adventure, a vision, and a great team
The Other Chef Fine Foods can keep a secret. Or, they can shout it from the rooftops, if that's what you want. Their contract manufacturing service has provided a pathway to award winning products for many companies who want to showcase their own ranges and attract a loyal customer base. Click here