The Treat Factory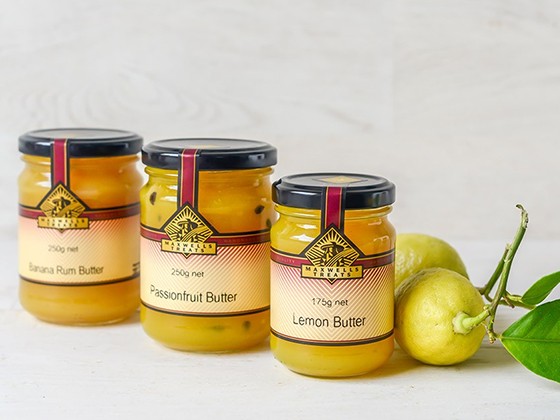 More Images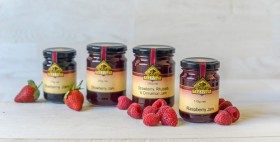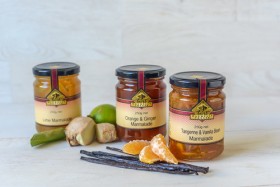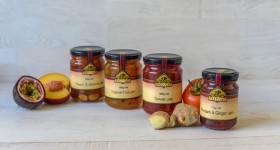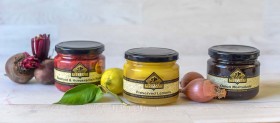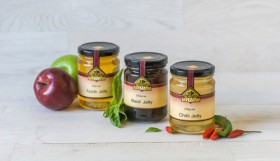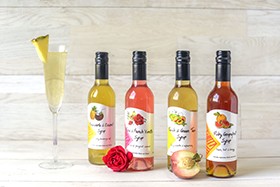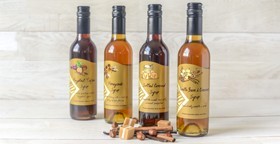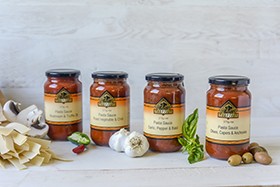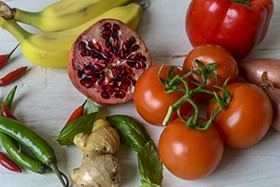 The Treat Factory
jams, marmalades, relishes, chutneys, pates, sauces, butters, pickles, mustards and more....
The Treat Factory produces over 150 different condiments including jams, marmalades, relishes, chutneys, pates, sauces, butters, pickles, mustards and so much more. Many can be used in both sweet and savoury dishes, or with cheeses, on sandwiches or as marinades.
Their secrets of preserving, along with many family recipes have been handed down over four generations. Only top quality ingredients are used and the goods are manufactured in a HACCP-approved facility.
150+ condiments
3fruit Marmalade
Apple & Blackberry Jam
Apple & Mint Chutney
Apple Jelly
Apricot & Ginger Jam
Apricot & Almond Chutney
Apricot & Brandy Jam
Apricot & Passionfruit Jam
Apricot & Pineapple Jam
Apricot Chutney
Apricot Jam
Aubergine & Garlic Chutney
Balsamic & Pomegranate Dressing
Banana Butter
Banana Jam
Banana Mango Chutney
Barbecue Sauce
Basil Jelly
Beetroot Chutney
Blueberry Jam
Blueberry Sauce
Boysenberry Jam
Brandy Butter
Brandy Marmalade
Butterscotch Sauce
Caramel Sauce
Caramelised Balsamic
Chilli Jam
Chilli Mustard
Chilli Sauce
Chilli Tomato Chutney
Chocolate Fudge Sauce
Chocolate Mocha Sauce
Chocolate Sauce With Cointreau
Chocolate Sauce With Grand Marnier
Chocolate Sauce With Rum
Cocktail Dipping Sauce
Cranberry & Orange Cognac Sauce
Cranberry Sauce
Cucumber Pickle
Cumquat Marmalade
Dad's Table Sauce
Date & Orange Chutney
Fig & Chocolate Jam
Fig & Ginger Jam
Fig Jam
Flamin' Hot Chilli Sauce
Fruit Chutney
Fruits in Green Ginger Wine
Ginger & Lemongrass Dressing
Ginger Chutney
Ginger Conserve
Gooseberry Jam
Grandpa's Beer Chutney
Grape Jelly
Grapefruit Marmalade
Guava & Almond Paste
Guava Jam
Herb Mustard
Honey Mustard
Horseradish & Beetroot Relish
Horseradish Mustard
Hot Indian Chutney
Hot Peach Relish
Hot Tomato Relish
Indian Chutney
Irish Cream Chocolate Pate
Jalapeno Hot Sauce
Kiwifruit & Lime Jam
Lemon & Mustard Seed Chutney
Lemon Butter
Lemon Mustard
Lemon Myrtle Syrup
Lime & Chilli Relish
Lime Aioli
Lime Marmalade
Mandarin Marmalade
Mango & Paw Paw Chutney
Mango Butter
Mango Chutney
Mango Jam
Mango Sauce
Marinated Baby Figs
Mint Wine Jelly
Mustard & Dill Aioli
Mustard & Honey Dressing
Mustard Pickles
Olive Mustard
Olive Tapenade
Onion Marmalade
Orange & Ginger Jam
Orange & Ginger Marmalade
Passionfruit Butter
Pasta Sauce With Garlic, Basil & Pepper
Pasta Sauce With Mushroom & Truffle Oil
Pasta Sauce With Olives, Anchovies & Capers
Pasta Sauce With Roasted Vegetable, Chilli & Garlic
Peach & Date Jam
Peach & Green Tea Syrup
Peach Jam
Pear & Ginger Chutney
Pesto Dressing
Pickled Onions
Pickled Onions With Chilli
Pineapple & Coconut Syrup
Pineapple & Ginger Jam
Pineapple & Macadamia Jam
Pineapple & Passionfruit Jam
Plum & Brandy Jam
Plum & Port Paste
Plum Chutney
Plum Jam
Plum Sauce
Port Wine Jelly
Preserved Lemons
Prune Jam
Prunes In Port
Quince Jam
Quince Jelly
Quince Paste
Raspberry Jam
Raspberry Sauce
Raspberry Vinaigrette
Red Tomato Chutney
Red Wine Mustard
Redcurrant Jelly
Rhubarb & Ginger Jam
Rhubarb Jam
Rich Chocolate Pate
Roast Garlic Aioli
Roasted Capsicum Harissa
Roasted Eggplant Harissa
Rose & French Vanilla Syrup
Rose Jelly
Ruby Grapefruit Syrup
Rum & Pumpkin Chutney
Sage & Saturn Jelly
Salted Caramel Sauce
Seville Marmalade
Smoked Pepper Sauce
Strawberry Jam
Strawberry Sauce
Strawberry, Rhubarb & Cinnamon Jam
Sundried Tomato Tapenade
Sweet Chilli Sauce
Sweet Orange Jam
Sweet Orange Marmalade
Three Berry Jam
Thyme Jelly
Tomato & Ginger Jam
Tomato & Passionfruit Jam
Tomato & Pear Relish
Tomato Jam
Tomato Quetta
Tomato Relish
Tomato Sauce
Tropical Fruit Sauce
Tropical Jam
Vanilla Chocolate Pate
Whisky Marmalade
White Brandy Sauce
Wholegrain Mustard
Retailers
Take pride in these luscious, Australian-made condiments, many of which are all-time favourites of devoted customers. Give them pride of place on your shelves and offer taste tests so your customers can experience the home-style flavours. Perfect for delicatessens, ingredients specialists, gourmet retailers, supermarkets and market stalls.
Foodservice and food manufacturers
The Treat Factory can provide bulk quantities for food manufacturers and foodservice businesses such as bakers, confectioners, butchers, restaurants, cafes, sandwich stores and so on. Just like home-made, these condiments will enliven and enhance a limitless array of dishes.
To place your first order or to make enquiries, contact The Treat Factory today.