Turban Chopsticks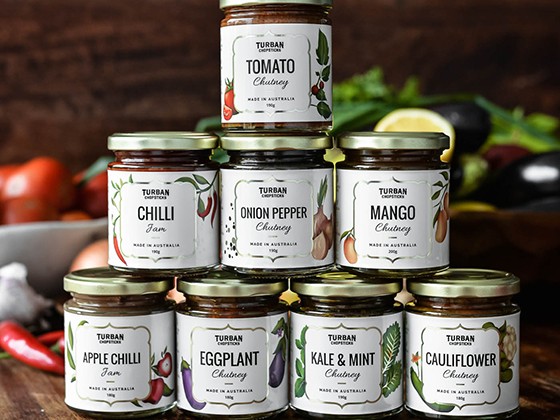 More Images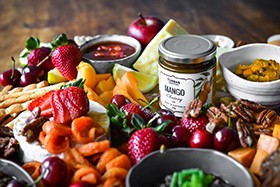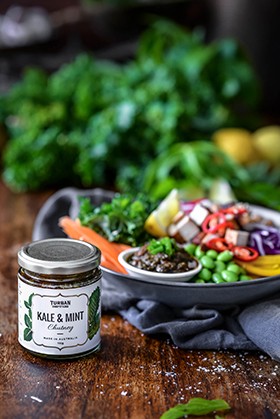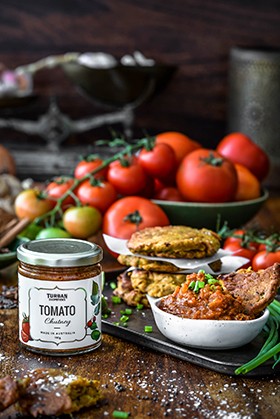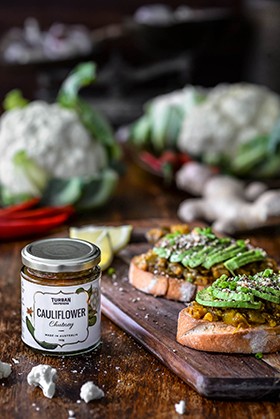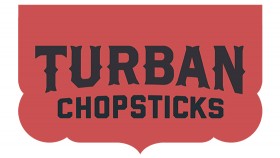 Turban Chopsticks
Wholesale Australian-Made All Natural Chutneys
'The Art Series' hand crafted gourmet chutneys by Turban Chopsticks are the latest addition to the stellar line up. Mindful and moreish. From farm to table, they have partnered with local West Australian farmers to produce a delicious plant based chutney range.
Slow cooked and simmered with punchy aromatics and spices, the natural chutneys are an effortless addition to grazing boards, cheese platters and nibbles. Dollop a spoonful onto a lunch or dinner meal, with flavours that pack a punch. Drizzle over salads, stir fry through rice and smother on your Summer BBQ dishes. The possibilities are ENDLESS…and oh so delicious.
Clean ingredients
Every jar is full of clean, natural ingredients and is handmade locally in small batches. There are no artificial colours, flavours or preservatives. Pop open a jar and inhale the all-natural, traditional blends of beautiful ingredients. All fresh ingredients are sourced from local West Australian farmers.
Allergen-friendly
Feed your family real, honest, wholesome food without any nasties or fillers.
100% natural
Gluten free
Plant Based / Vegan
Australian made
No nasties
Dairy and Shellfish Free
Wholesale Condiments
Toss through a salad, pasta or your favourite rice or grain dish. Dollop on pizzas, wraps, burgers, sandwich or add to soups. Pan-fry with fish, bake with chicken, layered with tofu and grilled veggies. Wok-fry with your favourite noodle. Mix with lemon juice to make a dressing on salads. Serve with Indian curries, roast veggies, plant protein, cold meats, bbq meats or grazing cheese platter.
Mango Chutney - Finger licking fun. Juicy, sweet Australian mangoes slow cooked with ginger, spices and plump sultanas, making it deliciously good. It's one of those 'snack out of the jar' chutneys.
Apple Chilli Chutney - Farm fresh apples slow cooked together with sugar, spice and a whole lot of love to create a sweet tangy delicious jam.
Kale and Mint Chutney - A modern twist on the Indian household favourite, a refreshingly cool Kale and Mint Chutney is dipping sauce material for all your Indian snacks.
Chilli Jam Chutney - Plump red tomatoes slow cooked them with ripe red chillies to create this delicious tantalising spicy jam with a kick.
Cauliflower Chutney - Healthy and hearty. Freshly grown cauliflower, zucchini and celery cooked together with mustard spices to create this wholesome chutney.
Tomato Chutney - A classic Tomato Chutney filled with plump Aussie grown tomatoes, spiced with freshly roasted Indian spices and finished with a sweet delectable tang.
Eggplant Chutney - We've used ripe eggplants sautéd with fragrant Indian spices, slow cooked with tomatoes to create this slightly sweet and spicy chutney.
Onion Pepper Chutney - Slow cooked sweetly sticky caramelised onions flavoured with freshly cracked pepper. Crafted to be sensationally sweet, savoury and spicy at the same time. We think we've nailed it!
Retailers/Food Service
Load up your shelves with the full range of chutneys from Turban Chopsticks so your customers have plenty of choice. With everything being plant based, gluten free and dairy free, the range is sure to please everyone. It also makes them ideal for health food stores, vegan outlets and allergy-friendly retailers, in addition to mainstream supermarkets, greengrocers, delicatessens, butchers and food halls.
Retail Range
200g – Mango Chutney
190g – Chilli Jam Chutney, Onion Pepper Chutney and Kale and Mint Chutney
180g – Cauliflower Chutney, Eggplant Chutney and Apple Chilli Chutney
Food Service
The whole range available in 2.3kg tubs.
To make an enquiry or place an order, get in touch via the details above.