Turban Chopsticks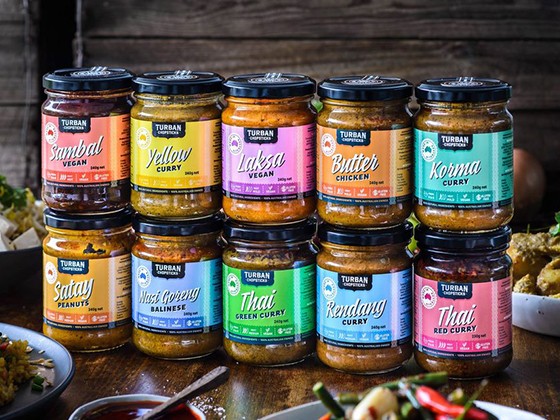 More Images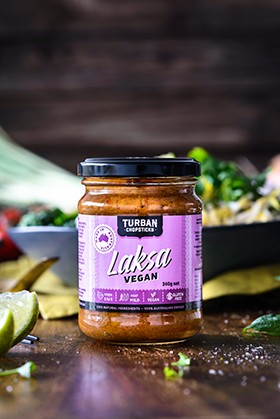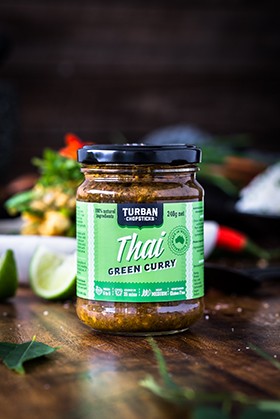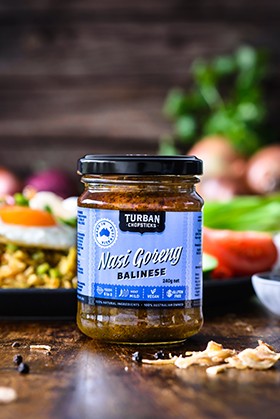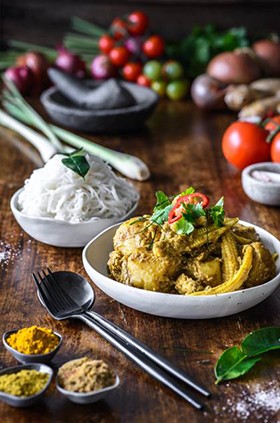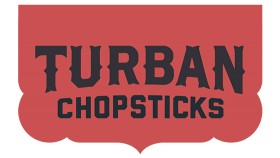 Turban Chopsticks
Wholesale Australian-Made Curry Pastes and Sauces
Cook exotic, restaurant-quality dishes at home with ease, and avoid the allergens. Turban Chopsticks' range of wholesale curry pastes and sauces was created to cater to vegans and those avoiding gluten and dairy. Every product is made with the same commitment to quality and allergen-friendliness and can be used with plant-based proteins or meats and dairy foods as desired.
Clean ingredients
Every jar is full of clean, natural ingredients and is handmade locally in small batches. There are no artificial colours, flavours or preservatives. Pop open a jar and inhale the all-natural, traditional blends of beautiful ingredients. All fresh ingredients are sourced from local WA farmers.
Allergen-friendly
Feed your family real, honest, wholesome food without any nasties or fillers. Turban Chopsticks don't use shrimp pastes, fish sauce or dairy in their products so everyone can enjoy them.
100% natural
Gluten free
Vegan
Australian made
No nasties
Dairy and Shellfish Free
Wholesale curry pastes and sauces
Add a few tablespoons of your preferred paste to your favourite rice or noodle dish for a burst of extra flavour. Dial the flavour up or down as you wish by adding more or less. You can also marinate your protein or vegetables by mixing the paste with dairy or coconut yoghurt or use the mixture as a dipping sauce for samosas, spring rolls, meatballs (or plant-based alternative) and blanched vegies. Create soups, sauces, spreads, dips and curries. Transform a humble noodle dish into a satisfying meal, jam-packed with flavour.
Laksa Vegan – Use this paste for an aromatic and spicy creamy noodle soup, with noodles, vegetables, your choice of protein and fresh bean sprouts.
Korma Curry – Creamy and mild, it produces a thick, luscious curry. Loaded with turmeric, it has a comforting aroma and is full of goodness.
Yellow Curry – Boasting a gorgeous sunny colour, yellow curry will bring smiles to all. Slip a spoonful into a stir-fry or create a flavoursome side dish with chickpeas.
Nasi Goreng Balinese – For a taste of island life at your table, exotic Nasi Goreng Balinese will remind you of tasty street foods. Mix with coconut cream to marinate tofu vegie skewers.
Sambal Vegan – Sambal is a spicy hot sauce made with herbs, spices, tamarind, chillies and radish. Smear some on wraps or burgers.
Rendang Curry – For a rich, moreish curry, choose the famous tomato-based Rendang paste which features lemongrass, galangal, tamarind, turmeric and more goodies.
Thai Green Curry – Award-winning Thai Green Curry is loaded with aromatic greens including basil, coriander, lemongrass, galangal, kaffir lime and more.
Thai Red Curry – Garlic, shallots, galangal, coriander, ginger, kaffir lime and other aromatics go into Thai Red Curry. Forget Thai takeaway and whip this treat up at home.
Satay Peanuts – Bronze medallist sauce that will give your satays a divine creaminess. Add to an omelette or marinate chicken sticks or barbecued meats.
Butter Chicken – A mildly spiced curry filled with plump ripe Australian tomatoes and onions, cooked slowly with freshly roasted spices. Kids especially love butter chicken!
Retailers
Load up your shelves with the full range of pastes and sauces from Turban Chopsticks so your customers have plenty of choice. With everything being gluten free, dairy free and vegan-friendly, the range is sure to please everyone. It also makes them ideal for health food stores, vegan outlets and allergy-friendly retailers, in addition to mainstream supermarkets, greengrocers, delicatessens, butchers and food halls.
Retail Range
Rice Kits 250g (Royal Festival Biryani Rice, Tropical Thai Coconut Rice, Majestic Almond Cumin Pilaf)
Dahl Kits 250g (Traditional Jewelled Mung Dahl, South Indian Spiced Tomato Dahl, Creamy Green Pea Dahl)
Curry Pastes 240g (Thai Green, Thai Red, Butter Chicken, Satay Peanuts, Laksa Vegan, Rendang Curry, Korma Curry, Yellow Curry, Nasi Goreng Balinese, Sambal Vegan)
Savoury Bites Pre-Mix 200g (Onion Bhaji, Chickpea Koftas, Lentil Fritters, Bombay Burgers)
Foodservice
Turban Chopsticks' products are available in bulk packs for foodservice:
Curry Pastes 2.3kg (Thai Green, Thai Red, Butter Chicken, Satay Peanuts, Laksa Vegan, Rendang Curry, Korma Curry, Yellow Curry, Nasi Goreng Balinese, Sambal Vegan)
Savoury Bites Pre-Mix 2kg (Onion Bhaji, Chickpea Koftas, Lentil Fritters, Bombay Burgers)
To make an enquiry or place an order, get in touch with Turban Chopsticks today.
---
More information about Turban Chopsticks
Turban Chopsticks Retail Guide
View the Turban Chopsticks Retail Guide Click here
Turban Chopsticks Foodservice Guide
View the Turban Chopsticks Foodservice Guide Click here
Satay Zoodle Salad
Whoever said salads are boring was sooooo wrong! Cut some carbs and use spiralised zucchini instead of noodles in this divine Satay Zoodle Salad recipe.
---