Well and Good Gluten Allergen Free Contract Manufacturer
More Images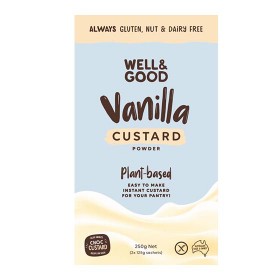 Well and Good Gluten Allergen Free Contract Manufacturer
We are Well and Good, an Australian owned and operated manufacturer and developer of gluten free and allergy free baking mixes and flour blends. Our Melbourne-based factory produces products for foodservice, retail and private label customers.
We work closely with our customers to create quality products where taste is a top priority. Our food manufacturing expertise is an important strength of our business.
We have the capacity to blend and pack a variety of dry ingredients and all our products comply with our food safety program which includes strict restrictions on: gluten, dairy, peanuts, sesame seeds, soy, tree nuts, crustaceans and fish.
This is an opportunity for our customers to create unique products for the growing health focused specialty market particularly the gluten free or allergy free market and vegan consumers.
Our current food manufacturing capabilities include:
Custom Blending
Bulk Blend
Bulk Packing
Single serve
Batch quantities
Concentrate mixes for economies of scale
Unique ingredients
Test baking
Lab testing (physical such as bulk densities; sieve analysis) micro; allergen; nutritional.
Product and recipe development
Our friendly team is here to help and we look forward to working with you to help you grow your business.