Well and Good Cake and Bread Mixes
More Images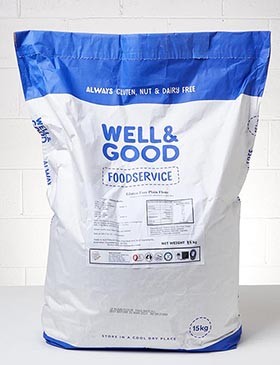 Well and Good Cake and Bread Mixes
Providing trusted gluten free cake and bread options for your business.
Well and Good's exceptional range of wholesale gluten and allergy free cake and bread mixes is available in retail size packs through to 15kg foodservice packages.
Well and Good's carefully manufactured products allow allergy sufferers the opportunity to enjoy foods that they normally miss out on. The trusted cake and bread mixes are not only delicious, reliable and easy to use, they are also:
Gluten free
Wheat free
Dairy free
Soya free
100% nut free
Free of egg powders
Free of artificial colours
Home bakers will become your customers for life if you stock items from the retail range which includes:
Gluten Free Chocolate Mud Cake Mix
Gluten Free Muffin Mix
Gluten Free All Purpose Cake Mix
Gluten Free Self Raising, Plain and Pastry Flour
Gluten Free Cup Cake Mix
Gluten Free Crusty Bread Mix
Gluten Free Marble Cake Mix
Gluten Free Crusty Bread Mix
Gluten Free Wholesome Flour
Vegan Cheesy Mac (Traditional Cheddar Flavor, Wild About Mushroom, Smokin' Bacon Flavor)
In just a few simple steps, your customers will be producing amazing gluten free products at home!
---
More information about Well and Good Cake and Bread Mixes
Well and Good
Well and Good manufactures great tasting gluten free and allergy aware food products. Witnessing a child missing out on a birthday cake because he couldn't consume gluten was what started it all. Seeing the smile on the child's face when presented with a 'safe' cake was all it took to establish Well and Good which now offers a fantastic range of gluten and allergy free cake and bread mixes. Read a little more about the company and their trusted gluten free products. Click here
Gluten Free & Allergy Free Pastry
This video from Well and Good explains their Gluten Free & Allergy Free Pastry
---