Xotik Smoothies
More Images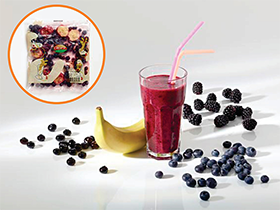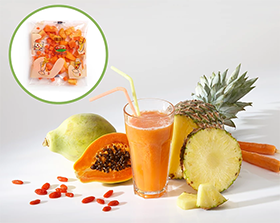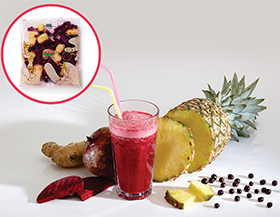 Xotik Smoothies
Real Fruit Smoothies with No Additives, Preservatives or Added Sugar
Xotik Smoothies are made from the highest quality ingredients and snap frozen within two hours to retain all the goodness and flavour. They're made without any unnecessary additives; that means no preservatives or added sugars and they taste every bit as good as just-picked. This quality smoothie product is supplied to a wide range of retailers throughout Melbourne.
Frozen Smoothie Packs
There's bound to be a flavour to suit your customers' tastes.
Fruit Smoothies
Berry Burst Smoothie
Load up on antioxidants courtesy of this jewel-coloured smoothie mix made with blackcurrants, blueberries, banana and blackberries.
Mango Dream Smoothie
There's nothing like mango to make you feel like you're on holidays. Mango Dream pairs with pears too.
Pineapple Sunset Smoothie
It's not a cocktail but it tastes like a pool-side treat! It's a masterful blend of pineapple, papaya and mango.
Raspberry Heaven Smoothie
Bursting with flavour and colour, it contains pineapple, apple, raspberries, mango and blueberries.
Strawberry Fantasy Smoothie
The tastiest strawberry smoothie you've ever had or ever will have is here! It contains strawberries and bananas, bliss!
Vegetable Smoothies
Ginger Beets Smoothie
Deep, dark, ruby red and power-packed with nutrition. It starts with red beetroot and then pineapple, wild blueberries and ginger go in too.
Green Reviver Smoothie
Soothe away the hangover or use it as a detox; it's got banana, kale, mango and lemongrass and tastes green, delicious and virtuous, all at once!
Carrot Boost Smoothie
Pineapple, papaja, carrots and goji juice give you the energy boost you need along with a handy serving of vegies in a tasty drink.
Breakfast Smoothies
Pink Supernova
A zingy concoction of honey, oats, sunflower seeds, raspberry, mango, grapefruit and strawberry to get your day off to a colourful start.
Green Goodness
The most virtuous colour of them all! Load up on honey, oats, pumpkin seeds, mango, apple, banana, matcha, lime and spinach for brekkie.
Purple Power
The goodness of honey, oats, cocoa, quinoa, apple, banana, strawberry and blueberry in a vibrant purple combo.
Coconut Crush Smoothie
Put Coconut Crush to brilliant use in your bar! Simply add Midori and Malibu to the blender with the fruit mix and you have a glorious serving of liquid sunshine! Or, leave out the alcohol and create a spectacular mocktail.
Skimmed milk, coconut milk powder and succulent pineapple combine to create a mouth-watering, tropical island-style drink base.
Retailers
Talk to Xotik Smoothies about stocking their wonderful fruit smoothie products in your supermarket, delicatessen or health food store, cafe, restaurant, bar or children's play centre.
Foodservice
Xotik Smoothies can be used to create luscious drinks, cocktails and even desserts. The company can even help you by designing and supplying custom menus complete with your own branding. You only need to add your own pricing. Each product has its own versatile personality and can be turned into either a basic (and delicious) smoothie or you can add a splash of alcohol and have instant fruit slushies for grown-ups.
For more information or to place an order, contact Xotik Smoothies today.