Mount Warning Spring Water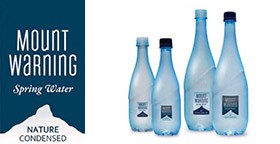 Mount Warning Spring Water
Perfectly Still & Lightly Sparkling Spring Water
Mount Warning Spring Water Company is a privately owned Australian family business whose historical roots on the pristine property surrounding the source date back more than a hundred years. Four generations ago, in 1904, the family's early settler forefather selected the property based on the many naturally occurring springs dotted across its lush green hills. In the 1950s, his daughter had the water tested and analysed and the results showed that the source was of extremely high quality. Decades later, in 2004, the current generation enlisted the help of a well-known water diviner and discovered the scale and quality of the subterranean aquifer. The Mount Warning Spring Water Company was established with a state-of-the-art bottling plant. It is located at the source which flows deep below the base of Mount Warning, the remnant of an ancient volcano in the Tweed Valley near Byron Bay.
The company has been committed to doing business in an environmentally responsible and sustainable manner in order to preserve the natural heritage and environment, not just of the local area but of the planet. Today, Mount Warning Spring Water is certified carbon neutral and its processing plant is HACCP certified.
Purity credentials
Mount Warning Spring Water is BFA registered which means the company is compliant with the Australian Organic Standard (AOS). The source and bottling processes are guaranteed free from chemical contaminants ensuring that the water you drink is of the highest possible quality, in its natural state, alkaline and high in minerals.
Perfectly Still Mount Warning Spring Water
Lightly Sparkling Mount Warning Spring Water
Still spring water, bottled at the source in the foothills of Mount Warning. Packaged in attractive, BPA-free PET plastic bottles. 500 ml and 1 litre.
Retailers
Stock Mount Warning Spring Water proudly for its Australian origins and ownership. The bottles are designed for premium appearance and will look attractive in your refrigerator or on shelves when customers are looking for quality spring water. Why not keep some at point of sale for an easy impulse purchase?
Foodservice
Provide your customers with a high quality Australian alternative to premium imported spring water brands. Mount Warning Spring Water is sourced, bottled and owned locally and deserves pride of place on your beverage menu. Serve with pride in a tall glass with ice and a garnish of lemon or lime slice. Water needn't be 'just water'. Make it special and your customers will always choose to buy water instead of choosing the standard tap water option.
To enquire further or to place your first order, contact Mount Warning Spring Water today.
---
More information about Mount Warning Spring Water
Interview - Tessa Martin - Mount Warning Spring Water
You could be forgiven for thinking that water isn't an exciting topic. But when we spoke with Mount Warning Spring Water owner, Tessa Martin, we discovered a whole other side to water that deserves to be told. Click here