Blue Pear Pantry Savoury Rolls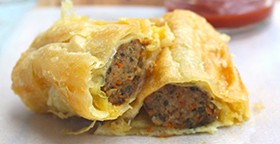 More Images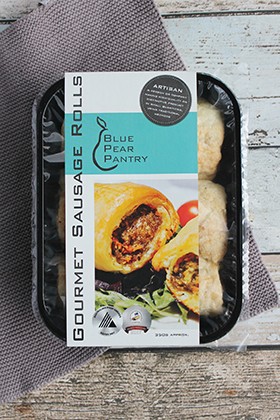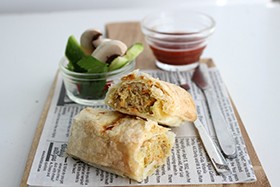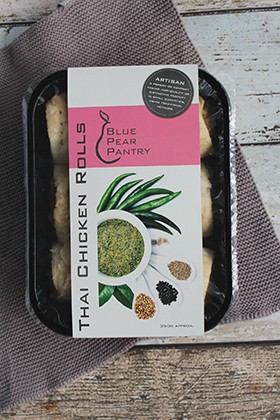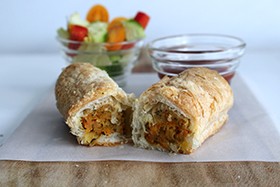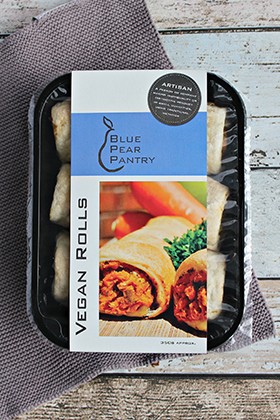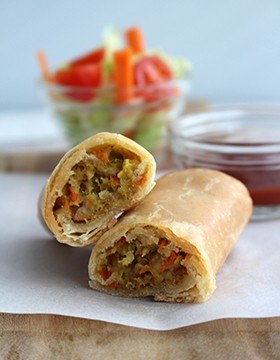 Blue Pear Pantry Savoury Rolls
Sausage Rolls, Vegan Rolls & Thai Chicken Rolls
Now available in Qld, NSW, VIC and SA

Blue Pear Pantry supplies great-tasting, award-winning savoury roll varieties made with premium ingredients for a quality product and delicious flavour combination. Every roll is individually hand-made in their home kitchen and available in full size for meals or snacks and cocktail size for finger food. The company is a proud supporter of local businesses, so all ingredients are locally sourced, from their free-range chicken to their grass-fed beef and fresh vegetables.
No preservatives
No fillers
Winner Australian Food Awards Silver Medal 2017
Winner Great Aussie Pie Competition (GAPC) Silver Medal 2017
Savoury Rolls
Packed in attractive trays of six cocktail size for retail and also available in bulk catering packs for foodservice, Blue Pear Pantry's Savoury Rolls feature wonderfully flaky pastry stuffed with beef, chicken or vegetables.
Gourmet Sausage Rolls
For the beef lovers you're feeding, Blue Pear Pantry's award-winning Gourmet Sausage Rolls are made with grass-fed beef mince.
Thai Chicken Rolls
Scrumptious Thai rolls made with free range chicken mince and home-made Thai green curry paste.
Vegan Rolls
Blue Pear Pantry makes it easy to serve your vegan guests and customers. Their Vegan Rolls are home-made using the same recipe as the award-winning gourmet beef rolls however substituting the beef with roasted sweet potato.
Gluten free Sausage Rolls, Vegan Rolls & Thai Chicken Rolls
Blue Pear Pantry's gluten free range carry Bronze medals from AGA and GAPC. The fillings are exactly the same as the regular rolls but they are made with award-winning gluten free pastry which comes from another local producer. Each pastry is rolled out by hand, shaped and then made into a savoury roll. Choose from:
Gluten Free Gourmet Sausage Rolls – Grass-fed beef mince.
Gluten Free Thai Chicken Rolls – Free range chicken mince and home-made Thai curry paste.
Gluten Free Vegan Rolls – Home-made with fresh vegetables.
Retailers
Your customers will love these Savoury Rolls for the convenience and flavour. Ideal for lunch, dinner or snacks, they can also be served at parties, barbecues and other events. They're even great as picnic food; simply heat before leaving home and carry in an appropriate container. Available 6 cocktail size presented in attractive eco friendly packaging. Suitable for supermarkets, delicatessens, greengrocers, health food stores and other quality food retail outlets.
Foodservice and catering
Serve Blue Pear Pantry's Savoury Rolls with salad, mashed potato, hot chips or steamed vegies for lunch or dinner, or on their own for boardroom lunches and quick service meals. The mini rolls are perfect for catered events and can be passed around on trays. With the inclusion of Vegan Rolls, you now have an option for omnivores and vegans/vegetarians.
Wholesale packs are available in:
16 Cocktail
32 Cocktail
16 Large
32 Large
For more information or to place an order, contact Blue Pear Pantry today.
---
More information about Blue Pear Pantry Savoury Rolls
Interview - Deb Graham - Blue Pear Pantry
When Deb Graham, owner of Blue Pear Pantry says her products are home-made, you can bet they are. Her commercially-licensed home kitchen is where she whips up her delicious Savoury Rolls made with grass-fed beef and free range chicken, as well as her Vegan Rolls. Deb took us behind the scenes for a taste of what's involved. Click here