Cool Kidz' Mealz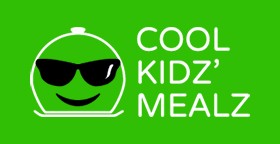 More Images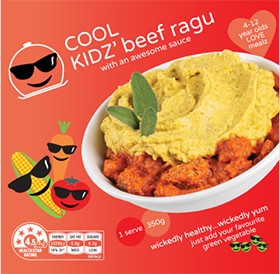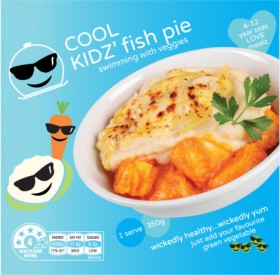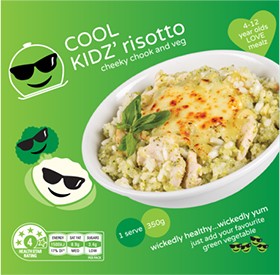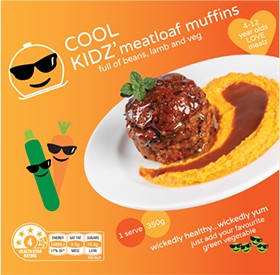 Cool Kidz' Mealz
All-Natural Children's Convenience Meals
Time poor parents of time poor school age children love Cool Kidz Mealz! Founder, Lisa Norgate is passionate about serving kids real food that's as nutritious as it can possibly be. When she was trying to find nutritious, tasty meals with generous proportions for her children, it seemed to be impossible. Every product was loaded with sugar, sodium and fat, full of artificial colours and flavours and desperately low in nutrients. So she developed and perfected recipes that children love for the taste while their parents are thrilled with the nutritional value and of course, the convenience.
An Australian family owned and run business, Cool Kidz' Mealz has that definite feel-good factor. You can be happy supporting them while serving your children nutritious, tasty meals they'll love.
All meals:
weigh 350g
contain all natural ingredients
contain no artificial colours or flavours
are low in sugar
Simply heat and eat!
The range
There's a little something for every kid to enjoy! The meals cater to the fussiest of eaters by sneakily camouflaging all the goodness but kids with a more advanced palate love them too because they're so flavoursome. The meals are loaded with vegetables, legumes, protein and carbohydrates to be perfectly balanced. They're low in fat, sodium and sugar and have nothing artificial in them.
Cool Kidz' Beef Ragu with an awesome sauce – A wickedly yum, melt-in-your-mouth slow cooked beef ragu with herbs and spices for extra flavour and served with a yummy healthy mash.
Cool Kidz' Fish Pie swimming with veggies – Wickedly healthy and wickedly yum! Succulently poached sustainable hoki pieces drenched in a beautiful sauce loaded with camouflaged veggies and topped with creamy potato, cauliflower and butter bean mash with cheese.
Cool Kidz' Risotto cheeky chook and veg – Packed full of 1.4 serves of sneaky cauliflower, broccoli and peas, this delicious risotto contains free range chicken, softly cooked arborio rice and a yummy helping of 4 different cheeses.
Cool Kidz' Meatloaf Muffins full of beans, lamb and veg – Packed full of veggies, red kidney beans, oats and herbs, they're served with a sweet and creamy vegetable and cannellini bean mash with mint glaze and gravy.
Cool Kidz' Mac 'n' Cheese with super yum veg – 4 different veggies are smuggled into a creamy pasta sauce containing 4 different cheeses.
Highest standards of food safety
Cool Kidz' Mealz are made in a HACCP certified commercial kitchen, to the highest possible standard of food preparation and packaging. They are flash frozen to lock in the freshness and packaged in 100% recyclable material.
Wholesale for Retailers
Your customers will be delighted to see the Cool Kidz' Mealz range of convenience meals in store. They solve the dilemma of what to cook when there's seemingly no time and nothing in the fridge the kids will happily eat. Keeping these in the freezer for those kinds of occasions makes feeding children healthy, nutritious meals a no-brainer. Ideal for independent grocers, health food stores, convenience stores, greengrocers and pharmacies that stock food items.
Wholesale for Foodservice
Cool Kidz' Mealz are the ideal option to have on hand in motels, children's activity centres, sports clubs and tourism outlets. Simply heat and serve and everybody's happy.
To find out more or to place an order, contact Cool Kidz' Mealz today.
---
More information about Cool Kidz' Mealz
Interview - Lisa Norgate - Cool Kidz' Mealz
Whilst convenience meals for babies and toddlers are gaining momentum, Lisa Norgate, Founder of Cool Kidz' Mealz decided it was time to cater for older kids. Her range of nutritionally balanced meals that camouflage the vegies is the perfect solution for time poor families wanting to ensure kids eat well and enjoy their food. Click here