Dante's Coffee Roasters
More Images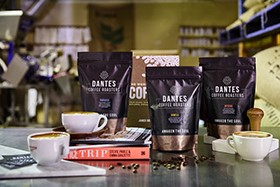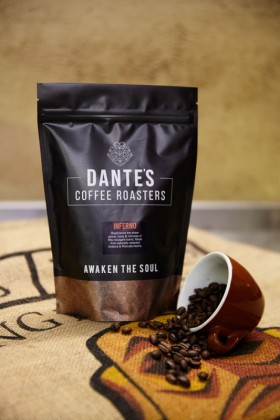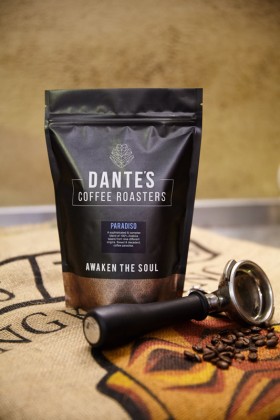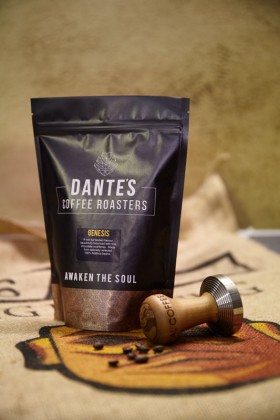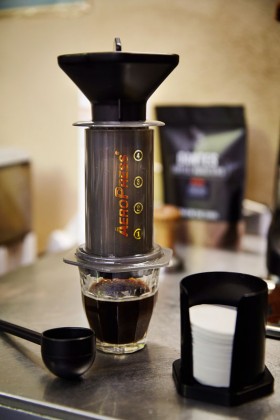 Dante's Coffee Roasters
Boutique Contract Coffee Roaster
Dante's Coffee is a boutique contract coffee roaster based in Perth, Western Australia. A family owned and operated business, Dante's has a passion for all things coffee that borders on the spiritual.
Known as a producer of Caffé Divino (Divine Coffee), Dante's was founded by Domenico Dante Spadaccini in 2010 and despite a restructure of the business's ownership in 2015, Dom continues to oversee all aspects of production.
Dom has over 30 years' experience in the coffee and hospitality industries. He is a skilled blender and roaster of coffee as well as an accomplished barista and international barista judge.
Dante's mission is to promote clients' businesses by producing and packaging a high quality product. Unlike their competitors, they do not promote their own brand, but instead encourage their clients to promote their own signature blend and roast profile. They are currently blending and roasting premium and specialty grade coffee beans imported from around the world. Each origin or blend is available and roasted according to clients' needs. Dante's offers a world-class product at very reasonable volume-based rates.
The Coffee
Choose from three featured blends or have Dante's create a signature blend especially for your business.
Inferno Coffee Blend
The Italian word for Hell, Inferno recalls an interesting Turkish proverb with dark connotations:
"Coffee should be black as Hell, strong as death and sweet as love."
Experience the sheer power, body and richness of this indulgent blend as an espresso. Also easily cuts through milk boldly.
Paradiso Coffee Blend
The Italian word for Heaven.
"A truly intriguing complex piece of work, as this is an amazing blend of coffee."
Perfect as espresso or with milk, Paradiso is a highly sophisticated blend of nine different coffee origins, each one to complement a particular aspect of the spheres Dante Alighieri, in his masterpiece the Divine Comedy, visited on his way to Empyrean, "the place of the highest Heaven".
Genesis Coffee Blend
A unique coffee experience, Genesis is an original and complex masterpiece blend of five different origins. This 100% Arabica blend is unique as it is roasted in one of the greenest and cleanest coffee roasting machines available in the world today. With great structure and poise, the Genesis blend is an expression of rich and full bodied flavours, beautifully balanced with fine chocolate overtones. "Unforgettable!" Perfect as espresso or with milk.
Award winning Mexican Organic and Decaf Coffee
Mountain Water Mexican Organic Decaf coffee beans, freshly roasted and packed by Dante's.
This 'Mountain Water' Decaf process has preserved the original characteristics of the inherent aroma and flavour of the original Mexican beans. This is a premium Decaf bean and one of the few 'best' choices, completed by being organic certified.
Mountain Water Process Decaffeination uses the clear, pure water from the glaciers on the highest and most beautiful mountain in Mexico. In the decaffeination process, the green coffee beans are immersed in water in order to extract the caffeine in a systematic manner resulting in coffee beans that are 99.9% caffeine free.
Full service wholesale coffee for restaurants, cafes and franchisors
The company operates through a small network of distributors in WA. Since the restructure, capacity has increased within the business so Dante's are keen to extend their reach to other states in Australia.
Through this expanded network of distributors, they look to offer a full coffee service to restaurants, cafes and franchisors across Australia that includes on-call service, free on-loan espresso machines and other coffee supplies.
Dante's Coffee is unique as it is roasted in an IMF coffee roaster, one of the greenest and cleanest coffee roasting machines available in the world today. This environmentally friendly hand-built Italian-made roasting machine allows them to produce batch after batch of consistently roasted coffee, utilising 30% less gas and producing no smoke in the process!
The Dante's team believe that this method of roasting produces a more aromatic and flavoursome coffee. Every roast profile is developed to maximise the natural sweetness in coffee, without sacrificing origin flavours, and maintain a balance in the cup that keeps their clients – and their clients – coming back for more.
If you would like to find out more about Dante's coffee blends, or you are ready to place your first order, contact Dante's Coffee today.
---
More information about Dante's Coffee Roasters
Interview - Domenic Spadaccini - Dante's Coffee
Coffee is always a fascinating topic and this is abundantly so when you talk with Domenic Spadaccini, Creative Director responsible for blend and roast profile formulation at Dante's Coffee. Domenic also oversees all aspects of production. We had a chat with him and learned so much more about this humble bean and how it can be poetically transformed into a sublime brew. Click here