ecoCaffe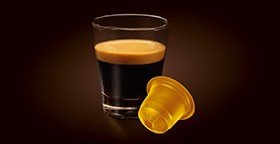 ecoCaffe
Ethical Coffee Company
Nespresso® compatible espresso capsules
ecoCaffe is the exclusive distributor in Australia for Ethical Coffee Company, maker of the world's best biodegradable, Nespresso® compatible* espresso capsule.
These coffee capsules are the world's leading biodegradable and compostable Nespresso compatible coffee capsules and the only ones certified to the highest standard, the European Union's official certification EN 13432. Containing true, fresh Italian barista style coffee, they deliver on flavour as well as environmental considerations. Unlike plastic and aluminium pods these capsules biodegrade in just 180 days and can go straight in the rubbish or green waste.
The ecoCaffe Company is 100% Australian owned. They work with the Swiss Ethical Coffee Company to bring these high quality Nespresso® compatible capsules to Australia for consumers to enjoy. By providing the next generation of totally biodegradable capsules, Ethical Coffee Company has revolutionised the coffee capsule market. its strong, environmentally friendly approach underscores its commitment to real sustainable development.
The coffees are carefully selected and roasted using traditional methods to the highest quality standards. The end result is a first-rate coffee that respects the best Italian traditions.
(* Excluding professional machines, Gaggia, Saeco and Siemens machines, built-in models (Miele) and capsule-holder machines.)
The range
Mandheling Supreme Intensity 7/10
Sourced from the heart of the island of Sumatra, Mandheling pure origin coffee from Indonesia boasts an exceptional and complex quality. Grown at altitudes of 800 to 1,600m, its distinguishing feature is the subtlety of its notes, both fruity and slightly acidic, intensely roasted and chocolatey, with woody overtones. With its rich, rounded and full flavour, the end result is a rare and unique coffee in the cup. Pack of 10 capsules.
Lamari Supreme Intensity 8/10
Drawing on an exceptional regional heritage, this Grand Cru from Papua New Guinea is a coffee with an intense and sophisticated body. Grown in the heart of the Lamari Valley, at an altitude of over 1,800m, it reveals bewitching and gently spicy notes with a hint of fresh walnut. Floral and fruity notes are released on the palate. Powerful and deep, this great coffee offers a long and lingering aftertaste. Pack of 10 capsules.
Decaffeinato Supreme Intensity 6/10
A perfectly engineered blend of several Arabicas from Brazil, grown in the heart of the mountain region between 1,000 and 1,400m altitude, in the shade of towering trees that allow the coffee cherries to ripen slowly. This Decaffeinated Espresso variety is generous and round, full and balanced, enhanced with subtle toasted aromas. Pack of 10 capsules.
Arabica Forte Supreme Intensity 8/10
A sophisticated blend sourced from southern India, this Pure Origin coffee, grown on fertile soil at 1,000 metres' altitude, reveals an intense and harmonious espresso, smooth and balanced on the palate, with a slightly fruity note. Pack of 10 capsules.
Arabica Supreme Intensity 7/10
This blend of grand Arabicas of Colombia hails from the volcanic soil of the Andean Cordillera, the lofty plateaus of South America. It develops a refined and fruity aroma, and its distinguishing feature is a silky, delicate and balanced softness. The end result is a truly noble Espresso. Pack of 10 capsules.
Espresso Supreme Intensity 8/10
Tracing its origins back to the Dalat mountains in Vietnam, this authentic Italian-style Espresso expresses the strength of the Robusta, enhanced with a hint of chocolate. Its brief, sustained roasting gives it an intense power, while revealing a certain roundness of flavour and inimitable subtle blends. Pack of 10 capsules.
Ristretto Supreme Intensity 9/10
Originating in the birthplace of Africa, in a region between Ethiopia and the Yemen, this grand cru shows itself to be a Ristretto, with its intense flavour and powerful aroma, along with spicy notes. A pure concentration of aromas, with a lingering aftertaste. Pack of 10 capsules.
Inca Soave Intensity 6/10
Grown in the foothills of Peru, this pure Arabica coffee is created using an ancestral technique dating back to the 1700s. It produces a full-bodied espresso, characterised by delicate fruity and gentle full-flavoured notes. Inca Soave is certified Fairtrade and organic. A smooth, aromatic espresso with hints of fruit and cocoa. Pack of 10 capsules.
Classic Lungo Intensity 4/10
A subtle Fairtrade and organic blend with a slightly fruity bouquet, coupled with aromatic notes of hazelnuts. This blend originates from Peru and Africa and is an Organic Agriculture labelled product. Pack of 10 capsules.
Classic Dolce Intensity 5/10
A true espresso with a sweet, creamy crema. This pure Arabica has a smooth aroma, combining depth with richness, topped off with fruity, slightly spicy notes. Pack of 10 capsules.
Classic India D'oro Intensity 6/10
The heart of this coffee from the best Indian beans blossoms to reveal all of its sophistication with a hint of acidity, punctuated by subtle sweet, fruity notes. Its body gives it a delicate richness in the mouth that just keeps on coming. Pack of 10 capsules.
Classic Lungo Forte Intensity 8/10
A full bodied Lungo derived from a blend of the finest Arabica, with a hint of Robusta to bring out the intensity. Perfectly balanced for creating a long black coffee. Pack of 10 capsules.
Classic Decaffeinato Intensity 6/10
All the rich flavour of a blend of the best Arabica and Robusta beans, decaffeinated without any compromises. This combination reveals the perfect balance between strength and mildness, with an intense, velvety flavour. Pack of 10 capsules.
Classic Arabica Forte Intensity 8/10
The perfect blend of the best Arabica from South America and Africa. For fans of bold sensations, rich aromas and a hint of fruitiness. Pack of 10 capsules.
Classic Arabica Intensity 7/10
The elegance and character of this pure Arabica, lifted with a hint of fruitiness, made using the most sought after beans, make this the ultimate espresso experience. Pack of 10 capsules.
Classic Espresso Intensity 8/10
This authentic Italian espresso has a personality all of its own. Its Arabica blend is lifted by a hint of Robusta, making it intense and powerful, but with a rich roundness and subtle combinations, conveying all of its character and lingering deliciously. Pack of 10 capsules.
Classic Ristretto Intensity 9/10
An intense concentration of flavour for those who enjoy a robust blend. Essentially made up of Arabica from Latin America, with a hint of Madagascan Robusta to top it off. Pack of 10 capsules.
Don't settle for lesser quality imitations. Choose Ethical Coffee Company Nespresso® compatible, environmentally friendly coffee capsules for your office, shared kitchen or home enjoyment. To discuss your requirements or to place your first order, contact ecoCaffe today.