Friends of Frank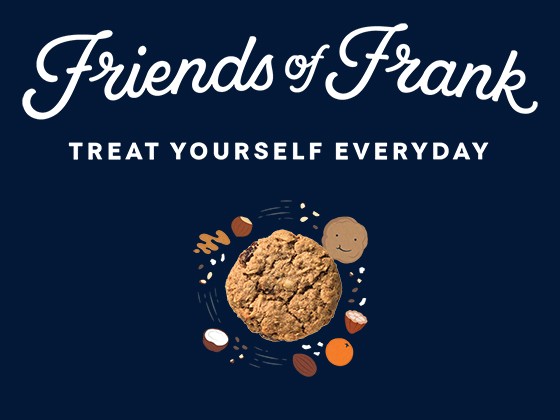 More Images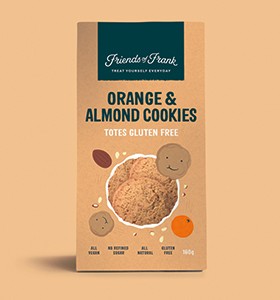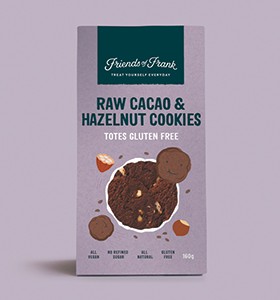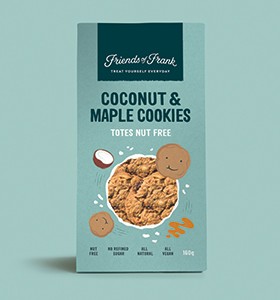 Friends of Frank
Wholesome Vegan Cookies
All-natural ingredients + epic flavour
Friends of Frank makes wholesome treats; gorgeous cookies that are made with only natural ingredients and nothing artificial. Available in three scrumptious flavours, they are presented in eye-catching, colourful packaging that will look fabulous on your shelves. Friends of Frank cookies will quickly become the new favourite for school lunch boxes and parents will feel good about encouraging kids to eat these over other sugar-laden varieties.
All cookies are:
either gluten free or made with spelt
vegan
refined sugar free
all-natural
The Friends of Frank cookies
These are cookies parents will love to give to their children because not only do they taste like a yummy treat but they are free of refined sugar and contain nutritious and natural ingredients. Yay! Cookies for days! Pop a Friends of Frank nut free cookie in their lunchbox and they're ready to go!
Orange & Almond Cookies – Made on a base of almond meal and sweetened with organic panela sugar, these cookies also feature crunchy almond chunks and are flavoured with all-natural orange oil.
Raw Cacao & Hazelnut Cookies – A masterful concoction of brown rice flour, pitted dates, organic raw cacao and crushed hazelnuts. Kids already love the combo of hazelnuts and chocolate and these cookies are the ultimate healthy version.
Coconut & Maple Cookies – Put shredded coconut, sultanas, rolled oats and maple syrup together and you've got a cookie that kids will go bananas for! It's crunchy, chewy and totally tasty.
Retailers
Stock Friends of Frank cookies in your health food store, supermarket, convenience store, delicatessen or vegan specialty outlet or other retail store. Offer taste tests and talk to customers about the nutritious virtues.
Foodservice
Friends of Frank cookies are ideal for serving at children's sporting venues, school tuckshops, play centres, airlines, hotels, motels and cafes.
For more information or to place an order, contact Friends of Frank today.
---
More information about Friends of Frank
Friends of Frank Brochure
Learn more about the Friends of Frank range of Gluten Free & Vegan Cookies. Click here