Innocent Beans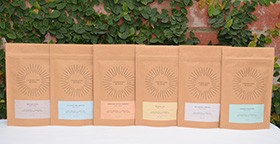 Service Area Australia Wide
Innocent Beans
Organic herbal coffee that's naturally caffeine free!
The wonderful people behind Innocent Beans believe in living a wholesome way of life. That means eating nutritious foods, exercising regularly, being kind to other people and working hard to achieve your goals. Knowing that everyone needs a little 'pick-me-up' from time to time, they created the Innocent Beans brand which supplies incredible coffee-like blends that draw upon some of nature's most satisfying ingredients. Specially formulated with a unique concoction of barley, dandelion, chicory and carob, the blends will help you to wake up and feel more energised … without the crash-and-burn associated with caffeine because there is no caffeine; naturally!
They are passionate about using real food to deliver a great tasting product and they promise that they will never add any flavours, colours, sugar or preservatives to any of their products. All the ingredients are healthy for the body, helping with digestion and cleansing the body of toxins to help you naturally feel more energised.
You can enjoy Innocent Beans Herbal Coffee at any time of the day, even in the afternoon or evening and not have it affect your sleep quality.
Give yourself a break from caffeine and treat yourself to an Innocent Beans Herbal Coffee and experience the difference real food energy can make to your day (and night).
The range
To make these superb blends of herbal coffee, Innocent Beans use only high quality, organic herbs that are similar in flavour and aroma to regular coffee – dark, strong, robust and full of flavour and pure goodness.
The Original Innocent - Made of barley, dandelion root, chicory root and carob, this smooth blend will be sure to satisfy those coffee cravings. These ingredients are great for digestion, detoxifying and they contain antioxidants – important for fighting those free radicals!
The Gluten Free Innocent – A masterful blend of dandelion root, chicory root and carob; a robust, gluten free blend. This blend is also fantastic for aiding in digestion, detoxifying your body, and it contains antioxidants.
Innocent Chai - This delicious chai blend is loaded with spicy goodness and is made of some of the world's most medicinally active herbs. It contains a blend of barley, dandelion root, chicory root, carob, cinnamon, cardamom, ginger and cloves. These ingredients can improve digestion, enhance the immune system, fight inflammation and they also have antioxidant properties.
Innocent Spiced Turmeric - This warming blend made of barley, dandelion root, chicory root, carob, turmeric, cinnamon and ginger has the perfect amount of spice. Turmeric contains the compound curcumin which boasts powerful anti-inflammatory effects and is also a very strong antioxidant. And as it's combined with the powerful effects of ginger and cinnamon, you won't be disappointed with this spicy blend!
Innocent Peppermint – This peppermint blend is perfectly balanced and refreshing. It contains barley, dandelion root, chicory root, carob and peppermint. This blend can boost your overall health in a number of ways due to its ability to improve digestion, reduce pain, eliminate inflammation, relax the body and mind, cure bad breath and boost the immune system.
Innocent Cacao - This rich blend containing the Amazonian superfood cacao is sure to please. It contains barley, dandelion root, chicory root, carob and cacao. When ingested, cacao has a long list of health benefits. It is rich in polyphenol antioxidants, it can help prevent the onset of ageing, promote weight loss and improve the skin's texture. Raw cacao is also said to help improve your metabolism, balance hormone levels and elevate your mood! Just in case you needed more excuses to indulge in chocolate!
Retailers
Innocent Beans will appeal to all your customers who are looking for a caffeine-free alternative to enjoy throughout the day. There are gluten free options and all ingredients are organic. The blends are ideal for health food stores, supermarkets, convenience stores, delicatessens, gift hampers, chemists and Australian-made retailers.
Foodservice
Now you don't have to miss out on those afternoon hot beverage sales! Offer Innocent Beans herbal coffee blends because the absence of caffeine is sure to hit the mark with those who say no to a flat white late in the day. Ideal for cafes, restaurants, cinemas, coffee carts, food trucks, university and hospital cafeterias and wherever coffee is available but sales need a lift in the afternoon and evening.
To discuss your requirements or to place your first order, contact Innocent Beans today.