Kohu Road
More Images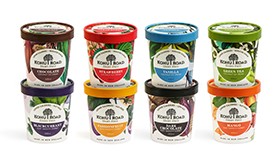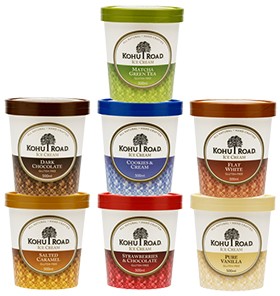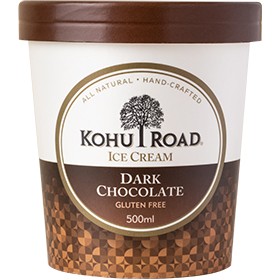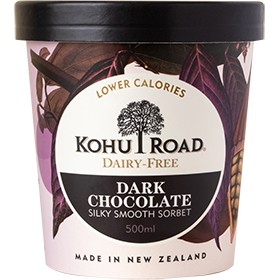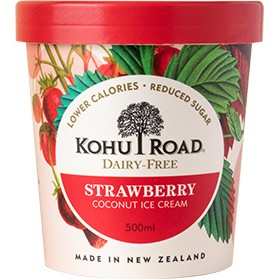 Kohu Road
Hand-Crafted Artisanal Ice Cream - Dairy and Dairy Free
All-natural, hand-crafted Kohu Road ice cream is a taste sensation of the kind that is getting rarer these days. The company takes great pride in producing 'real food' products made with wholesome ingredients using traditional methods. In Kohu Road ice creams – dairy and dairy free – you won't find any preservatives, artificial colours or flavours, stabilisers or gums. Just pure, natural, intense flavours that bring back the serious pleasure of eating wonderful ice cream. *All flavours are gluten free except Cookies & Cream.
Established in 2007, Kohu Road has won multiple awards. The unique flavours and signature style were inspired by founder Greg Hall's 15-year journey across the globe which led to his personal mantra: "revel in simple pleasures". This is now Kohu Road's foundational philosophy and the range is a response to the deepening slow food movement.
Kohu Road ice cream is:
Delicious – A truly memorable taste experience that keeps customers coming back for more.
All natural and premium – Kohu Road only use the finest, all-natural ingredients in their products.
Artisan – Discover real ice cream made by hand in the traditional way, with pride.
Innovative – The company's highly skilled technical team are constantly exploring to come up with decadent, original flavours.
Flexible – Ask Kohu Road about made-to-order batches for the ultimate in freshness and flavour.
Green – Committed to the three Rs: Reduce, Reuse and Recycle.
Kohu Road 500ml Dairy
Enjoy a 100% natural ice cream made with only top quality ingredients. It's gluten free too (except Cookies & Cream)!
Cookies & Cream* – Always such a hit, it's studded with scrumptious chunks of Oreo cookies.
Dark Chocolate – Intense chocolate flavour in a creamy, silky ice cream.
Flat White – Coffee lovers swoon at the first taste of Kohu Road's Flat White ice cream.
Matcha Green Tea – Gorgeous green and elegantly flavoured with Japanese Matcha tea.
Pure Vanilla – No ice cream range is complete without vanilla and Kohu Road's is made with pure vanilla bean for that deep, pleasurable flavour.
Salted Caramel – Smooth, sweet and with a hint of salt.
Strawberries & Chocolate – Think strawberries coated in chocolate but in a glorious scoop of ice cream.
Kohu Road 500ml Dairy Free
Innovation comes to the fore in Kohu Road's luscious dairy free ice creams. Made with all-natural coconut cream, it had a creamy flavour and silky smooth texture. Not only is it gluten free and dairy free, it's also made with 100% real fruit, is Halal certified and is hand crafted with care.
Blackcurrant Sorbet – Intense blackcurrant flavour in a silky smooth sorbet. (Vegan friendly.)
Chocolate Coconut Ice Cream – A 'bounty' of rich flavours you won't soon forget. (Lower sugar.)
Dark Chocolate Sorbet - The chocoholic's favourite with its deep, dark goodness. (Vegan friendly.)
Green Tea Coconut Ice Cream - Its pretty colour and refreshing taste make it unforgettable. (Lower sugar.)
Mango Sorbet - Dazzling tropical flavour and that vibrant, happy colour. (Vegan friendly.)
Passionfruit Sorbet - A fat-free indulgence for the gourmet sweet tooth. (Vegan friendly.)
Strawberry Coconut Ice Cream - The best of both worlds, fruit and tropical in every mouthful. (Lower sugar.)
Vanilla Coconut Ice Cream - Lush, dreamy and floaty, like an island holiday. (Lower sugar.)
Retailers
Stack your freezers with plenty of variety from the Kohu Road range and wow your customers. Once they try the flavours, they'll be back for more. This premium range is ideally suited to delicatessens, health food stores and food halls. The 500ml tubs are the perfect size for entertaining, a weekly treat or personal indulgence any time. Two spoons and a tub of Kohu Road can be more comforting and social than a cup of tea or coffee!
Foodservice
Let Kohu Road ice cream be the star of the show in your desserts! Made with all-natural, premium ingredients, every flavour can be passed off as your very own creation. Gluten free* and with a choice of dairy and dairy free varieties, you can easily keep all your customers happy.
Talk to Kohu Road today about stocking or serving their fabulous artisan ice creams in your business today.
---
More information about Kohu Road
Interview - Jenny Lin - Kohu Road
Not all ice creams are created equal. Kohu Road is an artisanal ice cream brand made with only the finest natural ingredients. Available in dairy and dairy free, they are turning heads in the best retail and foodservice outlets. We spoke with Jenny Lin, Kohu Road's Sales & Marketing Executive and discovered a proud brand with some irresistible flavours. Click here