Le'Petit Gourmet Trading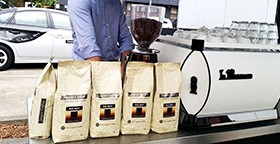 Le'Petit Gourmet Trading
Coffee & Chai
Le'Petit Gourmet Trading is an independent wholesaler and distributor of coffee, chai and other hot beverage lines and specialises in Queensland wide distribution. A family owned and operated business since 1999, the company prides itself on the quality of service and the recognised brands they represent. Strong ties with their logistics partners allows them to send orders from single boxes to full pallets throughout Queensland.
The company takes great pride in sourcing and offering interesting brands of coffee and chai that bring a new conversation to the experience of enjoying hot beverages.
Jasper Coffee
Jasper Coffee is an Australian family owned specialty coffee roaster, dedicated to re-humanising the coffee supply chain. They hold in stock Australia's largest selection of single origin beans, blends, fairtrade, organic and specialty coffees and only accept into their repertoire those beans with distinctions of flavour, body and aroma that satisfy their palate. Passionate about Re-humanising the coffee supply chain and educating business partners on the Crop to Cup Journey!
The Complete Fairtrade Solution
In addition to coffee beans, we also supply Fairtrade rich drinking chocolate, raw sugar, and decaf coffee pods.
Fairtrade
Organic
Carbon Neutral
B Corp Certified
Minor Figures
Minor Figures is a cold brew coffee that aims to make cold brew more accessible whilst upholding the quality and values of specialty coffee. It is stocked in some of the world's most prestigious cafes and gourmet provedores.
Minor Figures Cold Brew Straight Black – The original and best, roasted to perfection before being gently brewed for 18 hours using filtered water. Triple filtered and totally unsweetened and packaged in convenient single-serve cartons.
Minor Figures Cold Brew with Organic Milk – A special blend of Brazilian micro lot from Mantiqueira de Minas (70%) and an organic Sumatran (30%), then combined with finest British organic milk, and lightly sweetened.
Bondi Chai
Australian brand Bondi Chai is a premium quality chai latte pre-mix combining spray-dried black tea and a complex blend of 'comfort spices', sugar, milk and honey that have made it one of Australia's favourite café beverages. Gluten free, 98% fat free, low in caffeine and with no trans fats.
Available in: Cinnamon Chai and Vanilla Chai.
The Goodness Coffee Syrups
Natural Flavour | Natural Colour | Fair Trade Certified
Chai - A bit spicy and a bit sweet. Chai people say it's a go. Natural colour and flavours. Fairtrade certified
Caramel - It tastes like caramel. Natural colour and Fairtrade certified.
Hazelnut - Our most popular Cafe Syrup by a mile. Hazelnut's a 'thing' at the moment. Natural colour and flavour. Fairtrade certified.
Vanilla - Also a big seller. I guess it's a handy default if you're not quite sure which way to go. Natural colour and flavour. Fairtrade certified.
White Chocolate - Made as a cafe syrup, but interestingly also a restaurant favourite as a dessert topping. Natural colour and Fairtrade certified.
Butterscotch - Getting a Butterscotch syrup to taste right was a little trickier than we originally thought but we got there in the end and is a popular dessert ingredient as well as cafe syrup so there you go. Natural colour and Fairtrade certified.
Le'Petit Gourmet Trading also offer assistance with cafe menu innovation and unique product education and product implementation.
They additionally supply sugar sticks for cafes and restaurants as well as a growing range of café lines that are suitable for espresso bars, 5-star hotels, bars and juice bars: Acai Amazon Power; Bare Bite Paleo Slices; Brookfarm Macadamia Muesli; FroPro Protein Ice cream; frozen croissants and Danishes; Goodness Coffee Syrup; Limar Nougat; Mad House Bake House brownies, cupcakes and slices; Maleny Cuisine dressings, sauces, chutneys and jams; Neha's Indian Inspired ice creams and chutneys; Pukara Estate olive oils, vinegars and condiments; and Wild Foodies soups.
Retailers
Source your coffee and chai supplies from Le'Petit Gourmet Trading and introduce your customers to interesting conversation starters. Get to know the brands and make a feature of them in your marketing.
Foodservice
That point of difference comes from offering brands that have a story to tell. Talk to Le'Petit Gourmet Trading about the ideal products to suit your particular customer base. Stand head and shoulders above the saturated coffee market with something unique.
To discuss your coffee and chai requirements or to place your first order, contact Le'Petit Gourmet Trading today.