Peninsula Larder
More Images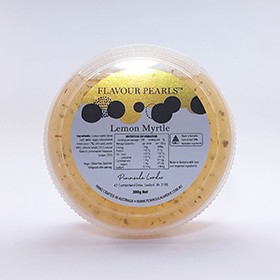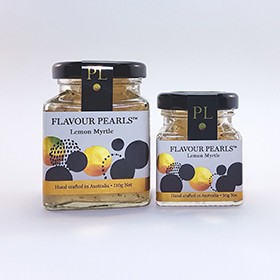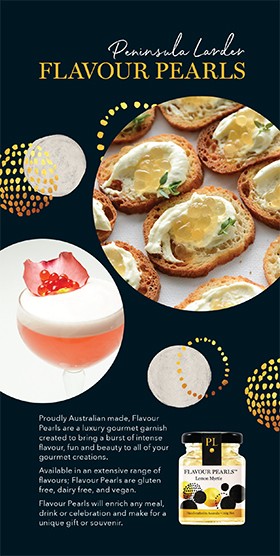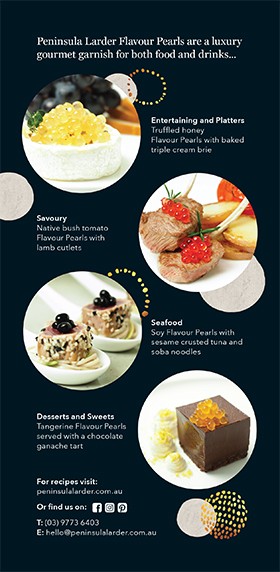 Visit Website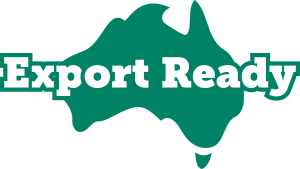 Peninsula Larder
Distributors Wanted for Flavour Pearls Gourmet Garnish
Australian company Peninsula Larder are seeking Distributors who can introduce their brand 'Flavour Pearls' across Australia and around the world. They supply a range of more than 15 different Flavour Pearls to both the foodservice and beverage industry as well as retail stores. Ideal for sweet and savoury dishes, canapes, finger foods and drinks.
We are so busy focusing on creating our products that we need your help to create connections with customers.

Sales support via brochures, taste notes and counter display units available.
Gluten Free
Dairy free
Vegan
Molecular gastronomy
A delicious finish for sweet or savoury canapes and finger foods
Can be served on hot or cold food
Brilliant in champagne and cocktails
Ideal gift for your foodie friends and family
An intense liquid burst
Proudly Australian made
Available in catering sizes
Foodservice and caterers
Flavour Pearls by Peninsula Larder are a cost-effective and convenient way to add excitement and glamour to sweet and savoury dishes. Each pearl is not a solid gel but rather a capsule of intensely-flavoured liquid that pops when bitten into. Flavour Pearls are a memorable visual experience that customers and guests will love. Excellent for small restaurants and large-scale hotel kitchens alike.
Retailers
Customers are always looking for something new and special to enliven their dishes. Foodies and regular entertainers enjoy adding glamour to their meals and drinks, to show off their skills and food knowledge. Peninsula Larder's Flavour Pearls make it easy. Excellent for gifts as well. Ideal for delicatessens, provedores and gluten free and vegan retailers.
The flavours
Flavour Pearls are created in an incredible array of flavours to suit limitless applications. They can be served with hot or cold, sweet and savoury dishes.
Shallot & White Balsamic
Yuzu
Balsamic
Lemon & Black Pepper
Soy
Tangerine
Strawberry
Truffled Honey
Passionfruit
Raspberry
Honey
Salted Caramel
Davidson Plum
Lemon Myrtle
Native Bush Tomato
Pepperberry and Cherry
Native Finger Lime
Limited Edition : Mulled Wine
Limited Edition : Smoked Honey
Practical for large volume catering
Flavour Pearls are packed in convenient 300g tubs for foodservice and only require refrigeration once opened. They are ideal to transport to outdoor catered events or where there is limited cold storage.
A fun product for clubs and bars
Bartenders love the visual appeal and flavour embellishment of Flavour Pearls when creating new cocktails. The pearls can also be dropped into a flute of sparkling wine or served with shooters.
To express interest in becoming a Distributor for this proud Australian brand, contact Peninsula Larder today using the contact form.
---
More information about Peninsula Larder
Interview - Fiona Verwoerd - Peninsula Larder
Flavour Pearls are the brainchild of Fiona Verwoerd, Owner of Peninsula Larder. Innovative and enchanting, these little beads of liquid can singlehandedly transform the presentation of a dish in mere moments. Fiona told us how they came to be and how they're being used in the real world. Click here
Flavour Pearls
Peninsula Larders Flavour Pearls are a luxury gourmet garnish for both food and drinks. Australian made - Gluten free - Vegan - Liquid bursting centre. There are over 15 flavours available!
---