Peninsula Larder
More Images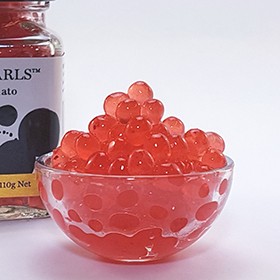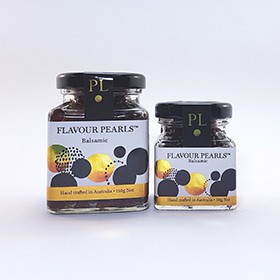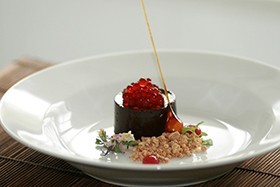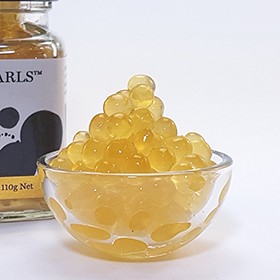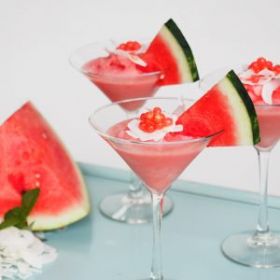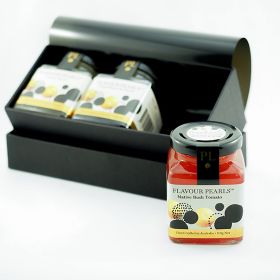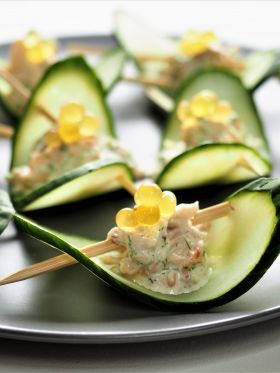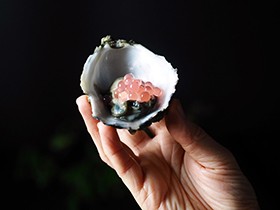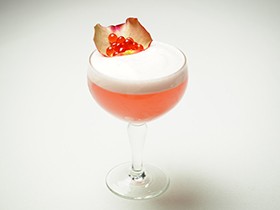 Visit Website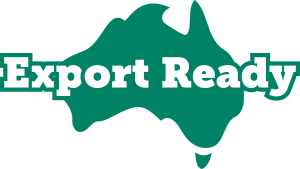 Peninsula Larder
Flavour pearls - Australian made gourmet garnish
Gluten free Flavour Pearls by Australian company, Peninsula Larder are a cost-effective and convenient way to add excitement and glamour to sweet and savoury dishes. Each pearl is not a solid gel but rather a capsule of intensely-flavoured liquid that pops when bitten into. As well as being a flavour sensation, Flavour Pearls are a memorable, novel experience that your customers will love.
Ideal to add to gift baskets as they don't require refrigeration until after they are open. Perfect to enjoy with a bottle of Champagne or Gin. Great accompaniment for Cheese / platter inspired hampers.
Our Signature Gift Boxes are available wholesale too.
Produced using 'Molecular Gastronomy', each flavour has its own personality. With colours to match the various flavours, they are ideal for garnishes and can be paired with limitless dishes, canapes and finger foods. Use them on hot or cold foods and add them to champagne or cocktails.
Being gluten free, dairy free and vegan they suit many dietary requirements.
The recommended serving size is 10 pearls. Every 50g jar contains more than 160 pearls and 110g jars contain more than 340 pearls. Simply use as required then store in the fridge after opening.
Gluten Free
Dairy free
Vegan
A delicious finish for sweet or savoury canapes and finger foods
Can be served on hot or cold food
Brilliant in champagne and cocktails
Ideal gift for your foodie friends and family
An intense liquid burst
Proudly Australian made
Available in catering sizes
The flavours
Flavour Pearls go beyond routine flavours. Truly gourmet, each exciting variety will inspire your menu and instantly elevate even the simplest dishes, sweet and savoury, to greater heights.
Yuzu offer an intense zingy citrus burst (lemon, mandarin and grapefruit notes). With a lovely opaque pale golden colour, they will give a lift to many dishes, seafood, salads and sweets.
Truffled Honey are a golden colour with a luxurious speckle of truffle within the pearls. Aromatic and pretty, they add a luxurious touch to your cheeses and platters.
Honey are a unique accompaniment for your cheeseboard. They make a sophisticated topping for pikelets or crepes. Offer them as something special at breakfast on your porridge or yogurt or try them in your tea. Delicious with creamy dishes like a vanilla pannacotta or mousse.
Shallot & Vinegar are delicate pink in colour. Created with intense white balsamic vinegar steeped with shallots they are ideal for oysters, seafood, salads and charcuterie.
Raspberry have a fresh raspberry flavour. Try them with desserts, salads and many savoury meat dishes too.
Lemon & Black Pepper are wonderfully aromatic with a big citrus punch. Delicious with fish and seafood. Try them with white meats or even a little grilled saganaki. A nice twist for desserts too.
Tangerine are both versatile and beautiful. Lovely in a cocktail or champagne. Deliciously tart and eye catching, they will make your salads pop! A great contrast for a rich chocolate dessert, or a fresh burst to top a simple cheesecake. Try them with seafood too.
Strawberry have an intense flavour and striking colour and make any dessert or cocktail special. What a talking point for your champagne toast!
Balsamic are very versatile and striking to look at. With an intense flavour, they are brilliant as a garnish and dressing for your salad (you can dress them ahead of time and the leaves will remain crisp). Also, special with cheese and antipasto and a delicious sauce alternative for steak! Try them with strawberries. They're like black gold.
Soy add a rich, dark burst of intense saltiness to your dishes. Ideal for individual portions and canapés. Good in soups too. (Foodservice only.)
Salted Caramel are a winner with all your favourite desserts. From hot puddings to ice cream and everything between. Think what a decadent cocktail they'll make.
Passionfruit are an elegant burst of flavour, great with many desserts and cocktails. They also work well with many savoury dishes too, seafoods and salads to name a few.
Please browse the website to view the products and see our flavour notes and recommended food pairings.
Retailers
Customers are always intrigued by Peninsula Larder's Flavour Pearls when they see them in stores. With point of sale brochures and counter display boxes available, add to gift suggestions, offer taste tests and position alongside complementary foods and drinks. Ideal for delicatessens, provedores and gluten free retailers.
Wonderful for large volume catering
Flavour Pearls are packed in convenient 300g tubs for foodservice and only require refrigeration after opening. That means they are ideal for carrying to outdoor catered events or where cool room space is limited. Use them to top sweet and savoury finger foods, to provide a glamorous finish for cakes, brulees and mousses, or to add an effortless touch of opulence to cocktails, champagne or shooters.
A fun product for clubs and bars
A twist of lemon peel or a sprig of mint can be a little passé so add a few Flavour Pearls to drinks for a novel touch and infinite visual appeal. Very 'Insta-worthy', they will create a buzz with guests.
Foodservice
Flavour Pearls are a cost-effective and consistent gluten free product to keep on hand in commercial kitchens. Excellent for small restaurants and large-scale hotel kitchens alike. Supplied in a shelf-stable 300g tub, they represent fantastic convenience and practicality.
To find out more or to place your first order, contact Peninsula Larder today.
---
More information about Peninsula Larder
Interview - Fiona Verwoerd - Peninsula Larder
Flavour Pearls are the brainchild of Fiona Verwoerd, Owner of Peninsula Larder. Innovative and enchanting, these little beads of liquid can singlehandedly transform the presentation of a dish in mere moments. Fiona told us how they came to be and how they're being used in the real world. Click here
Flavour Pearls
Peninsula Larders Flavour Pearls are a luxury gourmet garnish for both food and drinks. Australian made - Gluten free - Vegan - Liquid bursting centre. There are over 15 flavours available!
---