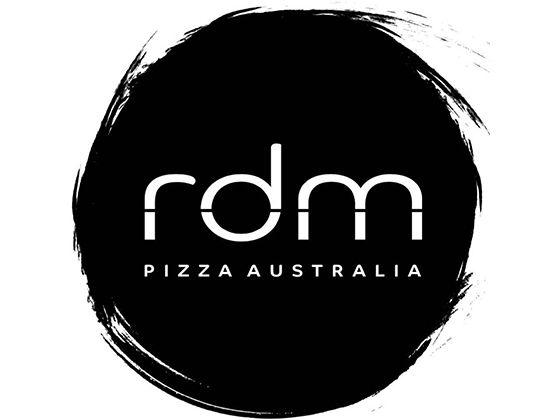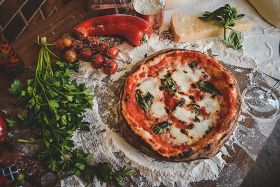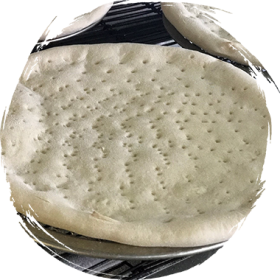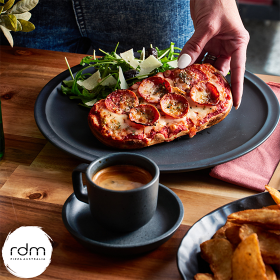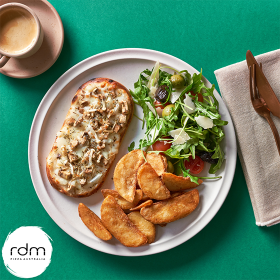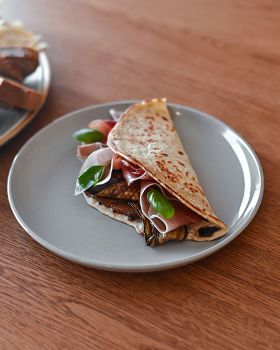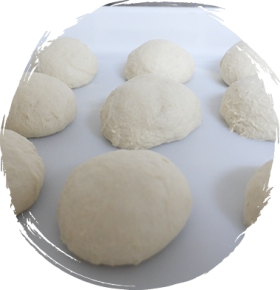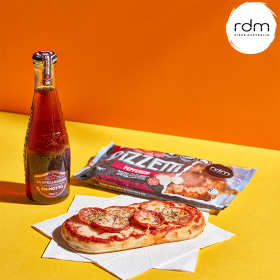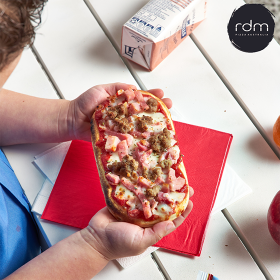 RDM Pizza
RDM Pizza
Wholesale Pizzas, Pizza Bases & Dough Balls; Speciality pizza products, Pizza Ovens and Equipment
Benvenuti! Celebrating Italian heritage, love for family and the art of pizza making. Our award-winning products are lovingly made by hand, using authentic family recipes and only the best quality products. Our passion is delivering on our guarantee of quality and consistency every single time.
RDM is a labour of love. With my initials on every box, I stand by our products with my own personal guarantee of quality and consistency to you and your customers. Welcome to our famiglia.
With Italian family heritage running strong and a family recipe passed down through the generations, RDM Pizza is a success story built on love and lots of pizza.
100% Australian made and owned. Today, RDM Pizza shares that love with Australian consumers through their range of foodservice pizzas, pizza bases and dough balls, and cook-at-home products that customers adore. The company's philosophy is simple, "bringing you the best". That means the best ethically sourced ingredients, the best quality to deliver the best results.
RDM are pizza specialists and invite you to discover their guarantee of quality and consistency.
"We know how difficult it can be to maintain consistency and efficiencies in the commercial kitchen. This product guarantees that your customers know to trust you again and again and with no room for any error, the pizza bases suit all commercial kitchens. It decreases wastage, saves on resources such as time and staffing and ensures your bottom line is maximised." Riccardo Moretti, RDM Pizza
Driven by the obsession with the perfect pizza, RDM are determined to make it accessible to all.
Handmade pizzas, pizza bases and dough balls
100% Australian made
Premium 100% Australian ingredients
Frozen shelf life of 12 months*
Cook in conveyor ovens, gas/electric deck ovens or wood-fired ovens
No preservatives or additives
High in protein
Winner of the highly-acclaimed Best of the Best Traditional Pizza Challenge two years in a row!
Wholesale Pizzas for Foodservice
RDM Pizzas offers end-to end services, products and equipment for foodservice businesses wanting to become a leading pizza destination. From the highest quality pizza bases to dough balls, to pizza ovens and equipment to staff training. The leading quality pizza products on the market, designed to maximise efficiencies within your business.
Rustic Edge Par-Baked Round Pizza Bases – Made with the finest ingredients to an authentic Italian family recipe and lovingly handcrafted to provide modern Italian wood-fired results. Product sizes: 8″, 10″, and 12". Quick to cook – just 2 minutes, 40 seconds at 300°.
Par-Baked Square Pizza Bases – A cost-effective, no-waste and innovative menu offering. Add squares together to form a metre-long (or longer) pizza. The square shape makes it easier to cut and sell without waste. Ideal for grab and go options to be sold as pizza by the slice. Product size: 310mm x 310mm. Cooking time: 30 seconds to 3 minutes dependent on cooking method and desired outcome. Cooking methods: pizza ovens, pizza stones, conveyor ovens, rational ovens, sandwich press, deck ovens, wood-fired ovens.
Gluten Free Pizza Bases – Gluten free Napoli-style pizza bases are made with only the finest sourced Italian gluten free flours. Soft and spongy throughout, with a crisp bottom. Now you can offer your customers gluten free pizzas with no worries. Supplied with aluminium trays to avoid cross-contamination. Simply top, cook and serve. Product size: 11". Cooking time: 3 minutes at 300° Shelf life: 6 months frozen*.
Snap Frozen Dough Balls – An award-winning product, perfectly suited to maximising efficiencies in the commercial kitchen, RDM dough is made with only 100% premium Australian ingredients to their secret recipe. It's then immediately snap frozen within 15 minutes to ensure the dough's unique integrity is maintained. Stretch or roll into any shape. Highly versatile, RDM dough can be used for panzerotti, frying, calzones, bread or any other pizza dough product. Product sizes: 200g = 8-9" pizzas; 250g = 10-11″ pizzas; 300g = 12-13″ pizzas; 350g = 14″-15″ pizzas.
Vegan
Australian made and owned
Award winning recipe
Slow fermentation process
Grab and Go Pizzetti
NEW! Pre-prepared and ready to serve, there's no fuss, no waste and no time lost to prepping. Available in 7 delicious hand-held varieties:
Margherita
Ham and Pineapple
Wild Mushroom
Meat Lovers
Supreme
Pepperoni
BBQ Chicken
With a 3 star health rating, these pizzetti are perfect for all venues from cafes to clubs, pubs and hotels, to school canteens, food trucks, petrol and convenience, impulse and fruit markets. They can be heated and served with sides as a meal, value-added to increase margins or simply served as a grab & go option.
Premium quality, perfect for attracting new customers, retaining and exciting existing customers and adding incremental sales growth. They're all made with real and fresh ingredients like authentic mozzarella cheese, premium olive oil, fresh veggies, quality sauce and more! Ready in minutes - no wastage or time lost to prepping.
Pizzetti – Plain: hand-held mini pizzetta that is ready for your toppings. Product size: 170mm x 90mm. Made to our award-winning recipe. No preservatives and no additives. Top with desired ingredients – perfect for glass café displays, catering, pubs, hotels, clubs, food trucks.
Piadini: RDM Piadini are a delicious, quick-serve offering. They can be filled with desired ingredients to create various value-add options, then simply folded or wrapped and can be either grilled, toasted or baked. Made from 100% Australian flour and free from additives and preservatives. Perfect for cafes, quick serve restaurants, clubs, pubs, bistros, schools and universities, hotels, lounges and food trucks.
For more information, a free sample* or to place an order, contact RDM Pizza today.
*Trade only. Conditions apply.
---
More information about RDM Pizza
Win! The RMD Golden Pizza Competition
Win a Moretti Forni T64E conveyor pizza oven valued at $15,999. Follow three simple steps ......
View Article
Interview - Riccardo Moretti - RDM Pizza
Pizza seems like such a simple thing, but when you talk to Riccardo Moretti, Managing Director of RDM Pizza, you discover there's a whole lot more to it. The company has crafted a true culinary specialty through their pizzas, dough balls and award-winning dough products for the foodservice industry.
View Article
Pizza in under 3.5 minutes with RDM Pizza
Are you ready to taste the RDM difference? Our award winning bases need an oven that can keep up. To achieve wood-fired results like no other, contact us today!
---
Making panzerotti with RDM Dough Balls
Panzerotti are a popular street-food favourite commonly found in Southern Italy. These deep-fried pockets of dough offer versatility and can be filled with sweet or savoury fillings.
---
Behind every great RDM Pizza is a great Pizza oven.
Behind every amazing pizza is an equally as amazing pizza oven. Pair your RDM Pizza products with the very best pizza ovens for an unbeatable pizza offering.
---
Homemade gnocchi with Mamma Maria
Growing up, Riccardo would watch his mamma make everything from scratch, including a family favourite - Gnocchi! Press play to watch Mamma Maria and Riccardo share tips and tricks for the PERFECT gnocchi
---