Serious Deliria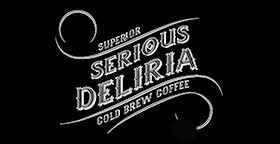 More Images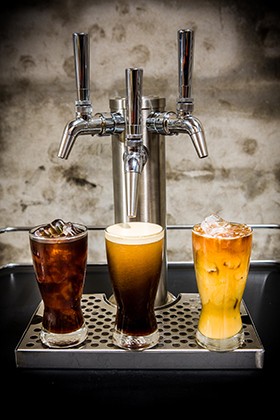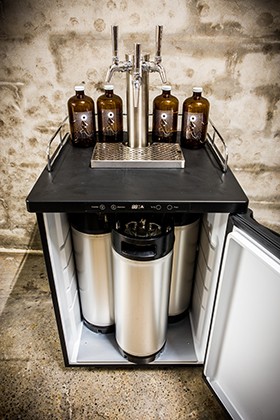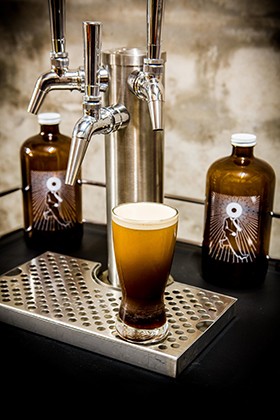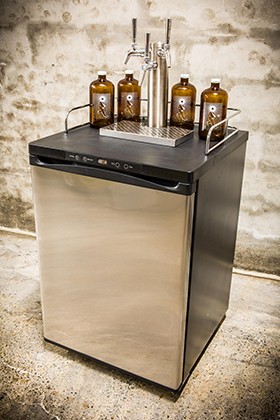 Service Area QLD, NSW, ACT, VIC
Serious Deliria
Serious Wholesale Cold Brew Coffee - Bottled and Nitro-Infused on Tap
Serious Deliria is superior cold brew coffee packaged in innovative formats for optimal shelf life and serious good looks. To produce this bold, rich drop, the beans are immersed in cold water for 16 to 20 hours, depending on the roast and origin. Thanks to the low temperatures and slow process, the true essence of the coffee bean is captured. The result is a rich, smooth, highly caffeinated concentrate with around 67% less acidity than traditional hot brewed coffee or espresso. That makes it easier on the digestive system and teeth and it also means a less bitter, naturally sweeter product than regular espresso.
Fresh, single origin arabica beans are sourced from the world over, with the origin changing according to the season to ensure the freshest flavours. The only other ingredient is water and this too is extremely important! Since the water's purity and alkalinity is important to the end result, Serious Deliria put it through a seven-stage filtration process!
Every small batch of Serious Deliria cold brew coffee is quietly and consistently checked while it is steeping. The crew carefully monitor the brewing time and temperature to create the perfect brew every time. Finally, the coffee is packaged in glass bottles and a very special 2-litre Bag in a Box, ready for delivery to coffee-heads across NSW, Victoria, Queensland and South Australia.
Serious Deliria cold brew has a shelf life of 6 weeks from brew date. No preservatives are added, to retain the integrity of the brew.
Serious Deliria Cold Brew Coffee
Because the coffee is a concentrate, it is highly potent. Use it in iced coffees, ice blocks, affogatos, ice cubes, smoothies and thick shakes and even add it to your baking recipes. Splash it over ice, add a dash of your favourite liqueur or smash your Serious Deliria ice cubes into a frappe.
2 Litre Bag in a Box – This clever system ensures no oxidisation occurs during usage. From the first drop to the last, your Serious Deliria cold brew will stay fresher for longer.
500ml bottles – Handsome glass bottles with funky branding. You'll get 5 to 8 serves in every bottle, depending on how you use it.
Serious Deliria Cold Brew can also be served from a 19.5 Litre keg or on tap via a 1 Litre bottle.
Nitro-Infused Cold Brew Coffee
Talk to Serious Deliria about serving their cold brew straight from the tap, infused with nitrogen for a smoother, creamier brew with silky mouthfeel. Supplied in 19.5 Litre kegs with an easy-to-use Kegerator setup.
Nitro-infused cold brew – Watch as your customers send your place viral on social media!
Retailers
Get some Serious Deliria in store ASAP to satisfy the coffee lovers who demand top quality cold brew for their daily fix. Offer taste tests, talk about the product and remember to suggest it as a drink, to use in desserts and baking and to add to cocktails. Ideal for independent grocers, delicatessens, food halls and bottle shops.
Foodservice
Add Serious Deliria to your beverages menu and create a range of drinks that will cause your customers to salivate! From iced coffees and frappes to cocktails and mocktails, there is an endless array of serving suggestions. See recipes on the company's website. Ideal for cafes, restaurants, hotels, bakeries, bars, juice bars and even fitness studios that offer beverages. Whip up a Serious Deliria Protein Shake and watch the crew line up for them.
Food manufacturers
Use top quality Serious Deliria cold brew in your cupcakes, muesli and artisanal baked goods. Because it's so concentrated, you get a lot of bang for buck on flavour, without watering down the recipe.
To find out more about this exceptional product or to place an order, contact Serious Deliria today.
---
More information about Serious Deliria
Interview - Garrick Muntz - Serious Deliria
Cold brew is the new black! Even those who normally drink their coffee white and choosing straight-up cold brew from Serious Deliria who also offer nitro-infused coffee, served from icy kegs. We chatted with co-owner and head brewer, Garrick Muntz and found out why this new trend is so dynamic. Click here