WithOneBean Coffee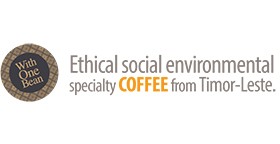 More Images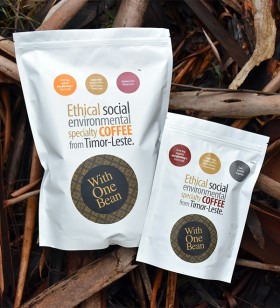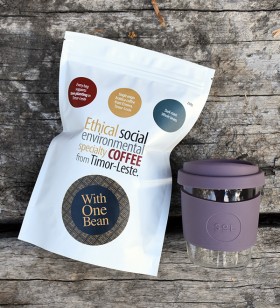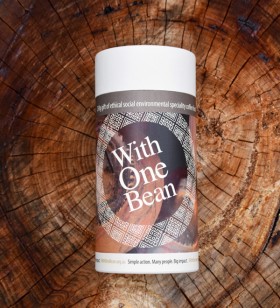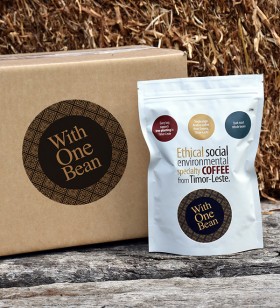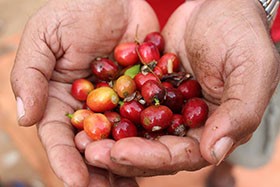 WithOneBean Coffee
WithOneBean Coffee
WithOneBean is a not for profit coffee social enterprise producing ethical, social, and environmental coffee to consumers who want their coffee to create real social impact whilst also tasting delicious.
WithOneBean coffee is sourced directly from over 650 subsistence coffee farmers in Timor-Leste, who produce the coffee cherry using 100% organic farming methods on small-holder farms. WithOneBean purchases green beans directly from the farmers and then roast and pack locally in our micro roastery in Melbourne.
Through our direct relationships, WithOneBean makes a significant contribution to improving the health, well-being and livelihoods of coffee growing communities in Timor-Leste, at the same time providing a quality speciality coffee to our customers in Australia and beyond.
We work to ensure that our products and processes contribute to the sustainability of our planet by supporting WithOneSeed, a community forestry program in the mountains of Timor-Leste. We plant a tree for every kilo of coffee that we roast and this year we will plant 20,000 trees in partnership with WithOneSeed. We are proud to produce carbon neutral coffee.
Generating social and environmental impact is at the heart of our work. Our focus is on putting an earned dollar in a person's pocket – empowering them to make decisions for themselves and not be reliant on charity and aid. We spend time working with subsistence farmers, building their capacity to improve crop yields and harvesting practices. Importantly, we pay above the local market price for the green coffee beans, ensuring farmers are getting a fair price.
At WithOneBean, we work to produce quality speciality coffee, that is ethically sourced, with good social outcomes, a positive environmental impact and a great taste for you.
Freshly roasted beans or ground to your liking
Our green bean is 100% Arabica, single origin and is grown as wild coffee, not in plantations. The cherries are picked by hand, wet-processed and sun-dried in the communities where they're grown, then hand-sorted in Dili, Timor Leste.
Tasting notes:
Floral with vanilla and sugar notes, hints of amaretto providing a balanced flavour and acidity.
Sweet caramel, cherry, chocolate, velvety, bright, jasmine, cantaloupe.
Medium roast (filter) 250g or 1kg
Our medium roast is lighter and brighter in flavour, perfect for filter coffee and best without milk.
Ideal for filter brewing methods
Plunger
Pour Over
AeroPress
Cold Brew
Dark roast (espresso) 250g or 1kg
Our dark roast is roasted dark and strong, with big flavour and is perfect for espresso style beverages.
Ideal for espresso brewing methods
Stovetop
Espresso
Product impact
In purchasing this coffee you are directly impacting;
WithOneBean – Supporting farmers and their families to raise incomes, improve crop yields and thereby increasing livelihood opportunities.
WithOneSeed – Profits from your purchase will go toward reducing carbon in the atmosphere, returning forests to their natural state and helping to end poverty and hunger in one of the worlds poorest regions.