Celebrity Sighting - Alice Cooper - Bondi Chai - Beverages Supplier
Bondi Chai just reported a celebrity sighting with their product and you wouldn't believe who's holding a cup of their famous chai!! It's none other than rocker, Alice Cooper!!
The day before completing his European tour in Paris, the panda-eyed man himself was spotted with a Bondi Chai cup in his be-gloved hand, alongside one of the Production Assistants on the tour (who also happens to be the latest Global Brand Ambassador for the company).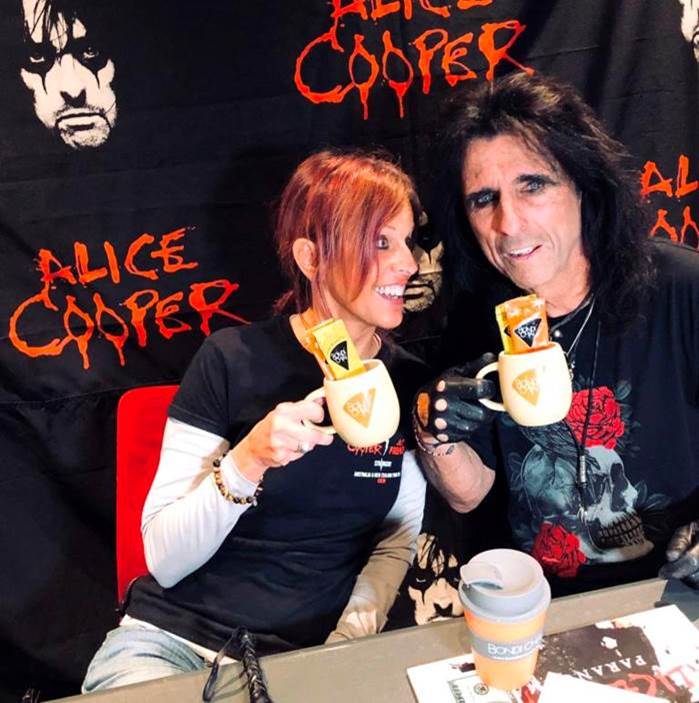 Martin Buggy, one of Bondi Chai's Head Honchos reckons he often hears from chai latte drinkers who complain that "finding a great chai latte can be a real nightmare!" Not any more, he says. With enviable cool cred that money can't buy to boast about, Martin's on a bit of a high, and with no illicit rockstar-esque substances in sight! "It's all Bondi Chai, baby," he laughs.
How does Bondi Chai put extra dollars in your till?
Retailers
Customers ask for Bondi Chai by name so don't let them down. Packaged in boxes of individual sachets, people love it because it's an easy product to make at home without any special equipment. Position with your teas, coffees and milk flavourings but also with your gluten free ranges as it's got that going for it too!
Cafes, restaurants and bars
With Bondi Chai on your menu, you open up a whole new array of drinks offerings. Chai latte is always a popular beverage, particularly later in the day when coffee is a no-go for some customers. Try some of the following ideas:
Iced Bondi Chai
Bondi Chai Frappe
Bondi On Ice (dissolve 2 heaped teaspoons of Bondi Chai in hot water in a tall glass. Add a handful of ice cubes and pour in 120ml of super-chilled milk).
Bondi Chai Smoothie
Bondi Chai Freakshake (with unlimited options of your own choosing)
Bondi Chai Sunrise (see their website for recipe)
You can even add Bondi Chai to recipes for cheesecake, pastry, ice cream, apple crumble, crème brulee, cakes, cookies and so much more!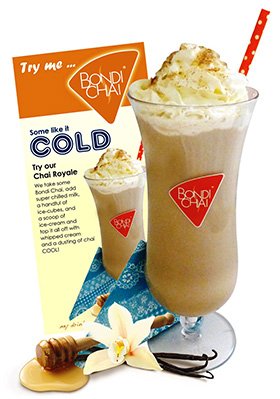 Free glassware
Bondi Chai have complimentary branded glassware they can send you for your foodservice outlet. Just ask!
Get Bondi Chai in store for your customers today!
It's Australia's most popular chai latte product and it's so easy to make, even a rock star can make it happen!
---
Contact details for Bondi Chai
---