Interview - Gavin George - Alice Langton's Sauces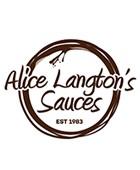 Over decades of stirring sauce pots, one thing above all is certain … tried and true methods remain the best. Gavin George, Director of Alice Langton's Sauces tells us that they wouldn't dream of changing recipes, ingredients or methods. That's the main secret behind the company's enduring success.
FFW: What is the history of Alice Langton's Sauces?
ALICE LANGTON'S SAUCES: The company was founded in 1983 by Myrna Apperly as Alice Langton's Kitchen. It was purchased by my parents, Doug and Ann George back in 2001 and they changed the name to Alice Langton's Sauces in 2002.
FFW: So it's still a family owned and run business?
ALICE LANGTON'S SAUCES: Yes, myself and my wife and business partner Simone purchased the company just over three years ago.
FFW: What would you say is the stand-out difference between your brand and others?
ALICE LANGTON'S SAUCES: We use all-natural ingredients, which means no preservatives, chemicals, artificial colours, thickeners or imitation flavours. We also hand make the sauces ourselves.
FFW: What makes your company a favourite with clients?
ALICE LANGTON'S SAUCES: Once they taste the difference they will always seek out our sauces for their superior flavour for gourmet chocolate and fruit sauce.
FFW: Do you use local ingredients in your products?
ALICE LANGTON'S SAUCES: We endeavour to use as much local product as possible in our sauces, they all contain at least more than 50% of Australian product and most are over 90%.
FFW: What are the best-selling chocolate sauces and fruit sauces?
ALICE LANGTON'S SAUCES: Our chocolate dipping sauce is a huge seller for us; it's great to add to a fruit platter at dinner parties. In our chocolate dessert sauces, the Fudge, Irish Cream, Cointreau, Hazelnut and Grand Orange are great sellers. The main fruit sellers are the Raspberry, Strawberry and Berry Delight. But the beauty of our range is that we also cover other flavours like Rum, Black Forest, Choc Chilli, Mango, Apricot and the list goes on and on, to delight all tastebuds.
FFW: Do you provide any merchandising materials to retailers, such as shelf wobblers, recipe cards, counter displays, etc.?
ALICE LANGTON'S SAUCES: At this stage we don't but it is something we are looking at for the future. We are keen to grow our small family-run business and are quite happy to talk to retailers regarding ways we can do just that.
FFW: Do you provide bulk quantities of your products for caterers and other foodservice businesses?
ALICE LANGTON'S SAUCES: Yes we can cater for foodservice; we currently do 1Lt and 2Lt options but we can always accommodate the needs of the consumer.
FFW: Do your products sell well as gift lines?
ALICE LANGTON'S SAUCES: They are the perfect gift and are often purchased around Christmas, Easter and Valentine's day for a special treat for friends and loved ones.
FFW: Have your products won any awards?
ALICE LANGTON'S SAUCES: Our Chocolate Fudge Sauce was a finalist in 2016 for the Confectionery Product of the Year at the Food & Beverage Industry Awards.
FFW: What do you think is Alice Langton's Sauces' personality?
ALICE LANGTON'S SAUCES: Our brand is to be known as still a handmade quality product, flexible to work with companies to accommodate their own wants and needs.
FFW: Do you use actual alcohol in the sauces that contain Cointreau, etc.?
ALICE LANGTON'S SAUCES: The products contain a locally made natural cooking extract that contains alcohol; it equates to less than 1% of the sauces.
FFW: Are there any new flavours coming into the range?
ALICE LANGTON'S SAUCES: We have looked at some potential new flavours; we have floated the idea of a Milk Chocolate Dipping Sauce, and possibly a Passionfruit Sauce as well. Being we are versatile we always listen to retailers and wholesalers for new ideas as well.
FFW: How can the fruit sauces be used in savoury dishes?
ALICE LANGTON'S SAUCES: They can be combined with oil to create beautiful marinades (the apricot chicken is my favourite) or mixed through your salad as a delicate dressing.
FFW: You've been around a long time; do you happen to keep an eye on other small producers of foods and beverages? Are there any you particularly admire?
ALICE LANGTON'S SAUCES: We do, one is Yarra Valley Gourmet Foods. They have an extensive range of products and have been going from strength to strength over the years.
FFW: What's the one thing you wish more people knew about your products?
ALICE LANGTON'S SAUCES: The quality of our sauces; there is no comparison to our quality in the marketplace. The fact that they are preservative free and made with only natural ingredients still stands today as we will not change the quality recipes that started back in 1983.
It's always reassuring to learn of family-run businesses who take great pride in the way things have always been done. Customers can count on consistency and quality as a result. If you'd like to know more about Alice Langton's Sauces, drop them a line today.
---
Contact details for Alice Langton's Sauces
---