Interview - John Pye - Bredbo Black Garlic - Wholesale Suppliers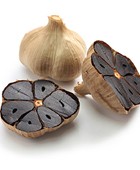 Innovation is always exciting and particularly when an Australian brand is creating a specialty food item that has long been renowned overseas, but can be made using locally grown organic produce. We spoke with John Pye, founder and owner of Bredbo Black Garlic and discovered a new taste sensation that is gradually finding its way onto the best plates around the country.
FFW: What is 'black garlic'?
BREDBO BLACK GARLIC: Black garlic appears to have originated in Korea, although in a modern sense and not as a traditional food. Black garlic is created by 'fermenting' or aging normal fresh garlic in a strictly controlled environment of specific temperature and humidity for 40-60 days. This transforms the original bulb into an entirely different gourmet product.
FFW: What made you decide to create your own fermented garlic?
BREDBO BLACK GARLIC: We have been farming garlic for many years and have always been interested in the prospect of value adding to the fresh bulb. We heard about the popularity of black garlic in other countries and realised that it had huge potential as an Australian gourmet product.
FFW: How long did it take you to refine the process so that you could produce it in commercial quantities?
BREDBO BLACK GARLIC: It took several years to perfect the process of producing world class black garlic. It is important to emphasise that all black garlics are different and that the flavours can vary from inedible and rubbery, to complex and intriguing cuisine. Chefs often comment on ours being the best that they have ever tasted.
FFW: Where does the garlic come from?
BREDBO BLACK GARLIC: We grow garlic, and so as much as possible we use our own garlic which is certified organic (actually bio-dynamic). We select a specific type of garlic that goes into making Bredbo Black Garlic. If we cannot provide the specific type and size which is required, we will source other Australian garlic which meets our high level of requirements. These parameters are amongst the factors which contribute to the perfection of the final product.
FFW: What makes the cold climate so much more suitable for this product?
BREDBO BLACK GARLIC: Put simply, garlic loves the cold. So the colder the winter the better the flavour and quality. Remember that garlic grows during the winter unlike most other crops, and forms that final bulb in the last month of growth. The Snowy Mountains of NSW is the perfect climate.
FFW: How is black garlic different from fresh garlic in terms of flavour?
BREDBO BLACK GARLIC: At the end of the 'fermentation' time the garlic has transformed into a black semi-soft clove, with flavours reminiscent of molasses, balsamic vinegar and liquorice. The end palate has a hint of the original garlic. It is this plethora of flavours that makes it a top choice for chefs and foodies alike.
FFW: What else do you add to Bredbo Black?
BREDBO BLACK GARLIC: It is important to emphasise that there is nothing added to the original garlic in order to produce black garlic. The transformation is entirely an internal process with enzymes converting and leaving the final product without the strong overpowering qualities of raw garlic. It does not even cause garlic breath!
FFW: What other virtues are offered by your product?
BREDBO BLACK GARLIC: We use certified organic garlic wherever possible and if not available we use garlic grown to organic principles, making sure there is no use of nasty fertilisers or insecticides. This is obviously important for a product that is facing aging for 40-60 days in a closed environment. The garlic used is always Australian and as local as possible.
FFW: We hear a lot these days about the benefits of fermented foods. Is fermented garlic any different in terms of health benefits?
BREDBO BLACK GARLIC: In Australia, black garlic is very much promoted as a gourmet food, individually and as an additive. However, in other countries, particularly Asia, it is taken daily as a health supplement. It contains many health benefits, including the very valuable amino acid s-allyl cysteine. There are several scientific documents available on the internet describing the many health benefits.
FFW: What kinds of retailers are selling your products?
BREDBO BLACK GARLIC: Black garlic is a top-end gourmet product, and hence its target audiences are those that appreciate fine food. For this reason, our product is found in gourmet outlets from delicatessens, specialty food shops and of course the best restaurants. It also attracts a lot of interest from international visitors, who purchase the product as a unique Australian product to take home.
FFW: Instead of just adding your garlic to dishes, how else can they be used?
BREDBO BLACK GARLIC: In the broadest sense, Bredbo Black garlic could be described to be akin to a relish – not unlike tamarind paste, quince relish or prunes, although of course much more complex. It is the 'truffle' of garlic. Hence it can be used as simply as a relish on the side of the dinner plate, right through the menu on any level, even as black garlic ice cream, because of its delicious sweetness and flavour. We have black garlic biscuits, black garlic vintage cheese and it can be added to butters and as an aioli.
FFW: What kinds of foodservice businesses are using Bredbo Black Garlic?
BREDBO BLACK GARLIC: Black garlic is still a little unknown in the average Australian circles. However, the chefs are well aware of it and are looking for the best in flavour. Hence they will often substitute the imported black garlic that they may be using, with Bredbo Black because of the flavour complexity. On this level it has the potential to infiltrate all levels of gourmet food preparation and education.
FFW: How do you make doing business with you easy for your clients?
BREDBO BLACK GARLIC: Ordering Bredbo Black Garlic is a simple process. On the wholesale level, the purchaser contacts me directly, and from there we discuss requirements for each individual case and the best method to finalise and target the customer's needs. We even have recipe ideas available if required.
FFW: What is your all-time favourite way to enjoy Bredbo Black Garlic and why?
BREDBO BLACK GARLIC: It is difficult to choose a favourite, as I often use it as a relish or on a cheese platter. However, it is hard to go past black garlic stir fried prawns.
FFW: How does your product fit with emerging or evolved food trends?
BREDBO BLACK GARLIC: The main appeal of black garlic is because of its natural state. There is nothing added, but simply transformed by temperature and humidity. So it appeals particularly to purists, who are looking for amazing flavour, as close to nature as possible. Then there is the added health benefits and ease of digestion as well. For vegetarian and vegan dishes it adds a much appreciated dimension.
FFW: Do you happen to admire any other food or beverage brands?
BREDBO BLACK GARLIC: There is nothing like Bredbo Black Garlic. If anything it is on the pedestal with the truffle!
There are very few producers of black garlic in Australia, and even fewer using specifically chosen Australian garlic, and certainly not on a commercial scale. The flavours and qualities of these vary enormously, and Bredbo Black is rapidly becoming acclaimed by chefs as the "best they have ever tasted".
So there you have it, a complete account of what makes black garlic so incredible and why you should definitely try it for yourself. To discuss your requirements, ask more questions or place an order, contact Bredbo Black today.
---
Contact details for Bredbo Black Garlic
Service Area Available Australia Wide
---